Gemma Browne: The Invisible Sorceress
Monday 10 August – Saturday 24 October 2020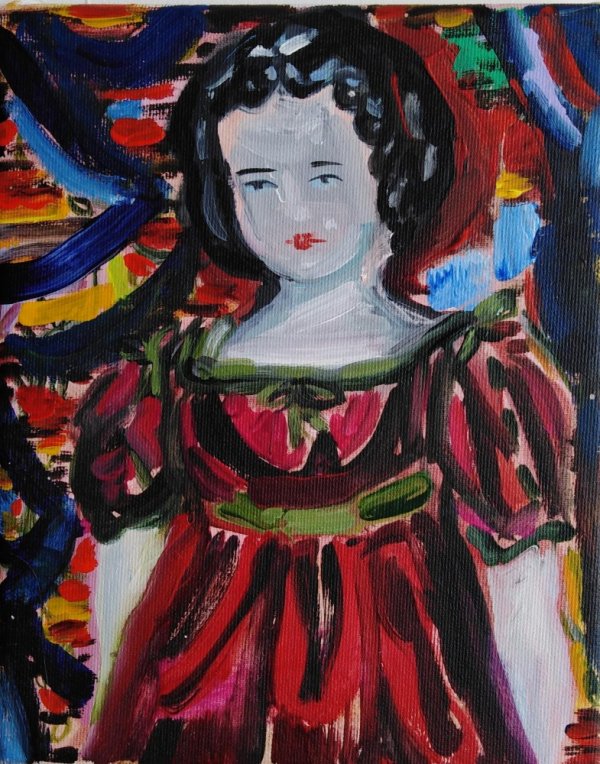 ――― Level 5 ―――
The LAB Gallery is pleased to present The Invisible Sorceress, an exhibition of drawings and paintings by Gemma Browne made within the last two years. These works include some autobiographical elements and universal and feminist themes. Browne particularly focuses on the experience of artist as mother, and the invisibility that comes with this changing role. While the domestic space has seen a renewed focus in recent times due to lockdown, the feeling of being locked in is now new to carers of small children. The reduced pace, the dramatic shrinking of your universe, the joy and sadness felt with huge intensity in the smallest of things, there, in your home as you wonder at how you have created life, yet crave ability to stroll through the world as you once did.
The female in Gemma's work is channeled through dolls, dollhouses, flowers, dresses, bows and vases. There is decorative beauty on her canvases with hints of gardens and nature and references to the depiction of the mother and child throughout art history. The elaborate costumes are reminiscent of Goya and Velazquez. The beauty and bold colours contrast with undercurrents of disquietude and at turns an angry edge. There are references to witchcraft, women as spell makers and sorceresses. The work suggests the magic powers of females whose efforts are sometimes overlooked, unrewarded, but essential and depended upon. The woman is the glue keeping it altogether. The doll figures, at times set in almost stage like contexts, consider how women perform, a fake smile, a brave face, but a glass like gaze suggests a feeling of being trapped.  As source material, the artist looks to on old forgotten and once loved and precious objects, out of print books and photos she has accumulated of dolls in charity shop windows. Her work harks back to different eras to the artist's childhood and earlier to antique china dolls. Her ornate and energetic work is made with acrylic and coloured pencils on paper and acrylic on canvas with a varied and exuberant palette.
Displayed here as a wall of women, they gather a power and hyper visibility, even from the street outside. A burst of glorious colour, to be read together or as individual stories, their titles draw you in further. Though it is impossible not to bring the new lens of our recent lockdown experience when viewing these works, the story of the Invisible Sorceress is not a new story, but it is told with a fresh visibility that cannot be ignored.
Gemma Browne is an Irish artist born in London in the UK, but based in Dublin. She has exhibited widely in Ireland and internationally and has received many awards including from the Arts Council of Ireland. Recent shows include Kevin Kavanagh Gallery Dublin, Paper Cuts group show at Saatchi Gallery London, SuprEYES at the Lexicon Gallery, Dun Laoghaire, Faces, Places and Spaces at New Art Projects, London, When Supplies Last in Seattle and Got It For Cheap at Agnes B HQ in Paris and at The Hole Gallery, New York City. She has taken part in ARCO Madrid, Athina Athens, Manchester Contemporary and Atlanta Contemporary art fairs.
Curated by Sheena Barrett.
Monday 10 August – Saturday 24 October 2020
Foley Street
Dublin 1
Telephone: +353 1 222 7850
Opening hours / start times:
Open Monday – Friday 10am – 6pm • Saturday & Sunday 10am – 5pm
Admission / price: Free