Gavin Hogg: Shadow Light
Friday 22 May – Friday 10 July 2015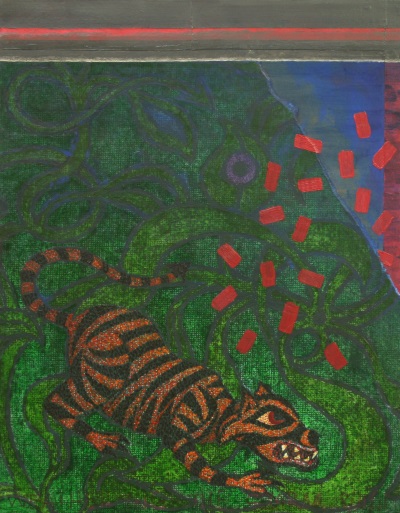 The work in this exhibition by Gavin Hogg, entitled 'Shadow Light', spans the years 2004 to 2014.
In this period of time the artist's has focused on the richness of painting language and its ability to articulate imaginative and emotional energies which couldn't be expressed any other way.  For Hogg, the beauty of painting is the physical and imaginative possibilities open to it and the work in this exhibition is deeply concerned with exploring this potential.
The earlier work is influenced by more traditional aspects of painting. The technical use of oil paint and its ability to represent effects of natural light. Impressionist techniques play a part here and there are passages of paint which are pure retinal delight.
There are decorative concerns throughout all the work and they serve various functions.  The play on wallpaper is present both as an evocation of the domestic and then as a surface which can be torn back to reveal energies hidden beneath.
The use of symbolism is central to the work.  Symbols which are personal to the artist and others which are more archetypal in nature and which reach back centuries and are part of everyone's psychic inheritance.
In Hogg's work the audience is crucial to the imaginative life of each work, as his intent is that the exhibition is an opportunity for the viewer to create their own private dialogue with the piece which resonates most deeply with them, and for the expressive potential of the visual language to enrich and expand their world. (This is what good art does!)
Gavin Hogg Contemporary Irish Artist has been a practicing artist for over 25 years. He has exhibited widely in Ireland (EVA award winner'93) and his work is included in many public and private collections. Printmaking is also an important part of his practice, showing regularly in the graphic Studio Gallery, Dublin and as a member of Limerick Printmakers he participated in group shows in Berlin and London in 2012 and China in 2016.
He is a regular visitor to New York where he has held three Open Studio events at Point B, Williamsburg in 2012, 2013 and 2014. Last year he had solos exhibitions in Dunamaise Arts Centre, Portlaois and in the Triskel Christchurch, Cork. In October 2014 He exhibited in a group show at the New York Foundation for the Arts, and most recently this January in '18 x 18' at Point B, Williamsburg, NY.
In early 2012 he completed a course in Jungian Psychology with Art Therapy in Clonmel LIT which has had a major impact on his recent work. His main working criteria being to create as an encompassing visual language as possible through the mediums of painting, collage and print.
He lives and works in Limerick city.    Further details can be found at www.gavinhogg.com andwww.shadowlighthogg.com
Friday 22 May – Friday 10 July 2015
Pery Square, Limerick
Telephone: +353 61 310633
Opening hours / start times:
Monday- Saturday 10am – 5pm
Sunday 12 – 5pm
Last admission 15 minutes before Closing time.
Admission / price: Free
The gallery is closed on Bank and Public Holidays.