Gary Coyle: Hello Darkness
Friday 1 June – Saturday 30 June 2012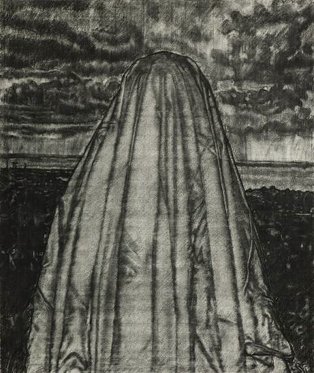 Opening Reception Thursday 31 May, 6-8pm
Hello Darkness, Gary Coyle's first one person show in The Kevin Kavanagh Gallery since 2007, sees him return to familiar territory or in Coyle's case terroir.
His everyday surroundings of South Dublin which for Coyle has been a constant obsession, some might even say vice, which he has explored repeatedly over the past decade, in various exhibitions – Ad Marginem 1999, Death In Dun Laoghaire 2005, Southside Gothic 2007, and At Sea 2010 and through various media, including photography, drawing and spoken word performance. This exhibition takes up where he last left off, namely exploring various aspects of The Gothic, The Sublime's trashier, more unstable younger relation, filtering them through his everyday environment. All the works in the exhibition are charcoal on paper, a medium that Coyle has repeatedly returned to.
"Drawing is a testing of ideas, a slow motion version of thought, it does not arrive instantly like a photo. The uncertain and imprecise way of constructing a drawing is sometimes a model of how to construct meaning, what ends in clarity does not begin that way".
– William Kentridge.
Image: Gary Coyle: Haunted, charcoal on paper, 129 x 90 cm, 2012
Friday 1 June – Saturday 30 June 2012
Chancery Lane
Dublin 8
Telephone: +353 1 475 9514
Opening hours / start times:
Tuesday to Saturday 11am – 5pm
Admission / price: Free