Garrett Carr: Mapping Alternative Ulster
Saturday 15 January – Friday 4 March 2022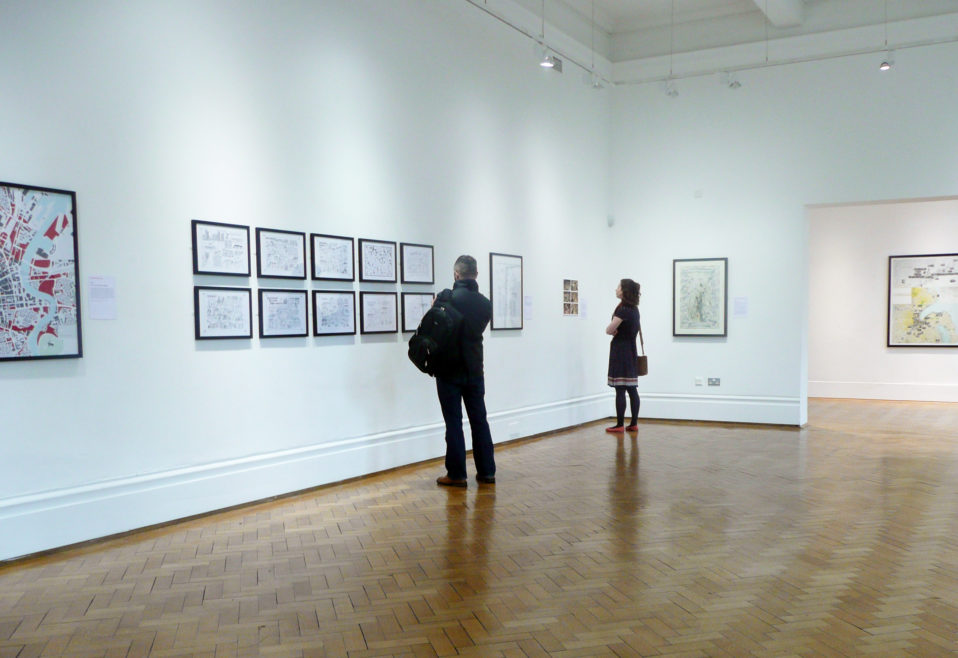 ――― In venue ―――
Mapping Alternative Ulster is an exhibition of cartography, offering different ways to look at the land.
Mapping Alternative Ulster is a collection of cartographic work that plots out a very different landscape than anything you'll find on the pages of a conventional road map or atlas. As the curator Garrett Carr explains:
"I've been watching the work of independent map-makers in Ulster for years now. I think a lot of their maps are important, a lot of them are beautiful, a lot of them are both. But not many people know about this body of work. The map-makers themselves are a very disparate bunch and often don't know about each other; some work with the latest digital technology, charting urban zones. Others are rural, working with paper and ink. I felt it was time to gather some of the best work and display it all in one room for everybody to see."
The show has received much media attention during runs in the Ulster Museum, The Marketplace Gallery in Armagh and the Alley Arts Centre in Strabane. The exhibition showcases more than a dozen custom-made maps, each taking a very different look at the places we think we know so well. It brings together diverse mapmakers: local historians, activists, artists, geographers and urban planners, all interpreting our surroundings in different ways.
For example, Johnny McKeagney began recording his locality, around Tempo, Co. Fermanagh, in the 1960s. He wrote down stories, lore and scraps of history that he would hear from customers in his grocery shop. He did not know it at the time but he was embarking on a recording and mapping project that would occupy him for decades. Through hundreds of A3 posters McKeagney went on to chart his local townlands, villages, lakes and rivers, but also the birdlife, local traditions, history, songs, vernacular architecture and anything else that caught his interest. Several of his beautiful maps are included in the show.
Forgotten place names were a particular interest to Dan McGinley when he began mapping remote parts of Donegal. Two of his maps are in Mapping Alternative Ulster. Curator Garrett Carr says, "I just happened across his map of Slieve League, a print of it was pinned up, unframed, in the community centre in Kilcar. I was amazed by the detail, it was an important map in giving me the determination to set up this exhibition." Although McGinley's map is full of word-of-mouth history and local knowledge, it was developed, in part, digitally. In London, McGinley works as a computer programmer. To help create this map he created a software program which works like a Crossword solver, searching an electronic word list for word patterns. This helped with the process of translation and with the organization of the vast amount of place names on the map.
Another part of Donegal is featured on a map that is new to this particular run of Mapping Alternative Ulster, 'Drumacross, Donegal' is a very personal map of a small area near the border where the map-maker, Nuala Reddin, used to walk with her father when she was a child. This map was created shortly after his death, as a record of him and the land they explored together. Reddin has used thread to chart the layout of the fields. She dyed the threads herself, the dye produced from leaves and berries collected in the very landscape shown in the map.
This is just just a few of the maps in the show and they all have stories behind them, stories told on the panels displayed alongside each map. The curator, Garrett Carr, is the author of The Rule of the Land: Walking Ireland's Border, and one of his border maps is included. His, and all the maps in Mapping Alternative Ulster encourage us to re-think the ways we look at landscape.
For more information visit: www.mappingalternativeulster.net
Saturday 15 January – Friday 4 March 2022
Port Road, Letterkenny
Co. Donegal
Telephone: +353 74 912 9186
Opening hours / start times:
Monday closed • Tuesday 11:00 - 17:00 • Wednesday 11:00 - 17:00 • Thursday 11:00 - 20:00 • Friday 11:00 - 17:00 • Saturday 13:00 - 17:00 • Sunday closed Admission is free
Admission / price: Free