Gareth Kennedy: Invented Tradition
Friday 16 January – Saturday 7 February 2015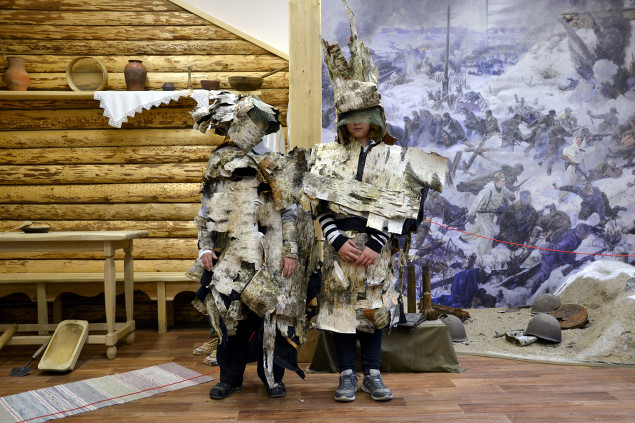 Opening Reception Friday 16 January at 6pm
Galway Arts Centre is pleased to present the exhibition Invented Tradition by Gareth Kennedy. Having produced and exhibited projects nationally and internationally for a decade, this will be the most comprehensive presentation to date of Kennedy's work in his native city.
The exhibition will feature three select bodies of work from the last two years of Kennedy's practice which collectively investigate the social agency of the handcrafted in the 21st century and generate 'communities of interest' around the production and performance of new material cultures.
The first floor at GAC will be devoted to the presentation of Post Colony (2014), which explores the natural, industrial and colonial histories of Killarney National Park, Co. Kerry. Over ten days in May and June 2014 a 'community of interest' led by fifth generation woodwright Eoin Donnelly established a green woodworking and charcoal burners encampment at the site of the isolated ruin of the Victorian Glena Cottage within the National Park. The invasive species Rhododendron x superponticum was utilised as a raw material in this workshop. First introduced to Ireland in the 1700's this plant has become deeply problematic within the national park and across many celebrated landscapes of Ireland and the British Isles. Ironically the invasive plant, a hybrid creation of the eighteenth century botanical nursery, has become an iconic touristic image in the park with its prolific purple blooms. Its insidious effects on native biodiversity, threatens the parks precious oak woodlands. The park management has wrestled with controlling the plant for over forty years, efforts which continue into the twenty first century.
Using a 16mm Bolex film camera to create a record of this encampment, Kennedy has created a film which he terms a folk fiction. A female voice over presents a speculative history of the park landscape from the Plantation of Munster in the late 16th Century to the parks current status as a tourist destination and special area of conservation. A series of photographs by the project photographer Brian Cregan, large charcoal drawings and handmade objects will also be presented.
The ground floor of GAC will host the first presentation of Kennedy's The Last Wooden House of Kupchino (2013) in Ireland, which was produced in Saint Petersburg in Russia in the course of a one year long engagement within the sprawling Kupchino district of the city. The project takes the story of the so-called last wooden house of Kupchino as a mythic starting point. What was once a small village of 38 or so wooden houses, Kupchino would later give its name to a sprawling district of uniform apartments or Khrushchyovka, which were developed in the USSR during the 1960s under Nikita Khrushchev's premiership.
The last wooden house in Kupchino was demolished on 6th March 1976 when its occupant, the Babuska Alexandra Nydskova (nee Vasiliyeva) was forcibly evicted by authorities. This event is commemorated annually by her family on its anniversary some 37 years after this event.
Kennedy was interested in the transmission and civic acknowledgement of this story. In a continued exploration of invented traditions, Kennedy worked with young people in two schools in Kupchino: in the Krasnoderevets or master woodworkers school for boys and in district school #302. The final work saw a procession of a timber model based on plans of the Last Wooden House paraded through the vast parks and prospects of Kupchino to School #302 where a musician and posse of school children dressed in birch bark costumes joined the procession. The procession arrived at the site of the last wooden house where the the Vasiliyev family were guests of honour. A public celebration of the story of the last wooden house as well as the past and present of dwelling in Kupchino ensued. At GAC the Super8 film will be presented alongside the project posters and other material.
Finally in the front room of the ground floor gallery documentation will be presented of Fan Nóiméad (2014), a Galway County Council public art commission realised for the town of Headford. In collaboration with Headford Men's Shed and traditional boat builder Patrick Connolly of Inverin, Connemara, the project enacted a 'meitheal' (collective labour) around the manufacture of a structure within the town which would create a sense of social ritual and focus for the men over a 6 month period. The men – who had diverse backgrounds and skills – were insistent in applying their labour to make a useful, and not just decorative structure for the town.
Patrick Connolly led this process, employing the materials, processes and techniques used in the manufacture of the Galway Hooker (an iconic boat and emblem of Galway) were deployed in the realisation of a contemporary pavilion offered as a civic gift to the town and people of Headford.
A specially commissioned printed project designed by Peter Maybury with new texts by Joanne Laws and Russian curatorial collective TOK will be launched at the exhibition opening.
The projects featured have received support from Arts Council Project Awards and Galway County Council. With thanks to all other project supporters, mentors, crews and participants.
PANEL DISCUSSION as part PLASTIK Festival of Artist's Moving Image
An Taibhdhearc Theatre, Middle Street, Galway
Friday 16 Jan at 6pm
As part of Megs Morley's curated series of talks at PLASTIK, Festival of Artist's Moving Image, Gareth kennedy will also join a panel discussion on how we we support the production, exhibition, distribution and preservation of artists work on film in Galway. Areas discussed will be education, venues, upcoming initiatives, and production facilities and supports, as well as the exciting and recently awarded status of Galway as a Unesco City of Film.
This first panel discussion of the series will include panelists, Rod Stoneman (Huston School of Film & Digital Media), Maeve Mulrennan (Galway Arts Centre), Declan Gibbons (Galway Film Centre), Celine Curtin (GMIT Centre for Creative Arts), Tracy Geraghty (Picture Palace), Louise Manifold (Wildscreen) and artist Gareth Kennedy
PLAQUE UNVEILING FOR FAN NÓIMÉAD
Moyne Villa F.C
Headford
Co. Galway
Wednesday 14 January at 12pm
County Mayor Cllr. Mary Hoade will officially unveil a lasercut plaque to finish the project FAN NÓIMÉAD with support from Headford Mens Shed and Moyne Villa Community Amenity Area. FAN NÓIMÉAD (Wait a Minute) is a contemporary pavilion, designed and made in collaboration between Headford Men's Shed, traditional boat builder Patrick Connolly and artist Gareth Kennedy. The pavilion was constructed using all native-grown Irish Green Oak and Larch which was felled in 2014 and was made entirely on location in Headford.
All are most welcome and refreshments will be served.
For more contact Ramona Burke, Galway County Council Arts Office: rburke@galwaycoco.ie; Tel: 091 509592 // 091 509000
Gareth Kennedy Artist Statement & Biography
Kennedy's work explores the social agency of the handcrafted in the 21st century and generates 'communities of interest' around the production and performance of new material cultures. Deploying an anthropological approach as an operational aesthetic these works draw on the particular social, cultural and economic histories of a location. Outcomes typically include architectural or designed structures, hand crafted objects, as well as live performative events which bring these physical entities to life within specific public contexts.
Kennedy has produced and shown work both nationally and internationally. His practice to date includes public art work, educational projects, exhibitions, residencies and collaborations. In 2009, he co-represented Ireland at the 53rd Venice Biennale along with artist Sarah Browne.
Recent public manifestations of his work include co-organising a Super8 film festival on the Aran Islands, creating an 'invented tradition' for the village of Gneeveguilla in east Kerry as a Kerry County Council per cent for public art commission, touring his exhibition Folk Fiction nationwide and a public art work in Saint Petersberg, Russia (2011-2013). In 2014 he has produced new projects with Headford Mens Shed in Co. Galway as a Galway County Council public art commission and a significant solo exhibition with ar/ge Kunst Gallerie Museum in Bolzano/Bozen in the South Tyrol in Northern Italy.
Kennedy also works on another distinct artistic practice called Kennedy Browne in collaboration with artist Sarah Browne.
Friday 16 January – Saturday 7 February 2015
47 Dominick Street
Galway
Telephone: + 353 91 565 886
Opening hours / start times:
Monday 10:00 - 17:30
Tuesday 10:00 - 17:30
Wednesday 10:00 - 17:30
Thursday 10:00 - 17:30
Friday 10:00 - 17:00
Saturday 10:00 - 14:00
Admission / price: Free