Fugitive Papers #1
Tuesday 3 April 2012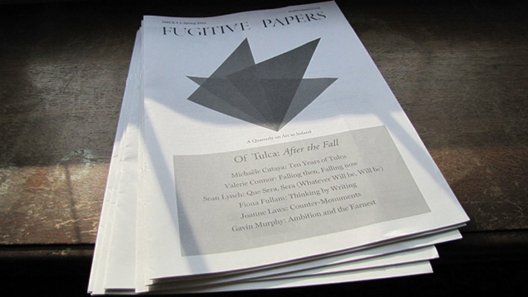 Launch, 6pm, Tuesday 3 April
The first issue of Fugitive Papers, a new publication on art in Ireland, will be launched by Megs Morley in Galway City Library at 6 pm on Tuesday 3 April. Fugitive Papers is an artistic research project by James Merrigan and Michaële Cutaya to explore the public role of writing on art. It aims at opening up a space for discussion and criticism around contemporary art practices. The first issue took as its focal point Tulca: After the Fall and proposes contributions by Joanne Laws, Gavin Murphy, Sean Lynch, Fiona Fullam and Valerie Connor.
The PDF of the publication will also be available for download on the website: fugitivepapers.org.
Fugitive Papers is funded by the Arts Council and supported by Galway City Arts Office.
Tuesday 3 April 2012
Galway City Library
Galway
Admission / price: Free