From Context to Exhibition 2014
Thursday 1 May – Saturday 10 May 2014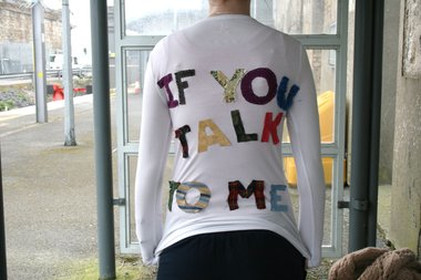 From Context to Exhibition 2014 is a group show from The Learning Development Programme 2014, managed by Create • Partners: NCAD, IADT and Dublin City Arts Office/ the LAB
Chrissie is the founder and director of the MA in Cross-Sectoral and Community Arts at Goldsmiths, University of London which she originally set up in partnership with the National Theatre, where she was Senior Associate in Education.
From Context to Exhibition is a contemporary look at how artists seek to translate collaborative processes and practice into the context of the white space. The work presented in From Context to Exhibition forms part of The Learning Development Programme, an experiential learning programme for student artists in fine art courses who want to engage with communities of place and/or interest, and learn more about collaborative arts practice. Each year the student artists work with different communities around Dublin to co create artwork.
This year the work presented encompasses broad definitions of collaboration, some which focuses on community as source material; or community as co creators or communities of interest; some which takes a more philosophically tangential approach to ideas of collaboration.
Groups, and co-creators the student artists have linked with include a group of performers coming from dance and theatre backgrounds; commuters on Dun Laoghaire to Connolly Station route; members of East Wall Sailing Club workshop; philosophy students; charity shop workers/volunteers; and an investigation of the effects of memory from experience of Alzheimer patients.
A themed discussion event will take also place on 8 May.
For more information see: http://www.create-ireland.ie/from-context-to-exhibition-2014
Thursday 1 May – Saturday 10 May 2014
Unit 3
James Joyce Street
Dublin 1
Admission / price: Free
Outside those hours by appointment: info@create-ireland.ie