Black Church Print Studio: Friends Print Draw 2018
Wednesday 21 November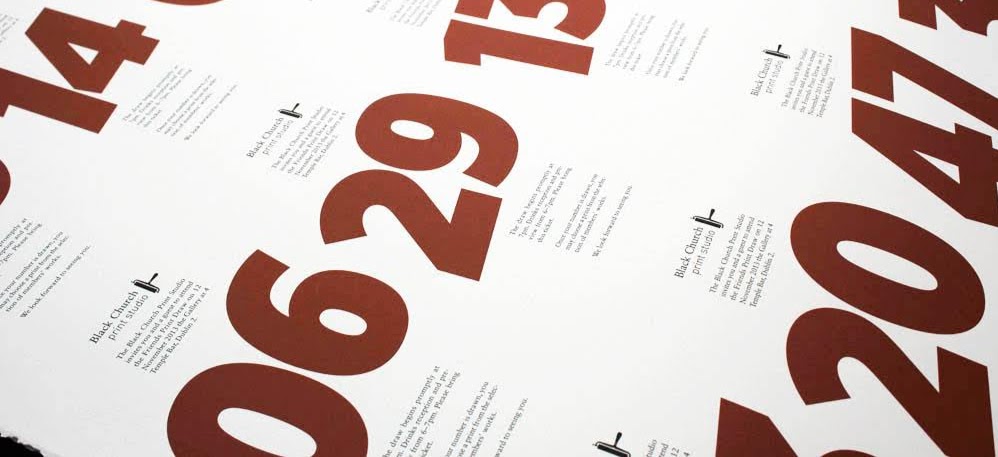 Black Church Print Studio presents The Friends Print Draw 2018
Now in its seventeenth year, Black Church Print Studio Friends exists to allow you to show your interest in, and your support, for the Studio. An important part of our fundraising efforts, your contribution is essential for the development of the Studio's activities and enables us to purchase necessary equipment and upgrade our facilities, in order to maintain a leading professional facility for artists.
bOne of the benefits of becoming a Friend of the Studio is the hugely popular annual Friends Print Draw.
How does The Friends Print Draw work?
Tickets are sold in advance. Each person who purchases a ticket becomes a Friend and is allocated a ticket number. Everyone is guaranteed to win a fine art limited edition print.
On the night of the Draw, all Friends view the prints on display from 6pm. At 7pm, the Draw begins, with ticket numbers pulled out the Studio's classic bowler hat. As your ticket number is drawn, you choose your favourite print from the selection. All prints included are by Black Church Print Studio artists.  Limited tickets are available.
Buy your ticket, become a Friend today! €150 (Individual) / €300 (Corporate)
Other benefits you can enjoy by being a Black Church Print Studio Friend, include:
Individuals (€150):
10% discount on Courses & Workshops at Black Church Print Studio
Invitations to all Black Church Print Studio exhibitions and events
10% discount off artworks purchased at the Studio
Exclusive tours and live print demonstrations
Corporate (€300):
Acknowledgement of support on Black Church Print Studio's website and publications
15% discount on Courses & Workshops at Black Church Print Studio
Invitations to all Black Church Print Studio exhibitions and events
15% discount off artworks purchased at the Studio
Exclusive tours and live print demonstrations
Exclusive pre-booked tour and collaborative printmaking workshop (max 10 members of the organisation)
Black Church Print Studio has charitable status so any amount over €250 is tax deductible (Charity No. 6675)
 For further information, please contact: Hazel Burke – info@blackchurchprint.ie | +353 1 6773629
Wednesday 21 November
The Library Project
4 Temple Bar, Dublin 2