Frequencies III: Art and Publicness
Wednesday 27 July – Wednesday 31 August 2011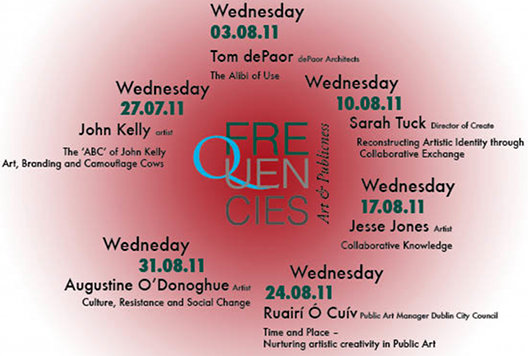 The National Sculpture Factory's Summer Lunchtime Lecture Series.
Every Wednesday from July 27th to August 31st
(All lectures begin by 1:05pm and end by 1:50pm so feel free to bring your lunch. Coffee and tea provided)
This year's Frequencies series looks at Art & Publicness. Art and its Public Responsibilities.
Creative production in the public realm has always been fraught, now possibly more than ever with greater demands for democratic uniformity, for reflexive community participation, , financial accountability and 'value' and with the emphasis more and more frequently placed more on civic responsibilities rather than on creative outcomes or expression. These issues will be discussed by both artists and commissioners alike in this series, through a reading or analysis of their particular creative practices and strategies that leads to new, exciting and creative artistic outcomes.
Weds 27.07.11
John Kelly – Artist
The 'ABC' of John Kelly
Art, Branding and Camouflage Cows
"Today, what confronts the questing artist is not the indifference of society and the state, but its embrace, and the requirements associated with it."
Guy Rundle, The Culturestate, Meanjin, Vol. 69, No. 2, June 2010
John Kelly is an artist who has exhibited internationally for the past twenty years. He writes for various art magazines and web sites. He has lived in Ireland for the past eight years.
Weds 03.08.11
Tom dePaor – dePaor Architects
The Alibi of Use
Tom de Paor, born London 1967.
Weds 10.08.11
Sarah Tuck _ Director of Create
Reconstructing Artistic Identity through Collaborative Exchange
The talk will explore the generative role of the artist working in context, mapping the political difference between the terms 'community arts' and 'collaborative and socially engaged' arts practice.
Sarah Tuck is the Executive Director of Create, the national development agency for collaborative arts in social and community contexts. During her time at Create, Sarah has initiated and worked on a range of programming, curatorial, arts education and policy initiatives, including Cultural Diversity and Arts on behalf of the Arts Council of Ireland.
Weds 17.08.11
Jesse Jones – Artist
Collaborative Knowledge
Jesse Jones will discuss her recent projects Against The Realm of the Absolute and The Struggle against Ourselves. Both projects formed around an elective community and featured a collaborative process of film screenings and discussions on feminist cinema as well as intense theatre workshops in Meyerholdian Etudes. At the heart of both projects was an attempt to re-inhabit historical knowledge as an embodied experience.
Jesse Jones (b. 1978, Dublin) currently lives and works in Dublin, where she received her MA in Visual Arts practices at Dun Laoghaire Institute of Art, Design, and Technology in 2005. Her films and videos have been screened and exhibited internationally in such notable exhibitions as the 11th International Istanbul Biennial. She has recently exhibited her first major solo show in REDCAT gallery, Los Angeles; other recent solo exhibitions have taken place at Collective, Edinburgh; Gertrude Contemporary, Melbourne; Project Arts Centre, Dublin, and Blackwood Gallery at the University of Toronto Mississauga.
Weds 24.08.11
Ruairí Ó Cuív – Public Art Manager Dublin City Council
Time and Place – Nurturing artistic creativity in Public Art
This talk will focus on respect for the artist as the key creative force in public art while engendering an understanding of the importance of context and community and recognising that there are a multitude of valid approaches to public art.
Before joining Dublin City Council as Public Art Manager, Ruairí Ó Cuív was an independent curator specialising in public art, exhibition curation, evaluation and research. His writing has been widely published and publications include A Review of the Per Cent for Art Scheme in Cork City, 1986-2003 (2006).
Weds 31.08.11
Augustine O'Donoghue – Artist
Culture, Resistance and Social Change
O'Donoghue's practice deals with cultural resistance and social change, questioning what ideas, strategies and inspiration can be gained from social movements in the development of socially engaged art practices. She is not medium-specific and has worked with video, performance, photography, sound, text and installation-based work, often employing collaborative approaches in the realisation of her artworks.
Augustine O Donoghue is a graduate of The National College of Art and Design Dublin and Limerick Art College. Her post-medium practice engages with concepts of local and global socio-political issues and She has worked with travellers, immigrant workers, women's groups and social organizations in Ireland, Latin America and Africa. Exhibitions and projects have been developed in Ireland, Europe, USA, China, Canada, Brazil, Colombia and Africa and taken place in a wide variety of locations including cattle marts, government buildings, supermarkets, museums, factories and political events.
For further details on this Lecture Series see website : www.nationalsculpturefactory.com
or contact us at info@nationalsculpturefactory.com
Wednesday 27 July – Wednesday 31 August 2011
Albert Road, Cork City
Telephone: +353 21 4314353
Admission / price: Free