Frequencies 2015: Sarah Hayden
Wednesday 5 August – Wednesday 26 August 2015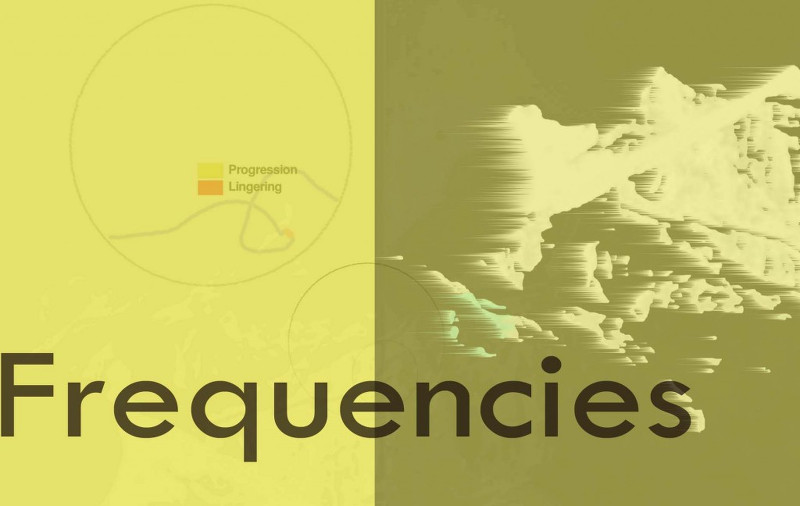 Every Wednesday in August, 1 – 2pm, Factory Floor Mezzanine
The Authorial Function
Evidence suggests that the roots of the word "author" lie in the Latin verb "augere," meaning "to increase, augment, strengthen that which is already in existence" and "to exalt, embellish, enrich."
Authorship here is associated less with creation and origin than with the augmentation of something pre-existing. While this accords with the poststructuralist formulation of the author of the individual work of art as a social construct, it also invites us to look beyond the creation of an original work to consider whether authorship might be located in the frames that augment, embellish, and enrich such works.
Wed 05th August – Caoimhe Kilfeather
"Working Relationships"
Caoimhe Kilfeather will consider connections between authorship and influence in her practice. The idea of authorship as expanding 'that which is already in existence' is of particular interest in how she thinks about the potency of the notion of legacy. From this perspective she will look at the legacies of sculptural forms and methods of construction which have influenced her practice and consider how this may reframe her role as sole author of the work.
Caoimhe Kilfeather studied at the National College of Art Design, Dublin and the Slade School of Fine Art, London. 
 Her work is predominantly sculptural and is influenced by an interest in the built environment and our relationships to the spatial, formal and psychological qualities of architecture.
Recent exhibitions include this attentive place, Temple Bar Gallery + Studios and Before it stirs the surface,Oonagh Young Gallery. She lectures in Sculpture and Combined Media at the Limerick School of Art and Design.
Wed 12th August – Dr. Declan Long
"Authorial multiplicity: On being a different author for different audiences."
Working as a critic and lecturer in the field of contemporary art can entail writing and speaking in a wide range of contexts: from exhibition catalogues, academic journals and specialist art magazines, to general reader publications and mainstream radio or television programmes. In this talk Declan will talk about some of the specific challenges that arise in the movement between these spaces of critical commentary — but to also argue for the possible benefits of regularly shifting between different ways of speaking.
Dr. Declan Long is Co-Director (with Francis Halsall) of the MA 'Art in the Contemporary World' and a lecturer in modern and contemporary art in the Faculty of Visual Culture. During 2013, served as a member of the judging panel for the Turner Prize.He has published widely on contemporary art as a contributor to magazines and journals such as Artforum, Art Review, Source Photographic Review, Circa, Contemporary, a-n, and The Irish Review. He is a board member of the Douglas Hyde Gallery Dublin (one of Ireland's most internationally renowned publically-funded art spaces) and a visual arts correspondent for RTE Radio (Ireland's national broadcaster). Declan has also instigated and curated several public projects, most recently 'Out there, Thataway'  currently running at CCA Derry , a group exhibition curated through dialogue between Declan, Francis Halsall and CCA.
Wed 19th August – Oonagh Young
"Acrobats Stab Orca"
A Palindrome is a well-known formal pattern or mirrored sentence that can be read the same backwards and forwards. Linguists consider palindromic sentences the most difficult to construct. While the formal constraints on the writer's freedom of expression act simultaneously as a hindrance and a resource, palindromes can themselves be things of beauty, yet it is the ingenuity and apparent randomness that are most striking. It is the letters that act as visual surface configurations, and not the sounds or the meaning, which are repeated in reverse. Some poets have used the palindrome as a conceit for the dual purpose of estrangement and language renewal. The cumulative use of specific devices within literature, such as the palindrome, "encourages a new constructive of reading against the grain."
Oonagh Young will talk about how she operates as a curator/gallerist and designer within an established system of formal relationships and her attempt to broaden the narrative around these structures through a multidisciplinary approach to her work. She will explore how, by rooting herself in a formal gallery space, she endeavors to create new frameworks where art can be accessed, experienced and enjoyed.
Oonagh Young is a curator and graphic designer. She runs DesignHQ (since1997) and Oonagh Young Gallery (since 2008) showing Irish and International artists. She works towards establishing a new balance between a commercial and project space by combining a content-based contextual approach characteristic of public institutions with selective engagements that form part of commercial gallery practice.
Wed 26th August – Dr. Sarah Hayden
"The Jump [to] Convergence/ Reviewing re-vue"
If art magazines make viewing publics cohere, then the adhesive agent in use is an amalgam of style and content.
How does house style act to form and consolidate cyclopean communities? Is it solipsistic to subscribe? Is reviewing an agonistic mode of authorship? Should it be? Pogoing from Cravan's art review, Maintenant (1915) to ArtReview (2015) (maintenant), this talk considers the politics of style.
Sarah Hayden is Associate Lecturer in Visual Cultures at Goldsmiths College, University of London and teaches occasionally at University College Cork. Mostly a modernist, her recent publications include essays on Jasper Johns, Francis Picabia, Djuna Barnes, the artist-personae of Jens Presser and Mina Loy. Her first monograph, Curious Disciplines: Mina Loy and Avant-Garde Artisthood is forthcoming from University of New Mexico Press. A co-organizer of the Avant and SoundEye festivals in Cork, she reviews contemporary art and experimental poetry and her poems have appeared in various magazines and as the chapbooks Exteroceptive (Wild Honey) and System Without Issue (Oystercatcher). She will soon start plotting a book on the transatlantic trade in Dada Virgins.
Wednesday 5 August – Wednesday 26 August 2015
Albert Road, Cork City
Telephone: +353 21 4314353