Fourth Space
Saturday 31 January – Saturday 14 March 2015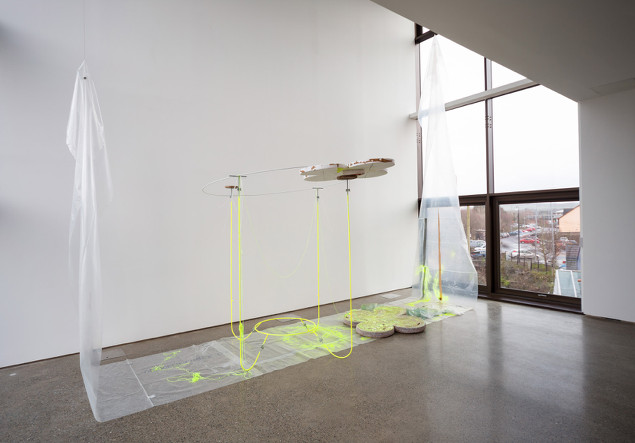 Fourth Space comprises sculptural and installation work by 9 leading artists based in Ireland: David Beattie, Karl Burke, Rhona Byrne, Maud Cotter, Angela Fulcher, Mark Garry, Caoimhe Kilfeather, Dennis McNulty and Liam O'Callaghan.
The exhibition, which extends throughout the ground floor and first floor galleries, draws together works by artists who share an approach to making that is fluid, questioning and open-ended and yet displays a fascination with space and materiality. The artworks both articulate and respond to the galleries and the location and context of the new building. Each artist's work remains specific to their own concerns and practice, but come together in this exhibition to experiment with, and enquire into, notions of space, place, time, legacy and transformation.
David Beattie
Borrowed Energy, 2015
David Beattie's sculptural works explore notions of elementary physics to illustrate the human desire to comprehend and question what surrounds us. His piece for Fourth Space comprises a series of buckets and bowls placed on the ground and filled with local seawater and cloth alongside two vessels heaped with sea-salt. Borrowed Energy acts like a humidifier and dehumidifier, creating a loop or cycle that references the tidal Caol Stream below the gallery. As the seawater is evaporated (and replenished) over the course of the installation the salt crystallises leaving rings on the inside of the buckets, hardening and leaving 'tide-marks' on the cloths. This simple and elemental process gently marks the passing of time and the transformation of material from one physical state to another.
Karl Burke
Consequence of Sequence, 2013
Karl Burke creates schematic architectural environments that probe ideas such as proportion, transparency and delineation. His spare and elegant sculptures often incorporate a single module that is presented in different aspects, as is the case in his piece for Fourth Space. , Consequence of Sequence explores elemental qualities of dimensions of space, possibilities about interior space, both actual and metaphorical, and how it is constructed and encountered.
Rhona Byrne
Colour threshold #2, 2013
Rhona Byrne's work is predominantly site and project specific and engages with the multi-dimensionality of experience and the complex layers of physical, mental and social space. Colour Threshold # 2, remade for the entrance to Gallery II marks the intersection between the two galleries and the transition from one space to another. The entrance to Gallery II is flooded with colour emanating from bands of vibrant yellow and blue hovering above the threshold. This installation invites the viewer to become immersed in, and part of, the installation by wearing capes which are hanging on the wall, and passing through a hanging threshold of colour. The work explores moments of transition and states of presence and connection.
Maud Cotter
'The relational space is the thing that's alive with something from somewhere else' 2015
For Fourth Space, Maud Cotter has installed an artwork entitled 'The relational space is the thing that's alive with something from somewhere else' She says that the artwork "lifts itself from its own debris. The piece exists in both a grounded and dispersed condition, the process of making remaining part of the spill of the work. It was a challenge to bring this piece to a moment of rest, it remains on the cusp of change. 'The relational space is the thing that's alive with something from somewhere else' is in presence and action responding to the channel of light passing through the symmetry of fenestration of Uillinn, the new West Cork Arts Centre. The title, a quotation from the American poet Susan Howe, perfectly captures the work for me".
Angela Fulcher
Blinkers, 2015
The primary focus of Angela Fulcher's work is the embodied pleasure and fascination with the material and surfaces used. Blinkers is a group of sculptural works that take as their starting point the plastic moulded lens coverings of car headlamps. The forms have been shaped following the design of each headlamp and upholstered with transport interior fabrics (bus, car, camper van). The title refers to automative lighting and also the way in which their illuminative function has been blocked by the application of coloured paints.
Mark Garry
Nightflight II and Nightflight I, 2014
Mark Garry's work stems from a fundamental interest in observing how humans navigate the world and the subjectivity inherent in these navigations. His practice is all about engaging with space. He creates beautifully considered, ephemeral works that are measured and quiet, often requiring meticulous systems of construction, as with his trademark, rainbow-hued thread installations. Nightflight I and Nightflight II are lambda prints showing sections of magnolia trees against a black sky.
Caoimhe Kilfeather
A shade, 2014
Caoimhe Kilfeather makes predominantly sculptural work that integrates a range of intersecting formal, spatial, material and art historical interests. Caoimhe is also drawn to the idea of 'legacy' – legacies of forms, materials, systems and methods of production – and of how these things contribute to, and shape our experiences of the world. A shade is made of dyed black cement, cast into a woven mould. A shade is made of dyed black cement, cast into a woven mould. She says "the piece is intended to be quite a dominant, brooding form. In many ways this stems from an interest in stoves and their place in a room both spatially and in terms of the habits that they may impose on people living with them. Although the final sculptural form itself is not explicitly stove-like, this is still something that is important to how the work developed".
Dennis McNulty
Running up that Building, 2015
The title of Dennis McNulty's Running up that Building is taken from the 1985 song Running up that Hill by Kate Bush, in recognition of the establishment of West Cork Arts Centre in 1985 and its relocation to a brand new building thirty years later. 'tell me we both matter don't we' a line from the song is spelt out in LED light, tightly sandwiched between sheets of reflective vapour-barrier plasterboard, a common construction material. Dennis is interested in questions and the idea of song lyrics as constructions and this phrase engages a conversation between the new building and the viewer. The reflective surface of the plasterboard catches the viewer as they walk past, but only on turning around and pausing to read the message, is the viewer caught by the piece.
Liam O'Callaghan
Here, beside you in this room, 2015
Liam O'Callaghan's work explores the value in the everyday through sculpture, photography, video and sound works that often expose the methods or mechanics of their own construction. Here, beside you in this room is a work made up of long narrow strips of wood taped together and moulded and bent to inhabit one of the galleries. This low-tech, roughly hewn minimalist type sculpture is a good example of O'Callaghan's physical pleasure of making and inhabiting space. He says that the aesthetic of a piece "is designed by necessity", it is an improvisation within the space that does what it needs to do, in order to settle within the space and look content.
Image: Maud Cotter: 'The relational space is the thing that's alive with something from somewhere else', 2014 – 2015, 5m x 6m x 220cms, 
plastic, cardboard, string, cable ties, aeroboard, steel, paint, rubber, plaster, tape; photograph Roland Paschhoff © 2015
Saturday 31 January – Saturday 14 March 2015
Skibbereen, Co Cork
Telephone: +353 28 22090
Opening hours / start times:
Monday to Saturday, 10am to 4:45pm
Admission / price: Free