Flowing Forms
Thursday 23 April – Sunday 24 May 2015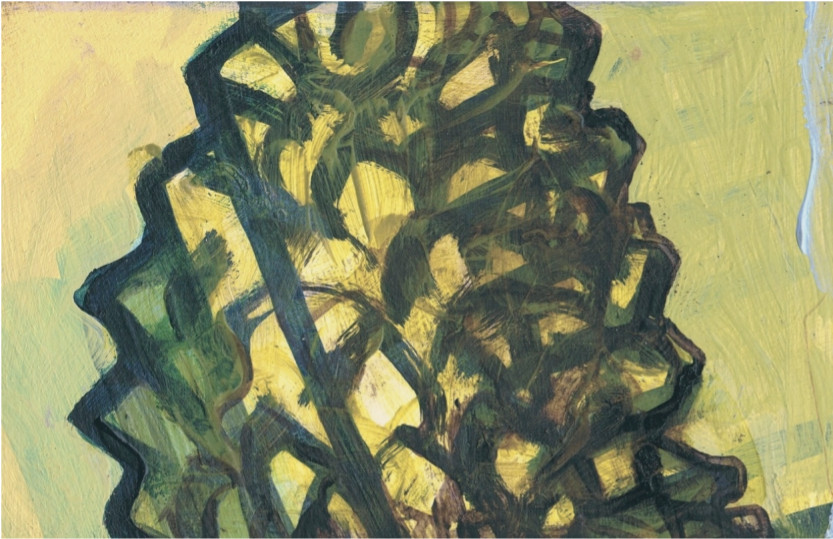 The natural world is one of the most abundant sources of inspirations for artists.  Enduring yet ever-changing, it entrances the artistic imagination and encourages a creativity that is free-flowing and captivating for viewers.
The National Botanic Gardens in Glasnevin, Dublin have invited three artists to respond to the natural world inside and outside its boundaries in an exhibition that runs from Thursday, April 23 to Sunday, May 24, 2015. Entitled, Flowing Forms, it brings together work in various media – etching, sculpture and painting by Cliona Doyle, Ana Duncan and Des Fox.  
Printmaker, Cliona Doyle has created dynamic floral etchings that capture the strength and fragility of natural colour and form.  Sculptor, Ana Duncan explores the human figure and forms and patterns found in the natural world using bronze and ceramic. And, Des Fox examines the intricacies of seed heads, floral buds and other natural shapes in abstract paintings that pay homage to the natural world from which they emanate.
Cliona Doyle studied fine art at the National College of Art and Design in Dublin.  She works mainly as a printmaker and is a long time member and former director of the Graphic Studio Dublin.   Her work has been exhibited in the National Gallery of Ireland, Dublin City Gallery: the Hugh Lane, the Chester Beatty Library, Dublin and the Royal Hibernian Academy, Dublin.
Ana Duncan is an established sculptor working in bronze and ceramic from her Dublin studio.   She has exhibited widely in public and private exhibitions including at the Royal Hibernian Academy, Dublin, the Royal Ulster Academy and at the annual Sculpture in Context exhibition at the National Botanic Gardens, which she jointly co-ordinated from 2000-2013.   Duncan's work is represented in state and corporate collections. 
Des Fox studied Visual Communications at the National College of Art and Design in Dublin. He worked as an illustrator in London and Dublin for many years before becoming a painter, inspired by the sparse beautiful landscape of Achill Island, the North Sea coastline of The Netherlands and natural colours of his native County Wicklow.  His work features in the National Museum at Collins Barracks, Dublin, Rathfarnham Castle and in private collections at home and abroad.
Image: Des Fox
Thursday 23 April – Sunday 24 May 2015
Glasnevin
Dublin 9
Telephone: +353 1 804 0300 / +353 1 857 0909
Opening hours / start times:
Winter (October 31st to February) Mon-Fri 9 am - 4:30 pm, Saturdays, Sundays and Public Holidays 10 am - 4:30 pm • Summer (March to October) Monday to Friday 9 am - 5 pm, Saturdays, Sundays and Public Holidays 10 am - 6 pm • The Glasshouses close at 4.15pm in winter