Fiona Whelan: What Does He Need?
Wednesday 2 December 2020 – Sunday 31 January 2021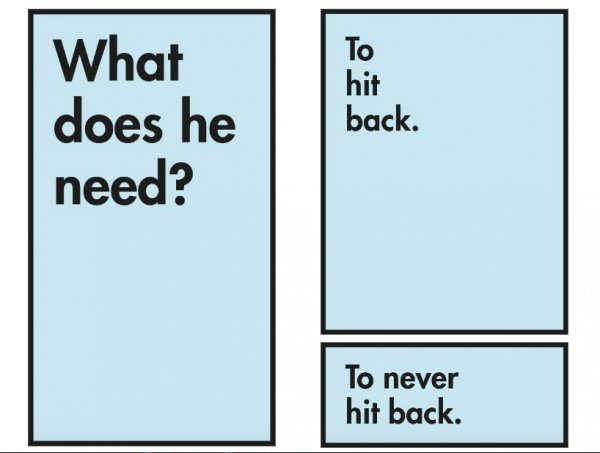 ――― In venue ―――
What Does He Need? is a long-term collaborative project by artist & writer Fiona Whelan, theatre company Brokentalkers and Rialto Youth Project, exploring how men and boys are shaped by and influence the world they live in.
Responding to the central question What Does He Need?, this iteration of the project takes form as a public poster project, beginning onsite in the windows of The LAB, and later migrating across the city. The posters present a range of contrasting viewpoints on the needs of men and boys in different scenarios and at different stages of life. Presented as a series of bold statements, these texts are taken from conversations during the What Does He Need? immersive workshop with youth workers and community workers, and a dedicated programme for children and young people which began in 2019, taking place in multiple sites in Dublin city.
In both the immersive workshop led by Brokentalkers & Fiona Whelan – which combines visual and performative elements with the expertise and reflections of youth and community workers – and the programme designed specifically for children and young people led by Whelan and Rialto Youth Project, participants collectively create a boy. They take responsibility for this boy and for guiding him through his life as he encounters the realities facing young men today. The workshop engages participants in an exploration of the boy's experiences and related needs and considers themes such as power, violence and the suppression of vulnerability in a world where men are often seen as a liability to themselves and others
What Does He Need? considers conflicting opinions on the needs of men and boys and the current state of masculinity. Working across disciplines and sectors, this long-term project has developed multiple methodologies for engaging publics over time to consider these themes with us. Using the gallery as a billboard to the street, this outward facing exhibition marks the first phase of the public poster project, which will begin to spread across the city in early 2021, accompanied by an audio walk and additional public programmes.
Credits:
The public poster project was developed in 2020 by Fiona Whelan and Brokentalkers through a partnership with The LAB gallery, and funding from the Arts Council. The development stage of What Does He Need? was supported via an invited residency for Fiona Whelan at the Irish Museum of Modern Art and a Brokentalkers residency supported through Create/Collaborative Arts Partnership Programme (CAPP) and '…the lives we live' Grangegorman Public Art in 2019, which led to a partnership with the Children and Youth Action Group of the North West Inner City Network. What Does He Need? is a project by Fiona Whelan, Brokentalkers and Rialto Youth Project.
Wednesday 2 December 2020 – Sunday 31 January 2021
Foley Street
Dublin 1
Telephone: +353 1 222 7850
Opening hours / start times:
Open Monday – Friday 10am – 6pm • Saturday & Sunday 10am – 5pm
Admission / price: Free