Fiona Whelan, Feidlim Cannon & Housing Action Now: The Apology
Tuesday 5 April – Sunday 8 May 2022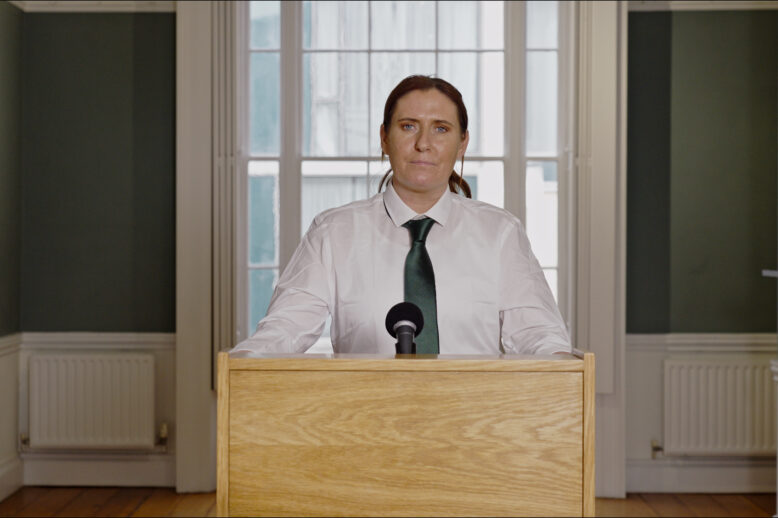 ――― In venue ―――
Butler Gallery is delighted to present a screening of The Apology, at our Digital Gallery. The Apology is a performance which publicly acknowledges the failures of the Irish State with regards to housing policy and provision in this country.
On the 2nd of March 2022, The Apology script was read into public record at Seanad Eireann by Senators Lynn Ruane and Eileen Ní Fhloinn as part of a Seanad Private Members Motion on Housing brought by Senators Ruane, Ní Fhloinn, Higgins and Black.
The Apology is the first public act from 'Multi-Story – Creative Engagement for Housing Change', a project by artists Fiona Whelan and Feidlim Cannon, and Housing Action Now (HAN), developed through a unique online collaborative arts process, exploring direct experiences of housing injustice through collective writing and performative story-telling. Multi-Story Act 1: The Apology is supported by Create, the national development agency for collaborative arts, through the Arts Council's Commissions Award 2020.
Performed by Paula Kearney
Script compiled by Fiona Whelan, Feidlim Cannon & Housing Action Now
Filmed by Arcade Film
Sound Design: Denis Clohessy
Production Assistant: Kate O' Shea
Directed by Feidlim Cannon & Fiona Whelan
Tuesday 5 April – Sunday 8 May 2022
Evans' Home
John's Quay, Kilkenny
Telephone: +353 56 7761106
Admission / price: Free
Closed 13:00 - 14:00 until March.