Fiona Hackett: The Long Disease LA Stories
Monday 10 May – Sunday 6 June 2021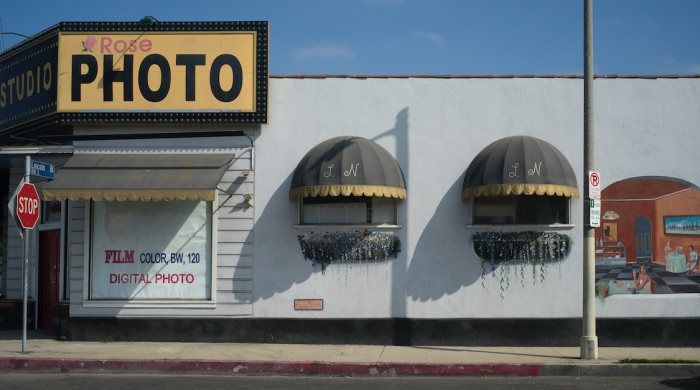 This exhibition of new works by Fiona Hackett comprises of framed original photographs of the urban landscape of Los Angeles, mostly facades onto its streets, with imaginings of the place referencing social history, landscapes of dreams and diverse cultures.
Viewable online here.
As part of the exhibition, obituaries from the LA Times will be re-presented as ephemera, echoing their original existence in newspapers, portraits and texts which have been collected by the artist over a period of years.
"Publishing an obituary in the LA Times seems to transform the lives of ordinary people into something extraordinary and poignant. Through the narrow column of an obituary, we glimpse the everyday lives of Californians spanning the past century or so and the faces look out from the pages of the newspaper as if time had stood still – smiling, earnest, glamorous, fun, mysterious. Perhaps each individual would have merited a published memoir if fame had chanced to knock on their door?" Fiona Hackett, February 2021.
With big dreams and in times of optimism and promise, whether being lured to the edge of the continent by popular culture, or even counterculture, their aspirations lay in building a good life filled with new opportunities. The artists questions, was simply embracing life in the sunshine as an Angeleno in itself enough to fulfill the dream? Hackett's photographs of gable wall murals of LA reflect the artifice of those dreams back to us. LA's streetscapes, like the treasured portrait photographs and nostalgic biographies, blend together constructions of both the reality and myth of life in the Golden State.
The 18th century writer and poet, Alexander Pope, spoke of 'this long disease, my life,' referring to the many ailments he suffered throughout his life. Then, in the more metaphorical sense, John Gregory Dunne's memoir added to this idea of the long disease by suggesting not simply that as soon as we are born, we are dying, but also that the melody of life plays as much on the dark keys as the light ones.
Happening to type 'the long disease' into Google, the artist discovered the extremely long word 'Pneumonoultramicroscopicsilicovolcanoconiosis'. Both the name of a disease and one of the longest words in the English language, its definition: 'a lung disease caused by inhaling very fine ash and sand dust' which resonates with Los Angeles as a place where the shadows of its sunshine can be long and desperate.
Of California and those who settled there, Joan Didion wrote "Here is the last stop for all those who come from somewhere else, for all those who drifted away from the cold and the past and the old ways. Here is where they are trying to find a new life style, trying to find it in the only places they know to look: the movies and the newspapers." Inhaling their last breath of the very fine ash and sand dust of LA, these Angels have finally made it into the newspaper.
In any myth, there are elements of truth.
Fiona Hackett is a visual artist/photographer living and working in Dublin. Her work has been exhibited in solo and group shows and has been published both nationally and internationally. She brings to her creative thinking the experience of her early interest in psychology and career as a psychologist and developed a visual practice which explores and examines the fragility of the human condition visualized in space and place.
Her most recent exhibition was in the Lexicon, Dun Laoghaire (2017) titled Mausoleums of Precious Belongings, with previous exhibitions in UCD (2012) and Mermaid Arts Centre (2008). In 2019, she received the Curtin-O'Donoghue Progressive Vision Photography Prize at the 189th RHA Annual Exhibition. She has been selected for group exhibitions such as EVA and Mumbai's Bienniale Photography Festival and her work has featured in Condé Nast's Architectural Digest (India), Katalog (Denmark), Landscapes Journal (UK) and Photoworks Showcase (UK). In addition to her full-time art practice, she is a teacher in the photography programme at IADT in Dublin.
Fiona has held a long-term interest in California's social history and landscape. In 2012, she was awarded a PhD from the Clinton Institute of American Studies for a practice-led doctoral project titled Fault Lines: Photography, Seismology and the Imagining of Southern California [IRC funded]. She was also awarded a Dibner Research Fellow in History of Science and Technology fellowship at The Huntington, California (2016) to pursue her ongoing interest in the intertwined relationship between photography and Southern California.
She began reading and collecting obituaries from the LA Times nearly a decade ago and continues to do so.
Image: Fiona Hackett, Untitled, from the series The Long Disease LA Stories, 2020, archival pigment print, 63 m x 44 cm; courtesy of the artist.
Monday 10 May – Sunday 6 June 2021
15 Ely Place, Dublin 2
Telephone: +353 1 661 2558
Opening hours / start times:
Monday 11:00 - 17:00
Tuesday 11:00 - 17:00
Wednesday 11:00 - 19:00
Thursday 11:00 - 19:00
Friday 11:00 - 19:00
Saturday 11:00 - 19:00
Sunday 14:00 - 17:00
Admission / price: Free