Fintin Kelly: A Story of Art
Saturday 14 October – Saturday 2 December 2023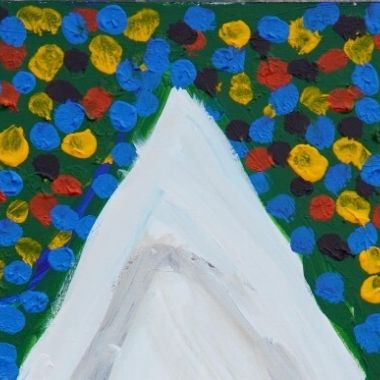 Fintin Kelly's debut exhibition at Mermaid is curated by artist Dominic Thorpe, a regular collaborator with the inclusive art studio KCAT. Kelly has been a member since 2017, having previously had a passion for art going back over two decades. He often works with a fervent and positive embodied energy to create bright expressive acrylic works in which patterns, dots, swathes, and blocks of colour are vigorously applied to canvas, paper or sculptural objects.
At other times he takes a more serene approach, such as when he attentively works with paper to make collage-based works. For Kelly, the activity of artmaking is guided by intuitively knowing and trusting what feels right for him moment by moment. In this way, his practice is an exemplary demonstration of creative flow that involves continually evading the parameters of initial intentions and methodological constraints. As he said when interviewed about his work, "Art is my method, now have you any questions?"
Fintin Kelly has shown in numerous exhibitions, including at the Kilkenny Art Festival, the Linenhall Arts Centre Castlebar, Farmleigh house Dublin and Uillinn: West Cork Arts Centre Skibbereen. His work is also featured in the publication: The Engagement Project KCAT 2014-2020
Dominic Thorpe is an artist working with KCAT to mentor artists. He is a board member of Arts and Disability Ireland and has worked with a range of artist run, public art and art education projects, including the Performance Collective, Study Centre Kilkenny and the Creative Well Kildare.
Thorpe works in performance art, drawing, video, photography, and installation, as well as employing contextual and collaborative based processes. He has shown and performed extensively including at the Tasmanian Museum and Gallery, Bangkok Cultural Centre, Performance Space London, Galway Arts Centre, and Golden Thread Gallery Belfast. He has completed several residencies, including at Nordic Arts Centre Norway, Fire Station Artist Studios Dublin, and was the first artist in resident in Humanities at University College Dublin.
He frequently engages with inclusion and education-based initiatives and has work in several public collections in Ireland, including the collection of the Arts Council / An Chomhairle Ealaíon. His recently completed a PhD at Ulster University explores how perpetrator trauma is addressed within performance art from Ireland.
KCAT is a multi-disciplinary Arts Centre dedicated to the fostering and nurturing of creative ambition and professional development in the arts. Founded in 1999, the centre has continued to grow, develop and evolve according to demand and need since then. The ethos of the work at KCAT is firmly committed to realising the artistic ambition of the individual artists at the centre, a flexible approach to their development, access and inclusion for all and sustainability and continuity. The Studio Artists from KCAT have a long history of exhibiting work nationally and internationally, For further information go to www.kcat.ie.
Image: Fintin Kelly: Mount Everest
Saturday 14 October – Saturday 2 December 2023
Main Street, Bray
Co. Wicklow
Telephone: +353 1 2724030
Opening hours / start times:
Monday – Saturday, 11am – 5pm
Admission / price: Free