Fiadh Trevaskis Hoskin: Our Demands Most Moderate Are
Thursday 1 July – Sunday 18 July 2021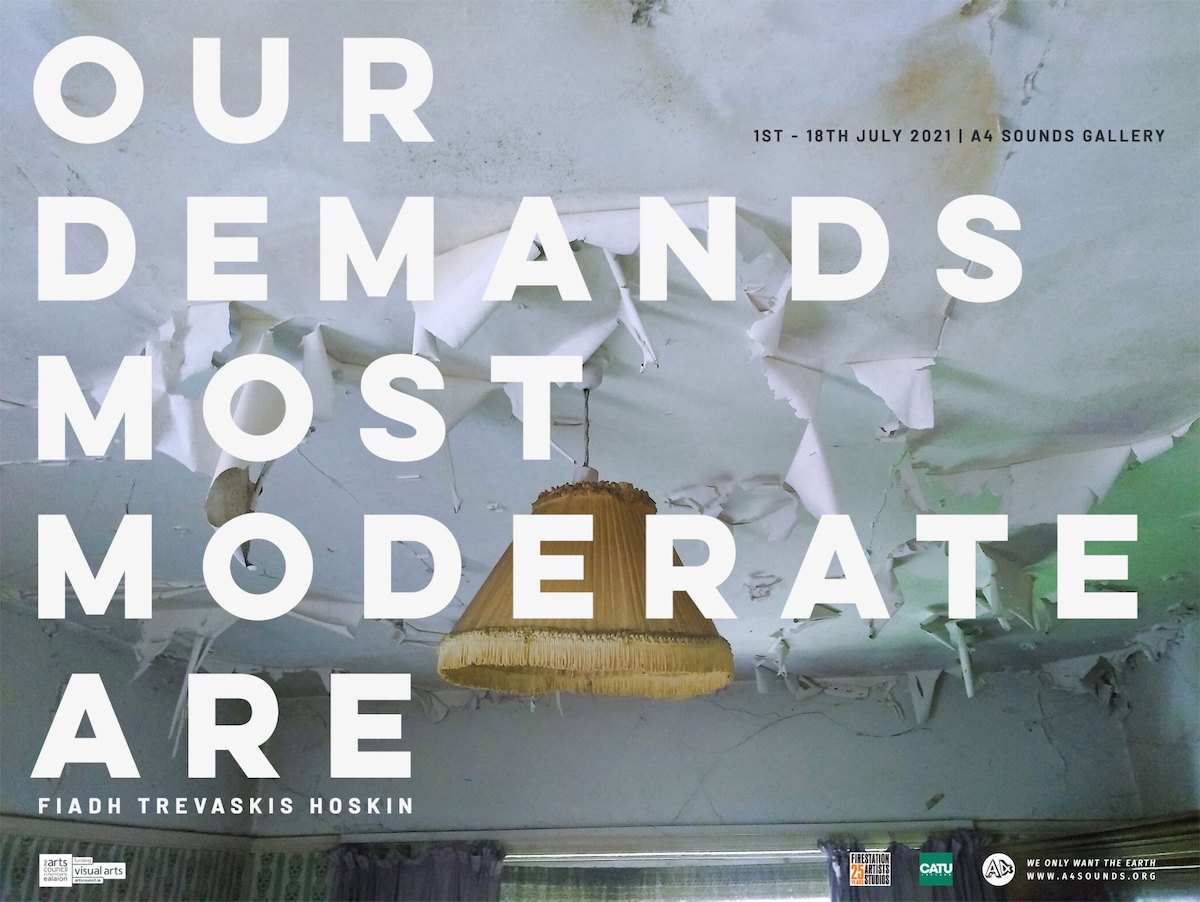 ――― Venue + online ―――
Our Demands Most Moderate Are is multimedia reflection on Fiadh's four years of squatting in Dublin. The installation focuses on the contrast between the utopian prefigurative sentiment which underpins much squatting and the actually existing need and deprivation which she both experienced and witnessed under such living conditions. The work explores the "really existing demands" which are lived on a day-to-day basis in our city through the lenses of housing, healthcare, heavy handed policing and poverty, the work is an attempt to outline a personal and specific phenomenology of housing precarity in Dublin as a way of highlighting more general trends in the neo-liberal approach to housing currently being implemented at various levels of society.
Viewable in Gallery, and online here • Gallery Visit: Booking Required
Fiadh Trevaskis Hoskin is a poet and artist, she has a degree in Philosophy and English Lit from UCD and has been writing for most of her life. Her work has appeared in The Irish Times, Poetry Ireland, Flare, Impossible Archive and a number of other publications and zines. She generally works in short form revelatory poetry which attempts to encapsulate the generalisable message within specific moments. She has worked with the medium of photography for a number of years.
Fiadh is the recipient of We Only Want the Earth 2021, Residency Award 2 in partnership with Fire Station Arists' Studio, Community Action Tenants Union (CATU), and consulting artist Kerry Guinan.
Thursday 1 July – Sunday 18 July 2021
St Joseph's Parade
Off Upper Dorset Street
Dublin 7
Opening hours / start times:
Fri : 12pm – 6pm
Sat: 1pm – 6pm
Sun: 1pm – 4pm
Accessibility
Our gallery is wheelchair accessible.
Our toilets are gender neutral.
Our toilets are accessed via a flight of stairs which may provide difficulties for people with movement impairments.
If you are interested in attending an exhibition or event at A4 but may have some concerns, please get in touch and we can help facilitate your visit.
Admission / price: Free