Fearghus Ó Conchúir: Bodies and Buildings
Monday 5 September – Saturday 17 September 2011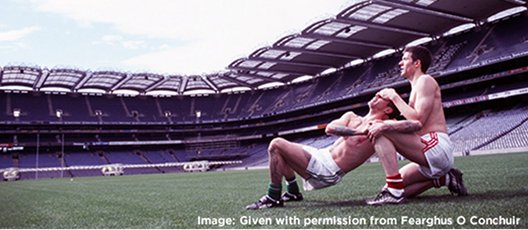 RUA RED is proud to exhibit Bodies and Buildings – a series of deliberately low res guerilla dance videos by independent choreographer and dance artist Fearghus Ó Conchúir. Exhibited in the expansive space of Gallery One, the viewer has the opportunity to examine and immerse themselves in these works.
The videos place the moving body in relation to urban regeneration building projects in Dublin, Beijing, Shanghai and Liverpool. The short dances are filmed on phone cameras on building sites and street corners and stake a claim for the human need to make a space for oneself in the context of rapid and not always beneficient urban change.
All the films are an opportunity to see the articulate body moving and being moved in familiar contexts that can be understood differently through this physical intervention. The contexts are architectural, social, and political and the films assert the need for the individual body to be recognised in those wider settings.
We'd be delighted if you'd grab a coffee / juice in the cafe and spend some time in the Gallery to enjoy these films in a unique setting.
RUA RED acknowledges the financial support of the Arts Council in making this exhibition possible.
Monday 5 September – Saturday 17 September 2011
South Dublin Arts Centre
Tallaght, Dublin 24
Telephone: +353 1 451 5860
Opening hours / start times:
Monday 10:00 - 18:00
Tuesday 10:00 - 18:00
Wednesday 10:00 - 18:00
Thursday 10:00 - 18:00
Friday 10:00 - 18:00
Saturday 10:00 - 18:00
Admission / price: Free