FATHOM
Tuesday 10 November – Friday 11 December 2015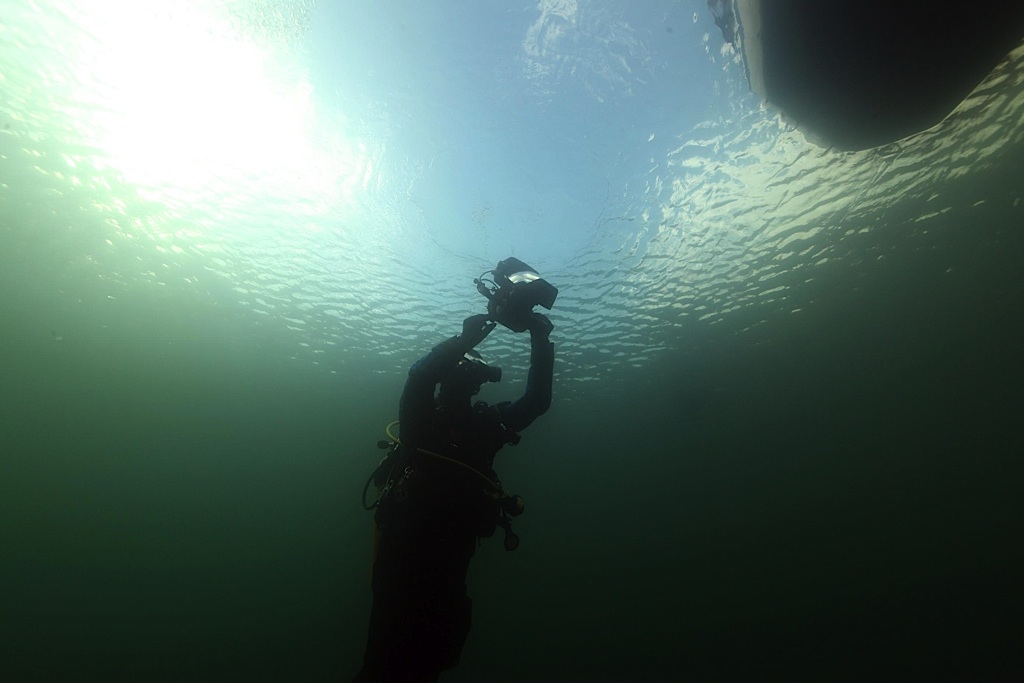 Seminar Saturday 14 November, 10am – 5pm
Regional Cultural Centre is delighted to present FATHOM by Donegal artist Marie Barrett with Dive North. FATHOM is a collaborative project by artist Marie Barrett with diver/filmmaker Geoff Millar and Dive North, a community of divers based in Inishowen. Dive North include Geoff Millar, Declan Haniffy, Nicola Byrne, Morgan Mc Creevy, Raymond Newell, Connor Tannian, Eoin Tully, Martin Timony, Roy Hall, Jane Hawkhead, Brian Harkin, Bernard Kelly, Ian Murphy, Ken Hawkhead, Hugh O'Sullivan, Ray Ward and Paul Devane.
Collectively they explored the history and legacy of post-war disarmament of German submarines at the end of World War II. The group have use underwater imaging technology to make visible, what remains below the sea. There are more German U-boats sunk off the Donegal coast than anywhere else in the world. FATHOM features archival and new footage of the sunken U-boats off Malin Head. Pathé News footage represents 'Operation Deadlight', this was the code name for the scuttling of U-boats surrendered to the allies at Lisahally Port, Derry at the end of World War II. The exhibition communicates something of the sensory experience of being underwater amongst these ghostly remnants of past conflicts. The project commenced with a collaborative research phase which examined related archival material, documentary footage and publications.  A number of research visits were undertaken to the Inishowen Maritime Museum, Greencastle to explore their  collection of related artefacts. The group then selected primary 'dive sites' for filming in the waters off Malin Head. This collaborative process resulted in the development of a series of immersive films that draws on an age of subterfuge and surveillance.
This exhibition is part of a yearlong programme of events curated by Eilís Lavelle. Supported by The Arts Council of Ireland / An Chomhairle Ealaíon, Curator in Residence award in partnership with Donegal County Council, Regional Cultural Centre, Letterkenny and Glebe House & Gallery, Churchill (Derek Hill Collection, OPW).
Seminar, 14 November, 10am – 5pm
Venue: Regional Cultural Centre, Letterkenny and Greencastle, Co.Donegal
FATHOM Seminar will be held on Saturday 14 November, 10am – 5pm. This informal seminar will explore the potential of collaborative arts in rural contexts. A variety of projects and approaches will be considered including collaborative and community based practices that rely on social engagement and exchange.
Free lunch and bus will be provided email rcc@donegalcoco.ie
Speakers include:
Marie Barrett, Artist / Director of North-55
Carl Doran, Artist / Project Co-ordinator, Askeaton Contemporary Art
Hollie Kearns, Independent curator, Callan Workhouse Union
Rosie Lynch, Independent curator, Callan Workhouse Union
Shaun Hannigan, Director, Regional Cultural Centre
Ailbhe Murphy, Director, Create
Image: Nicola Byrne: Fathom (2015), photograph
Tuesday 10 November – Friday 11 December 2015
Port Road, Letterkenny
Co. Donegal
Telephone: +353 74 912 9186
Opening hours / start times:
Monday closed • Tuesday 11:00 - 17:00 • Wednesday 11:00 - 17:00 • Thursday 11:00 - 20:00 • Friday 11:00 - 17:00 • Saturday 13:00 - 17:00 • Sunday closed Admission is free