Faces in the Clouds: The Michael J. O Connor Collection
Thursday 16 January – Friday 31 January 2020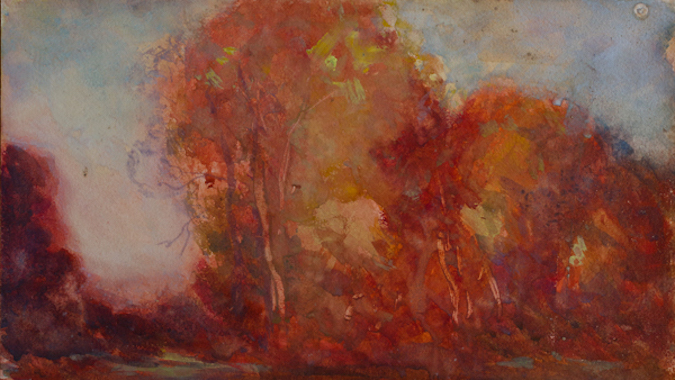 This collection belonged to the late Michael J. O Connor of Walterstown, Co. Meath. The paintings were collected during the 1980s and have never been exhibited. The collection comprises a folio of watercolours, oils and gouaches.
Michael believed most of the works to be by the great Irish master Roderic O'Conor. Fascinated with unconventional signing methods, the artist is identified not just by their style and subject, but by hidden clues such as initials and dates within the compositions. Michael devoted 15 years of his life to building this case. The collection also features three stand-alone paintings, one of which has an interesting signature.
In 1993, one painting from the collection was authenticated as a Roderic O'Conor and sold. Michael died in 1995, his work unfinished.
In 2015, Michael's daughter opened up his research looking for answers. With the help of RTÉ, she made a film about the journey to authentication. A Rich Inheritance is an extraordinary and sometimes painful exploration of his daughter's search for closure. The film answered some questions, but inevitably raised even more.
To mark the opening of this exhibition A Rich Inheritance will screen at Solstice Cinema on Thursday 16 January, 7:30pm • Admission Free, pre-booking appreciated.
Thursday 16 January – Friday 31 January 2020
Navan, County Meath
Telephone: +353 46 9092300
Opening hours / start times:
Tuesday 11:00 - 16:00
Wednesday 11:00 - 16:00
Thursday 11:00 - 16:00
Friday 11:00 - 16:00
Saturday 11:00 - 16:00
Admission / price: Free