Everything is in everything
Saturday 9 November – Friday 20 December 2019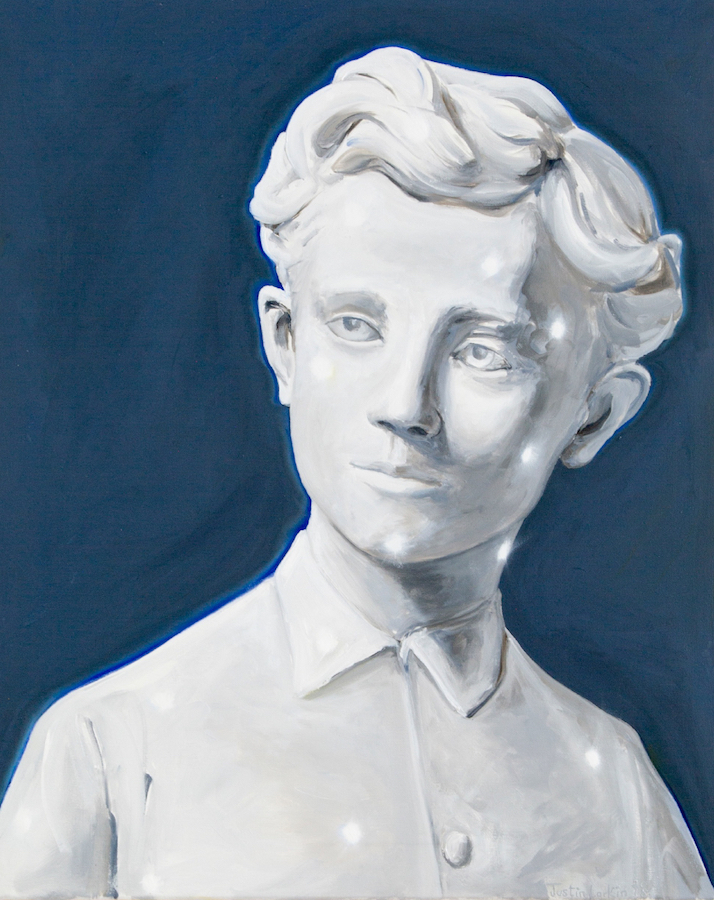 Curated by Claire Ryan
Everything is in everything brings together the work of eight contemporary Irish artists working with paint: Kevin Cosgrove, Oscar Fouz Lopez, Justin Larkin, Susan Montgomery, Kevin Mooney, Sarah O'Brien, Ciara Roche and Kathy Tynan. The exhibition, curated by Claire Ryan offers a glimpse into the practices of these artists and aims to acknowledge painting and its relevance within the increasingly digital world we find ourselves in.
The title of the exhibition refers to the theory of matter put forward by the natural philosopher Anaxagoras (5th century BCE). Anaxagoras was part of the Ionian school of Greek philosophers who are credited with being the first philosopher-scientists in the western tradition. These philosophers turned away from age old theories of the cosmos that were attributed to the whims of the gods. Instead, through abstract reasoning and keen observation they formulated various theories on the nature of reality.
Anaxagoras divided mind and matter, for him mind is an intelligent force that initiated the birth of the cosmos. He believed that before the universe was formed there was an infinite mixture of everything that lay dormant until mind set it in motion. This created an evolving, ordered cosmos in which every single material object no matter how small or large contained all the ingredients that make up the universe. According to Anaxagoras "Everything is in everything," you cannot separate out any one ingredient, only mind is ever unmixed and it is the governing life force of everything. The seeds of everything are in everything, but what we see are only those things which predominate.
Just as mind governs the cosmos, so our bodies are governed by our minds. Painting is a prime example of the mixture of mind and matter, bodily motion and creative expression. The painting, a product of thought and technique is a balancing act of brushstrokes, colour and space, a unique register of the painter's hand. And just like the early Greek philosopher-scientists observed and questioned the world around them, the same can be said of the artists in this exhibition, each with their own distinct vision. 
Kevin Cosgrove (1984) graduated from National College of Art and Design, Dublin in 2007. He lives and works in Dublin. He is represented by Mother's Tankstation Limited where he has had three solo exhibitions. Associated projects include exhibits at; Condo, London 2017, Art Basel Hong Kong 2016 and a solo presentation at Frieze London 2012. Other recent exhibitions include group shows; Industry, Solstice Art Center, Navan 2018, New Frontiers of Painting, Fondazione Stelline, Milan 2017, Don't shoot the painter, Villa Reale's Galleria d'Arte Moderna, Milan 2015, and a solo exhibition A Peening Sound at the Bulter Gallery, Kilkenny 2016. Cosgrove's work is held in the collection of The Office of Public Works and UBS Art Collection.
He was awarded an Arts Council of Ireland Visual Arts Bursary in 2018.
Oscar Fouz Lopez (1979) is a Spanish artist living and working in Dublin. Lopez has had his work featured in group exhibitions such as Winter Open (2016) in Rua Red, Dublin, Insider Art (2016) in MCE, Belfast, and participated in the 187th 188th and 189th Annual Show at the Royal Hibernian Academy. His solo show Pickled Chimp Ears was held at Pallas Projects as part of its 2018 program. He graduated with a BA in Fine Art from D.I.T. in 2010 and was shortlisted for the Most Promising Graduate Award at the Talbot Gallery the same year. Lopez also holds an MFA in Painting from NCAD (2016) and is the current Tony O'Malley artist in residence for 2018/19. His work is held in both public and private collections, including the Office of Public Works and the Trinity College Art Collection.
Justin Larkin was born in Dublin, Ireland in 1984. He currently works between Ireland and Hong Kong. He received his Bachelor of Fine Arts from the NCAD and later attended The Royal College of Art in London to complete his Masters Degree in the Fine Art Print Program. Larkin has been the recipient of several prestigious grants and fellowships, including the London Print Studio Award, the Advanced Artist-in-Residence Fellowship at Mokuhanga Innovation Lab in Japan. He has exhibited his works in solo and group exhibitions in Ireland, United Kingdom, Hong Kong and Japan.
Susan Montgomery is a visual artist from Wicklow. She graduated from DLIATD in 1997. She had exhibited widely throughout ireland in both group and solo exhibitions including Skibbereen Arts Festival 2018, Doswell Gallery (2014-19), Uillinn, West Cork Arts Centre 2013, Mermaid OPEN (2012,2010), Eigse Carlow (2007,2008), Ballina Arts Centre 2012, Cross Gallery, Dublin (2003-2007), The Joinery, Dublin 2011. In 2018 she was awarded a Mothership Project Residency at Cow House Studios. Her work is collected by OPW, Trinity College Dublin, Waterford Municipal Collection, Cork County Council and the Ice Hotel Ballina. She has an upcoming solo exhibition at Mermaid Arts Centre, Bray Co.Wicklow in February 2020
Kevin Mooney is an Irish artist based in Sample Studios, Cork. He graduated with a Masters in Fine Art, NCAD in 2012, and National Diploma in Fine Art, Crawford College, in 1997. Solo shows include "Fragments of San Borondon", Triskel Arts Centre, Cork,  2019, "Apparition", Sternview Gallery, Cork, 2018, "Seeing Things", Artbox Projects, Dublin 2017, "Twilight Head Cult", Ormston House, Limerick, 2016, "Wave", Pallas Projects, Dublin,  2014, and "Dog Island Tales", Talbot Gallery, Dublin 2014. Selected group exhibitions include "Looking Forward, Looking Back Now", at Tactic Gallery, Cork, 2016,"What Is and What Might Be", Highlanes Gallery, Drogheda, 2015, "Making Familiar", Temple Bar Gallery, Dublin, 2012. He also participated in the 38th edition of EVA International, Limerick, in 2018.
Sarah O'Brien, born Cork, Ireland 1980. MFA Painting, NCAD (2007), BA Fine Art, Crawford College of Art and Design (2003). Recent selected shows include BINGO (2019) Berlin Opticians Gallery, City Assembly Rooms, Dublin, Berlin Opticians Gallery Launch Show, Royal Society if Antiquities, Dublin, STREAM PROJECT, LIMERICK 2018, Hotron Art Prize 2017, VISUAL, Carlow. Berlin Opticians Gallery Dublin represent Sarah's work since 2018. She will have her first solo show with the gallery in Autumn 2019.
Ciara Roche is a painter based in rural county Wexford. Her second solo show, Here and Away, will open in The Lab gallery in Dublin in September 2019. She completed an MA in Art Research and Collaboration with the Institute of Art Design and Technology in May 2019. She has shown work extensively throughout Ireland including in The Royal Irish Academy, Royal Hibernian Academy, Peripheries Gorey and her first solo show was in St Carthage Hall in Lismore with Lismore Castle Arts in 2016. As part of a collective with two other artists she was awarded the Per Cent Per Art Commission with Wexford County Council in January 2019. Her work is included in public and private collections throughout Ireland, Britain, USA and China
Kathy Tynan (b.1984) graduated from NCAD with a BA in 2008 and an MA in 2010. Recent solo exhibitions include Green Like Now, Kevin Kavanagh (2019);Atonal Supersound, Kevin Kavanagh, Dublin (2017) and Traversées du Marais, Cité Internationale des Arts, Paris (2018). Recent selected group shows include The Hennessey-Craig Shortlist, RHA, Dublin (2019), Trophy Hunters, Dada Post, Berlin (2018); Constellations, Kuvataide Academia, Helsinki (2018); Many Worlds, Centre Cultural Irlandais, Paris (2017) There Are Little Kingdoms, Mermaid Arts Centre, Co.Wicklow (2016) and Hands Laid On, Kevin Kavanagh, Dublin (2016). Tynan is represented by Kevin Kavanagh, Dublin.
Claire Ryan (1982) is a photographer, educator and arts project manager based in Cork. She holds a BA (Hons) degree in Photography from IADT Dun Laoghaire, Dublin. She is Manager of the Projects and Learning programme at Sirius Arts Centre, recent projects include See you Tomorrow with Australian artists Elizabeth Woods and Kevin Leong (2019) and One Here Now, The Brian O'Doherty/Patrick Ireland Project (2018/19).
Image: Justin Larkin: Scan, oil on canvas, 50 cm x 40 cm, 2018
Saturday 9 November – Friday 20 December 2019
The Old Yacht Club
Cobh, Co. Cork
Telephone: +353 21 481 3790
Opening hours / start times:
Gallery hours during exhibitions: Wed-Fri 10:30-17:00 • Sat-Sun 13:00-17:00 Closed Mon - Tue
Office hours: Mon - Fri 09:30 - 17:00 • Closed Sat - Sun
Admission / price: Free