Eugene Conway
Monday 11 March – Monday 3 June 2019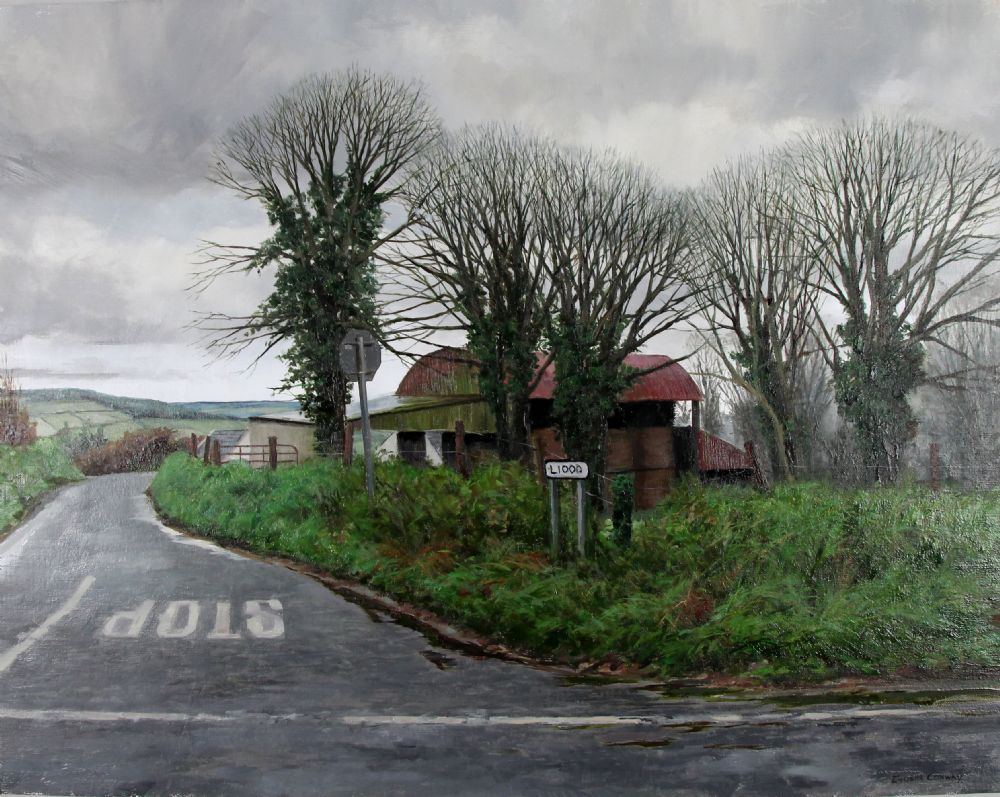 In Eugene Conway's paintings, the landscape of North County Kilkenny is brought to centre stage. These are quiet scenes; he does not dwell on the bucolic or the picturesque. His subjects – bridges, barns and byways – are the unsung heroes of the Irish countryside, the aspects of the landscape that you notice when you live there.
"They're just basic landscapes," he says. "The kind of thing that you'd see when you're driving along. A lot of the time they go unnoticed: old sheds, old walls, a wet ditch after the summer rain, or maybe the way that the light is hitting something, bringing out a lovely pattern in it. But the light is at a certain point. If you come back an hour later, everything has changed."
Conway's work is meticulously observed: the pattern of leaves blown into the side of the road; the way that clouds are reflected in puddles; an old gate, propped beneath a bridge. The way that he uses colour relates directly to the weather, the seasons, and the passage of time. The russet ridges of a corrugated barn are highlighted against the green of fertilised fields in the moment before rain. A farm track, scored with tractor tyres, is almost impassable with mud.
One of the most noticeable things about Conway's work is its craftsmanship. In subject matter and style, he has often been compared to Martin Gale – but Conway's work is more straightforward. While Gale's painting seems to be about something beyond or behind in the landscape, Conway's does what it says on the tin. A gate is a gate. A barn is a barn. The bend in the road has no hidden meaning. "I am always bringing it closer to the landscape," he says. His paintings do not suggest great drama, merely the unfolding of ordinary rural life.
The landscapes are unpeopled, but show the marks that human life has left behind. Some of the barns and cottages are abandoned but the work is not about abandonment. Other houses are lived in, the fields are farmed and the hedges trimmed. A farm might have a new galvanised gate, with the old ones used as part of the fencing. The work reflects the layers of history left by habitation and farming.
Eugene Conway is one of Ireland's leading realist landscape painters. Conway was born in 1965 in Dublin but has lived in County Kilkenny since childhood, amid the landscape that informs his work. He studied at the National College of Art & Design, NCAD, Dublin. He has exhibited regularly at the RHA since 1998 and was awarded the Fergus O'Ryan Memorial Award in 2001; the ESB Keating Award and Silver Medal for an outstanding art work in 2008; and the Abdul and Katharine Bulbulia Art in Health Award in 2010. His work is in the collections of: the Haverty Trust; the OPW; the ESB; and the Four Seasons Hotel, Dublin.
Image: Eugene Conway: Hay Shed, Co.Kilkenny, 54.6 x 69.8 cm, oil on linen
Monday 11 March – Monday 3 June 2019
27 South Frederick Street, Dublin 2
Telephone: +353 1 6729031
Opening hours / start times:
Monday 10:00 - 17:30
Tuesday 10:00 - 17:30
Wednesday 10:00 - 17:30
Thursday 10:00 - 19:00
Friday 10:00 - 17:30
Saturday 10:00 - 17:30
Admission / price: Free