Eugeen Van Mieghem: Port Life
Thursday 9 February – Sunday 11 June 2017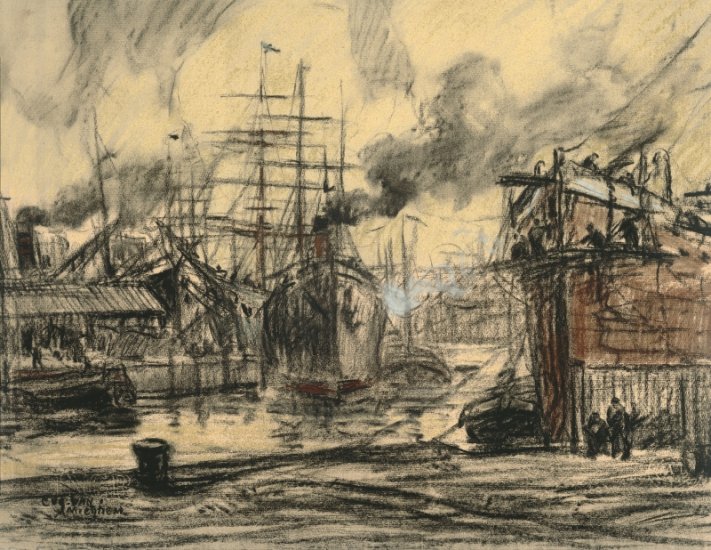 Audiences can experience the works of acclaimed Belgian artist Eugeen Van Mieghem for the first time in Ireland this year, through an exhibition depicting the vibrant life of the Port of Antwerp at Dublin City Gallery The Hugh Lane.
Eugeen Van Mieghem: Port Life is a fascinating visual account of the pulsating life of a working port at the beginning of the 20th century. Van Mieghem's work represents a social history, exploring themes of migration, globalisation, port society, the working community, and, the life of the artist – themes that resonate with Dublin as a port city.
Exhibition supported by Dublin Port Company.
Public Lecture
5.30pm, Thursday 9 February
Eugeen Van Mieghem, 1875-1930: An Artist of the People
Erwin Joos, Director, Eugeen Van Mieghem Museum, Antwerp.
Free; no reservation required but early arrival is recommended.
Image: Eugeen Van Mieghem: Steamers and Three Masted-Ships in the Dock, c.1912. Courtesy of Museum Plantin-Moretus / Prentenkabinet, Antwerp - UNESCO World Heritage.
Thursday 9 February – Sunday 11 June 2017
Parnell Square North
Dublin 1
Telephone: + 353 1 222 5550
Opening hours / start times:
Tuesday 10.00 - 18:00
Wednesday 10.00 - 18:00
Thursday 10.00 - 18:00
Friday 10.00 - 17:00
Saturday 10.00 - 17:00
Sunday 11.00 - 17:00
Admission / price: Free