Etel Adnan
Thursday 4 June – Sunday 13 September 2015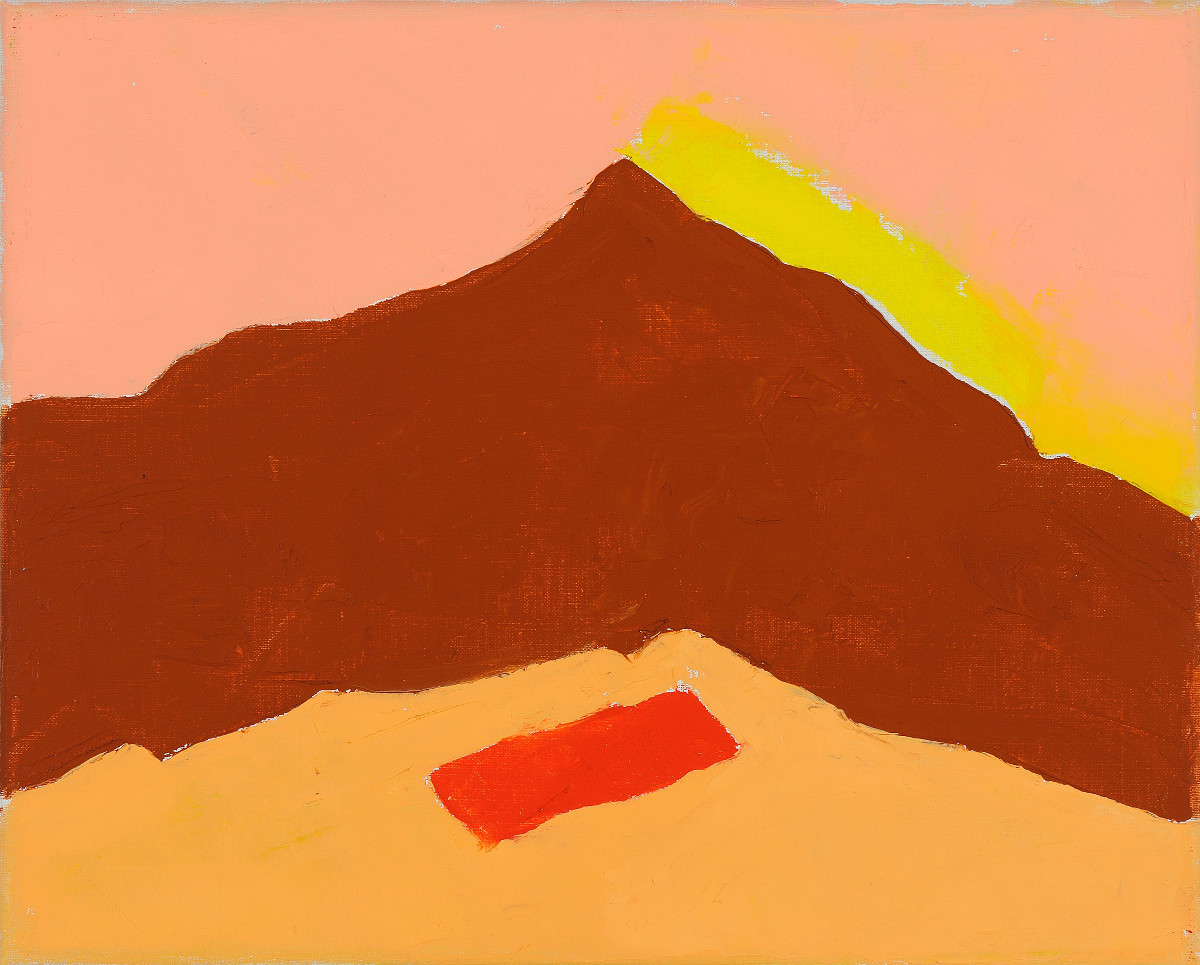 IMMA presents the work of Lebanese artist, poet, and writer Etel Adnan in a solo exhibition of 30 works opening at IMMA on 5 June 2015. Now in her 90s, Etel Adnan is an extraordinary creative voice and force of artistic renown. She moves freely between writing and art, poetry and tapestry. Many of these creative strands are denoted in the works on display in this exhibition.
A selection of the artist's enigmatic and diminutive oil paintings showcase her use of rapid, thick strokes and distinctive shapes, representing the landscapes of California and the Mediterranean Sea. These works appear alongside a series of delicate leporellos where the transcriptions of her poems are recorded on unfolding urban landscapes, fusing Adnan's parallel practice as artist and writer.
One of the leading voices in contemporary Arab American literature since the 1960s, the Adnan exhibition includes a selection of her publications, from her iconic novel Sitt Marie-Rose (Éditions des femmes, 1978) to the Etel Adnan reader, To Look At The Sea Is To Become What One Is (Nightboat Books, 2014).
The exhibition also features two film works; Adnan's Motion, 2012, a 90-minute silent unfurling of cityscapes, skies and sunsets, and The Otolith Group's I See Infinite Distance Between Any Point and Another, 2012, a work shot largely in the artist's Paris apartment which centres on a reading of her poetry. Both films are meditative explorations of nature and our presence within it.
Etel Adnan is presented as part of SUMMER RISING: The IMMA Festival, a 10 day celebration of art, food, music and performance for all ages in the galleries, gardens and grounds of IMMA.
Talks and Events 
Family Workshop 
Saturday 6 June 2015, 12 – 1pm + 2 – 3pm, East Ground Galleries, IMMA
Sometimes We See Better With Our Eyes Closed                                                                                          
Clodagh Emoe (artist) leads an Etel Adnan inspired family workshop. This workshop explores how we encounter and engage with contemporary art. In response to the exhibition of paintings and leporellos by Etel Adnan, this workshop explores how artistic forms invite thought on an experiential, perceptive and imaginative level. This workshop is suitable for children (over the age of 7) and adults alike. Drop in.
Lunchtime Gallery Talk 
Wednesday 1 July 2015, 1.15 – 2.00pm, East Ground Galleries, IMMA
Rachael Gilbourne (Assistant Curator, Exhibitions, IMMA) introduces the new exhibitions of works by renowned artist, poet and writer, Etel Adnan. A selection of Adnan's colourful oil paintings and delicate leporellos are amongst the works to be explored. 
Booking is essential for talks. Free tickets available on www.imma.ie.
Image: Etel Adnan: 
Untitled #206, 2013, o
il on canvas, 
24 x 30 cm; c
ourtesy the artist and Sfeir-Semler Gallery, Beirut / Hamburg
Thursday 4 June – Sunday 13 September 2015
Royal Hospital, Kilmainham
Dublin 8
Telephone: +353 1 612 9900
Opening hours / start times:
Tuesday 11:30 - 17:30
Wednesday 11:30 - 17:30
Thursday 11:30 - 17:30
Friday 11:30 - 17:30
Saturday 10:00 - 17:30
Sunday 12:00 - 17:30
Admission / price: Free
Bank Holidays open 12:00 – 17:30.