Equinox
Friday 24 March – Thursday 13 April 2017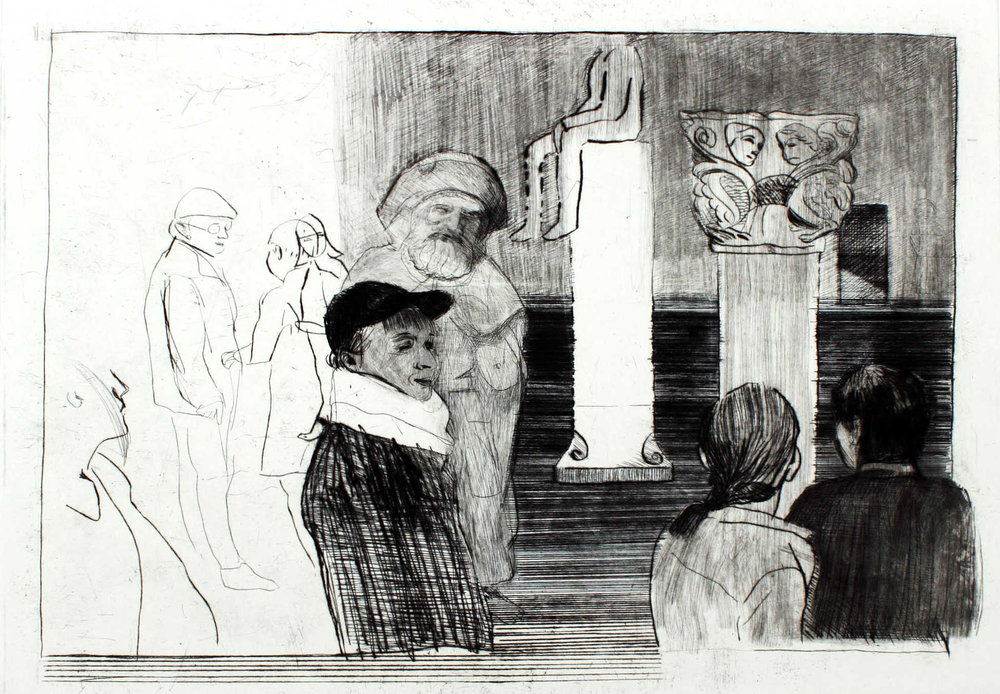 Graphic Studio Gallery is delighted to present 'Equinox', a three-person show, featuring recent work by Stephanie Hess, Ciara O'Hara, and Maev Lenaghan.
Each of the artists were invited to present work, relating to their current concerns, without any thematic restriction.
Bronze sculptor Stephanie Hess, creates finely crafted stylized animals, that inhabit a fantastical world of colour and joy.  The work is playful – her characters often repeated in different patinas that hint at a family unit, each different, but the same – without irony – there is a sense of tenderness.
Ciara O'Hara's new etchings and drypoints draw inspiration from her personal experiences of travelling. They provide a glimpse into these places from the perspective of an outsider.  Many depict lone animals, isolated, yet confident, they are at ease, in their environment.
Maev Lenaghan's drypoints are snippets of life. They are fragments of stories, that encourage the onlooker to engage their imagination as to the possible narratives connecting them. Her intention is to invoke a sense of place, an atmosphere, a tension or a happening.  They are a form of non-linear storytelling,
The exhibition title refers to the time of year, when the exhibition will start: The Spring Equinox occurs around the 20th of March, at this time the sun crosses the celestial equator, and day and night are of roughly equal length.
Image: Maev Lenaghan: Museum, drypoint on Hahnemüle, 50 x 70 cm
Friday 24 March – Thursday 13 April 2017
off Cope Street
Temple Bar, Dublin 2
Telephone: +353 1 679 8021
Opening hours / start times:
Monday 10:00 - 17:30
Tuesday 10:00 - 17:30
Wednesday 10:00 - 17:30
Thursday 10:00 - 17:30
Friday 10:00 - 17:30
Saturday 11:00 - 17:00
Admission / price: Free
Through the Arch off Cope Street (behind the Central Bank)