Eoin Mac Lochlainn: Cogadh na gCarad / The War between Friends
Tuesday 7 March – Sunday 2 April 2023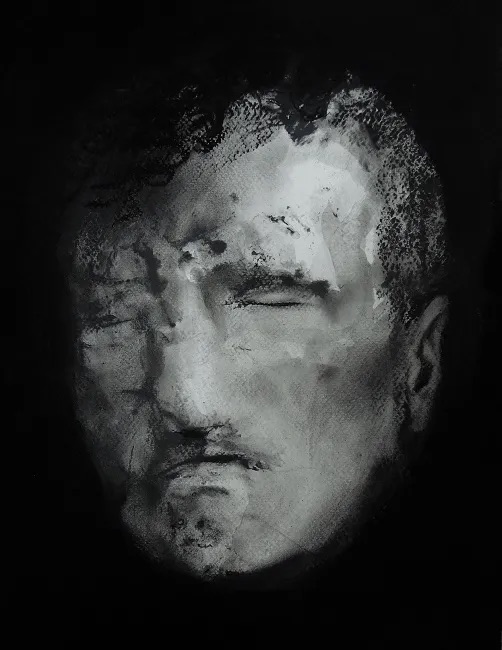 A solo exhibition by gallery artist Eoin Mac Lochlainn
The Olivier Cornet Gallery is delighted to present Eoin Mac Lochlainn's fifth solo exhibition with us. Cogadh na gCarad / the War between Friends is a project that explores the trauma of the Irish Civil War. Over the last year Eoin Mac Lochlainn has been making charcoal drawings and developing a video projection for the Garden of Remembrance in Dublin to coincide with his solo exhibition at the Olivier Cornet Gallery.
"When reading about the Civil War I was struck by historian Diarmaid Ferriter's assessment of it as "a small-scale affair" with only about 1400 people killed. Small perhaps (when compared to 36,000 deaths in the Finnish Civil War around the same time) but for me, 1,400 dead meant that 1,400 families were bereaved and many, many more were traumatised. I decided that I would make 1,400 drawings to commemorate the dead, (to commemorate – from the Latin commemorare: to bring to remembrance – and com: altogether) -ie- to bring people together to remember and, in some way, to acknowledge the trauma. 
The drawings are not portraits – and not based on actual people who were killed during the conflict. Each piece is an attempt to represent a soul, someone with dreams and ambitions, someone whose life was cut short. The series does not pass judgement or take sides. Who knows today what stance we would have taken – or how we would have acted in the same situation – but I think that it is important to remember the Irish Civil War and to mark it – to remind ourselves that peace should never be taken for granted. 
The work continues to put other global conflicts in perspective for me. War is a failure of empathy, a failure of Humanity. Whatever the cause, when it comes down to it, it's always some mother's son, it is somebody's sister or brother, somebody's neighbour who is killed.
I'm grateful to the Arts Council and the OPW for supporting this project."
Eoin Mac Lochlainn
Tuesday 7 March – Sunday 2 April 2023
3 Great Denmark Street
(beside Belvedere College)
Dublin 1
Telephone: +353 87 2887261
Opening hours / start times:
Tues to Fri: 11am to 6pm (till 8pm on Thursdays) • Sat & Sun: 12 noon to 5pm • Closed on Mondays (or viewing by appointment only)
Admission / price: Free