Enda Bowe: Love's Fire Song
from Saturday 8 August 2020 Sunday 6 December 2020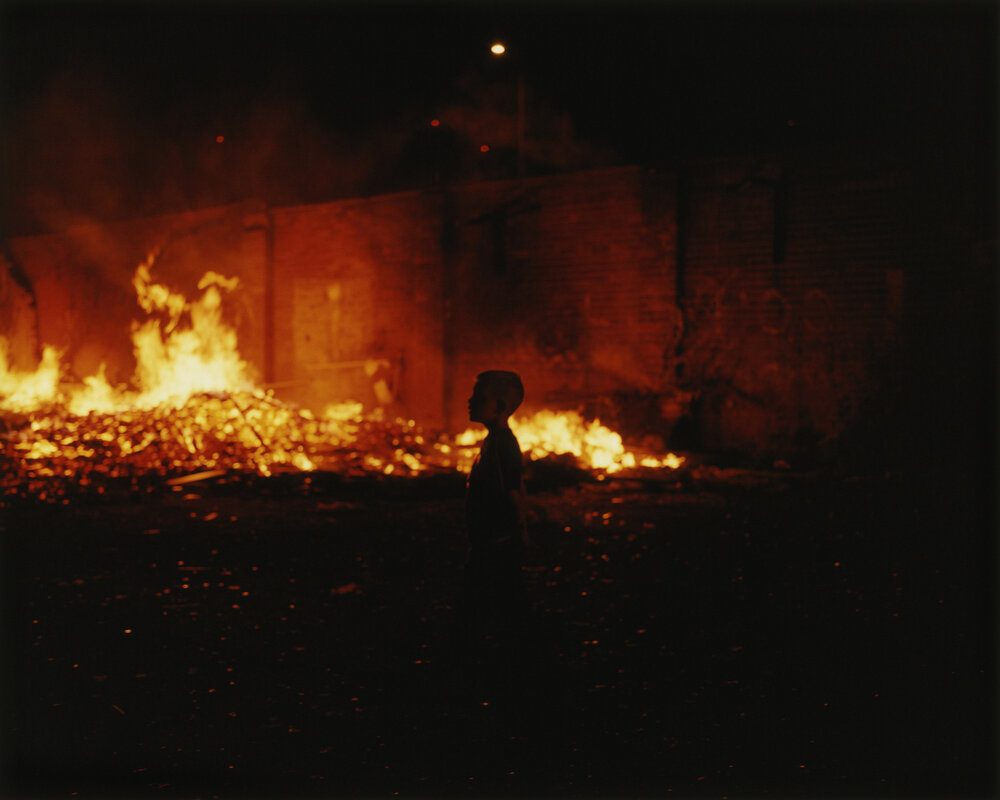 ――― Reopened ―――
Gallery of Photography Ireland is delighted to present the Irish premiere of Enda Bowe's award winning Love's Fire Song.
Book you visit to the Gallery here. Viewable online here.
Over the past 5 years Enda Bowe has worked with young people on either side of the peace walls in Northern Ireland. Taking the symbolic bonfires of July and August as his starting point, Bowe worked collaboratively with people from across the sectarian divide to create open-ended visual narratives.
Love's Fire Song is concerned with storytelling and the search for light and beauty in the ordinary. Precise references to political context and geographical locations are underplayed to offer subtle new perspectives, revealing a quiet, contemplative portrait of youth culture. Often defined in opposition to each other by their religious beliefs, cultural background and inherited sense of place, the work highlights instead young peoples' shared sense of ritual in gathering around a bonfire – which in itself echoes ancient traditions.
A life, no matter how ordinary, is as beautiful and dramatic as anyone else's. All the joy, stillness, subtleties of emotion and sadness in the everyday which link us all  – this is what l am honing in on. People like to be acknowledged, they want to have an identity and presence in a world where they may feel they are not seen nor heard. The emotional narrative of everyone's life is interesting, and that is what l am drawn to.
– Enda Bowe, 2020
Bowe's deeply empathetic portraits go beyond stereotypical representations to touch on shared human experiences of longing, vulnerability, joy and celebration. Where others might see mundane, everyday situations, Bowe finds beauty, hope and optimism. Love's Fire Song looks beyond the often destructive influence of history to reflect on the commonalities that exist between seemingly disparate places and lives.
Bowe recently worked with Lenny Abrahamson on the acclaimed TV series Normal People. Bowe was the winner of the National Gallery of Ireland Zurich Portrait Prize 2019.
Enda Bowe's work has been exhibited in galleries and museums including the Victoria & Albert Museum, London; Red Hook Gallery, New York; Gallery of Photography Ireland; the Douglas Hyde Gallery, Dublin; the National Portrait Gallery, London; Fotohof, Salzburg; The Visual Centre Of Contemporary Art, Ireland and most recently in The Other Side, Dortmunder U, Dortmund, Germany. Bowe was the winner of the National Gallery of Ireland Zurich Portrait Prize and was runner up for the Taylor Wessing Portrait Prize in 2019. His collection of work At Mirrored River received the international Solas Photography Award 2015. He was nominated for the Prix Pictet Award 2016 and the Deutsche Borse Foundation Photography Prize 2016. In the UK his work has been shortlisted for the National Gallery Portrait Prize for 2019 for Love's Fire Song. Bowe's first monograph Kilburn Cherry was published by J&J Books and received the Birgit Skiold Artist Award 2014 from the Whitechapel Gallery, London. In self-publishing his photobook At Mirrored River the artist was kindly supported by the Victoria & Albert Museum, Oscar nominated directors Ken Loach and Lenny Abrahamson, and writer Colm Toibín. This book coincided with the exhibition of At Mirrored River at The Visual Centre of Contemporary Art, Ireland. His third monograph This Thing I Want. I Know Not What, inspired by Carson McCuller's novel The Heart Is a Lonely Hunter, was published by Paper Tiger Books in 2018.
Supported by the Department of Foreign Affairs and Trade Reconciliation Funds and Regional Cultural Centre, Letterkenny, Donegal.
from Saturday 8 August 2020 Sunday 6 December 2020
Meeting House Square
Temple Bar, Dublin 2
Telephone: +353 1 6714654
Opening hours / start times:
Tuesday - Saturday 11am - 5pm. Mondays by appointment for education, artists archiving and training. Closed Sundays
Admission / price: Free