Emma Roche: LOOP
Tuesday 17 October – Saturday 25 November 2023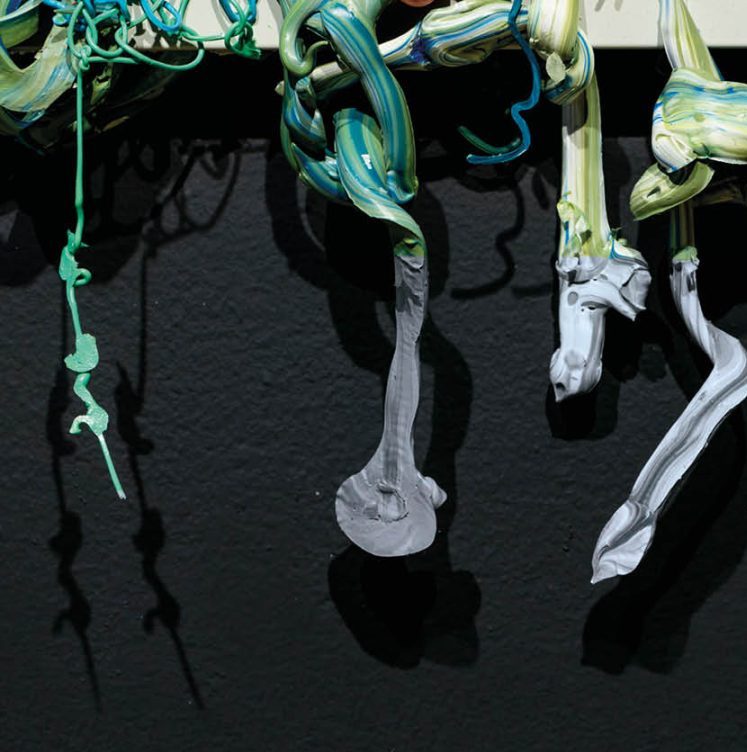 Wexford Arts Centre and Wexford County Council Arts Department in partnership with South East Technological University are pleased to present LOOP by Emma Roche, recipient of the 2021 EMERGENCE Visual Art Award. A response to the work written by novelist and essayist Sophie White will accompany the exhibition.
Emma Roche's works shift between the figurative and abstract, combining the methodologies of knitting with paint to create layered and textured works. Roche's preparatory drawings, made quickly and obsessively, are informed by the humdrum of repetitive daily tasks. In contrast, the processes employed by Roche in the knitted paintings are slow and arduous, where long lines of paint are prepared and dried to be used like wool or thread. The 'should be' liquid material is forced to behave in a seemingly impossible but measured way. Ideas concerning how we structure and organise time are highlighted through these painted forms as the labour involved in their production is apparent.
For the EMERGENCE Award, Roche produced a new body of large-scale knitted paintings and works on rug canvas. Considering domestic and occupational interruptions as a starting point, she highlights everyday occurrences that take time away from studio practice. This focus led to experimentation, with an interest in abstraction and a laboratory style of working in the studio.
The artist also worked collaboratively with art students from South East Technological University on a series of experimental painting workshops with a focus on everyday events.  An exhibition of work will run alongside LOOP in the Dr. Billy Colfer Gallery from Tuesday 17 October to Sunday 5 November featuring Anna Bekmansurova, Patricia Cavanagh, Anna Cavenagh, Joe Doyle, Alicia Fortune, Susan Birney Gossage, Sadhbh McCarthy Mccool, Cody McEvoy, Jane Mouzet, Laura O'Connor, Greta Segaline Villa and JP Sexton.
Emma Roche lives and works in Gorey, Wexford. She was a 2023 Artist in Residence at the Sam and Adele Golden Foundation, New York. She recently received the inaugural Lady Grantchester Prize as part of the John Moore's Painting Prize at the Walker Art Gallery, Liverpool, 2023. She is the 2021 recipient of the EMERGENCE Award, Wexford Arts Centre; Arts Council of Ireland Bursary Award, 2021 and 2020, and the Creative Ireland Bursary Award, 2020.
Recent exhibitions include Lined Out, Mermaid Arts Centre, Wicklow (2023); Spiders and Cheerleaders, The Complex, Dublin (2021), Ochre, a two-person show with Ciara Roche, Wexford Arts Centre (2021); and Forward Slash at the LAB Gallery, Dublin (2018).  Selected group shows include The John Moore's Painting Prize Exhibition, Walker Gallery, Liverpool, (2023); Generation '22, Butler Gallery, Kilkenny (2022); We Are Fetishists, Small Night Zine, Garter Lane, Waterford (2022), Women Can't Paint, Turps Gallery, London (2018); and Turps Cloud, Turps Gallery, London, (2018).
Her work is in private and public collections including the Office of Public Works, Dublin, Arts Council of Ireland, Butler Gallery, The Crawford Gallery, Wexford Arts Centre and Wexford County Council.
Sophie White is a novelist, essayist and podcaster from Dublin. She also holds a First-Class Honours degree in Sculpture from NCAD and she is currently the Arts Council Writer in Residence in DCU. She is the author of seven books. Her first four books, Recipes for a Nervous Breakdown (Gill 2016), Filter This (Hachette, 2019), Unfiltered (Hachette, 2020) and The Snag List (Hachette, 2022) have been all bestsellers and award nominees. Her fifth book, the bestselling memoir Corpsing (Tramp Press, 2021), was shortlisted for an Irish Book Award and the Michel Déon Prize for non-fiction. Her sixth book, Where I End (Tramp Press, 2022) was described as "brilliantly visceral" by the Guardian and "exquisite and disturbing, brutish and beautifully crafted" by The Irish Times. It won the Shirley Jackson Award for best novel. Her seventh book and fifth novel, My Hot Friend (Hachette, 2023) has just landed in bookshops.
Wexford Arts Centre, Wexford County Council and artist Emma Roche would like to thank Ella de Burca, Paul Carter, Oliver Comerford, Anthony Lyttle, Brigitte Mulholland, Kathy Prendergast, and Sophie White for their contribution to the exhibition.
Tuesday 17 October – Saturday 25 November 2023
Cornmarket, Wexford
Telephone: +353 53 9123764
Opening hours / start times:
Tuesday to Saturday 10am – 5pm
Admission / price: Free