Emma Roche: Lined Out
Saturday 21 January – Saturday 11 March 2023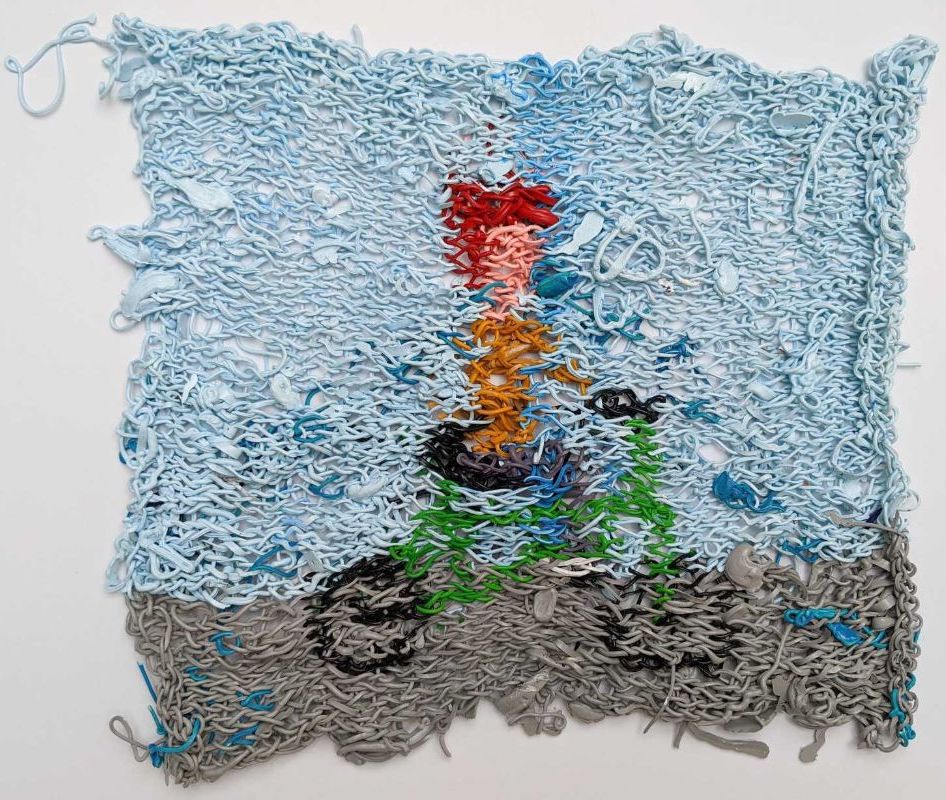 ――― In venue ―――
Lined Out is a solo exhibition of new work by Emma Roche, recipient of the 2021 Wexford Arts Centre EMERGENCE Award. Roche's unorthodox textural paintings are accompanied by a new large-scale commission of hand-screen printed works on paper by Small Night. Small Night is an art and text project by James Merrigan.
Being 'lined-out', according to the Urban Dictionary, refers to the kind of anxiety felt by an assembly line worker. The stress caused by simple tasks and the monotony of "the line" evokes dynamic states of anxiety and comfort, exacerbated by repetitiveness.
Roche's preparatory drawings. made quickly and obsessively, are informed by the humdrum of repetitive daily tasks. In contrast, the processes employed by Roche in the knitted paintings are slow and arduous, where long lines of paint are prepared and dried to be used like wool or thread. The 'should-be' liquid material is forced to behave in an apparently impossible but measured way.
Emma Roche is the 2021 recipient of The EMERGENCE Award, Wexford Arts Centre; Visual Arts, Arts Council Bursary Award, 2021 and 2020, Creative Ireland Bursary Award, 2020 and was shortlisted for the Zurich Portrait Prize, National Gallery of Ireland, Dublin, 2021. She has recently been selected for a residency at the Sam and Adele Golden Foundation for the Arts, New York, 2023.
Recent exhibitions include Spiders and Cheerleaders, The Complex, Dublin, Ochre, two-person show with Ciara Roche at Wexford Arts Centre, 2021 and Forward Slash at the LAB Gallery Dublin, 2018.
Selected group shows include Generation '22, Butler Gallery, 2022, We Are Fetishists, Small Night Zine, Garter Lane, Waterford, 2022, Artworks, VISUAL Carlow, 2020 and 2019, Women Can't Paint, Turps Gallery, London, 2018 and New Beginnings, Green On Red Gallery, Dublin, 2018.
Saturday 21 January – Saturday 11 March 2023
Main Street, Bray
Co. Wicklow
Telephone: +353 1 2724030
Opening hours / start times:
Monday – Saturday, 11am – 5pm
Admission / price: Free