Em'kal Eyongakpa: Mámbáy bebhɛp 43t / besáŋ berat / bakay nɛkɔ
until October 2022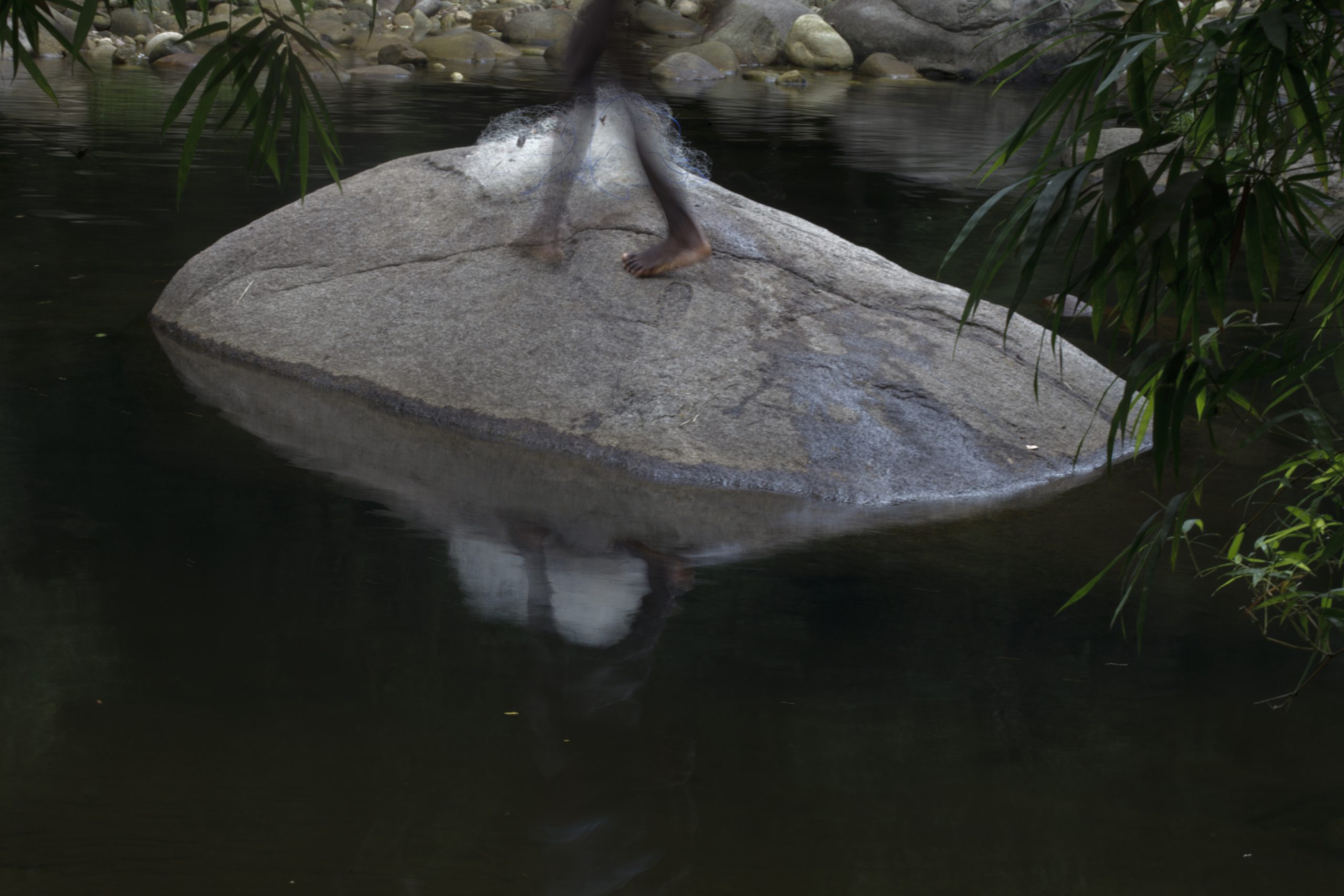 IMMA is delighted to realise a new commission in partnership with EVA International. Cameroonian artist, Em'kal Eyongakpa, presents an immersive audio installation featuring contributions from singers and storytellers in Southeast Nigeria, Southern Cameroon and Ireland, as well as intersessions between the Gulf of Guinea and Western Europe.
Mámbáy bebhɛp 43t / besáŋ berat / bakay nɛkɔ by Cameroonian artist Em'kal Eyongakpa is an immersive sensory installation which transcribes audio signals from recordings of lullabies, chants, laments, poems and folk songs gathered between Southeast Nigeria, Southern Cameroon and Ireland, as well as intersessions between the Gulf of Guinea and Western Europe.
For the 39th EVA International, Eyongakpa wove together voices from across 10 language groups, with contributions from refugee settlements, displacement camps, and rural communities. From more than 25 recordings, the audio was transcribed and layered into a dense composition of vibrations to ebb and flow across a custom-built platform, which at EVA, was presented within a darkened, atmospheric gallery environment.
IMMA will now present Mámbáy bebhɛp 43t / besáŋ berat / bakay nɛkɔ, with an installation adapted for outdoors, where visitors can interact and experience the physical composition of the installation in the open air. As part of IMMA Outdoors a series of performances will be programmed with the installation, inspired by the gathered recordings and to expand the engagement with Eyongakpa's project.
Encounters 2020 – 2022 has been made possible with the generous support of Mondriaan Funds.
Em'kal Eyongakpa (b. 1981, Mamfe, Cameroons) is an artist whose work draws from a range of sources including indigenous knowledge systems, ethnobotany, applied mycology and technology. He is also known for his involvement in self-organised community research spaces, such as KHaL!SHRINE in Yaoundée (2007-2012) and the research platform/ Boh- Bɛtok/ ɛfukuyu.
About the partnership
As organisations with international reach and distinct profile within a national context, the partnership between IMMA and EVA seeks to raise the horizon of opportunity for the commission and production of ambitious large-scale artworks in Ireland, with a focus on thinking beyond the 'exhibitionary' encounter of contemporary art.
To date, IMMA has hosted research residencies for EVA's international curators Bassam El Baroni (2014), Koyo Kouoh (2016) and Inti Guerrero (2018) and Merve Elveren (2020). Affiliated programming from 2014 – 2018 has included projects and events with Nástio Mosquito, David Horvitz, Praneet Soi, The Rubber Bandits, Tracey Rose, Sam Keogh, John Rainey and the satellite exhibition THE 38TH EVA INTERNATIONAL AT IMMA featuring the work of Locky Morris, Roy Dib and Marlon T.Riggs.
Annie Fletcher, Director, IMMA, previously curated EVA International 2012 – After the Future, while in her role as Chief Curator at Van Abbemuseum, Eindhoven.
until October 2022
Royal Hospital, Kilmainham
Dublin 8
Telephone: +353 1 612 9900
Opening hours / start times:
Tuesday 11:30 - 17:30
Wednesday 11:30 - 17:30
Thursday 11:30 - 17:30
Friday 11:30 - 17:30
Saturday 10:00 - 17:30
Sunday 12:00 - 17:30
Admission / price: Free
Bank Holidays open 12:00 – 17:30.