Elizabeth Magill: Green Light Wanes…
Friday 26 November – Thursday 23 December 2010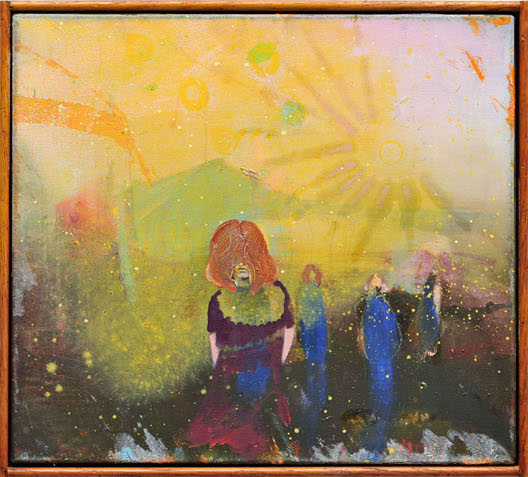 Kerlin Gallery is pleased to announce an exhibition of new paintings by Elizabeth Magill. Magill grew up in Northern Ireland but lives and works in London. She began exhibiting in the mid-1980s. She is a painter of prodigious versatility and inventiveness whose work has always drawn from a wide range of visual sources. While she has often integrated photographic materials and processes into her painting, in a number of novel ways, her primary fidelity has been to the medium of painting, in all its bewildering variety.
Relatively small in scale compared to previous work, Magill's new paintings represent an exciting new departure in the evolution of her practice. Narrative and form slips in and out of recognition and focus and each work is a wonderfully dense world of that which Magill has become renowned for; a hybrid of glimmering abstraction, haunting figuration, romantic landscape, and an ever creative and engaging play between depiction and suggestion.
Magill's first major solo exhibition was at the Arnolfini Gallery, Bristol, in 1990. In the same year she was included in the seminal 'British Art Show', which first introduced many of the most prominent younger British artists to a wider public. Since then she has had one-person exhibitions at various venues in Ireland, Britain, Germany, France and Spain, the Hugh Lane Municipal Gallery, Dublin in 2003 and the Ikon Gallery, Birmingham; Baltic, Gateshead and Milton Keynes Gallery in 2004. She has held fellowships at the Tate Gallery, Liverpool and Saarlandisches Kunstlerhaus, Saarbrucken, Germany. Selected group exhibitions include; The Royal Academy Summer show, 2010, London (invited artist), Irish Museum of Modern Art, Dublin in 2008, 'Places in Mind', (with Adam Chodzko and Stan Douglas), Ormeau Baths Gallery, Belfast 2000, and 'Premio Michetti 2000' at Fondazione Michetti, Italy.
Magill is represented in many public and private collections worldwide including those of the Irish Museum of Modern Art, the Hugh lane Gallery, Dublin, the Arts Council of England, Arts Council of N.Ireland, Ulster Museum, Belfast, Southampton City Art Gallery, the British Council and the National Gallery of Australia.
A fully illustrated catalogue with text by Martin Herbert accompanies this exhibition.
Image: Elizabeth Magill: I shall arise and go for a haircut, 2010, oil on canvas 16 x 18 ins Courtesy Kerlin Gallery, Dublin
Friday 26 November – Thursday 23 December 2010
Anne's Lane
South Anne Street, Dublin 2
Telephone: +3531 670 9093
Opening hours / start times:
Monday 10:00 - 17:45
Tuesday 10:00 - 17:45
Wednesday 10:00 - 17:45
Thursday 10:00 - 17:45
Friday 10:00 - 17:45
Saturday 11:00 - 16:30
Admission / price: Free