Elaine Hoey: Mimesis
Saturday 25 September – Friday 5 November 2021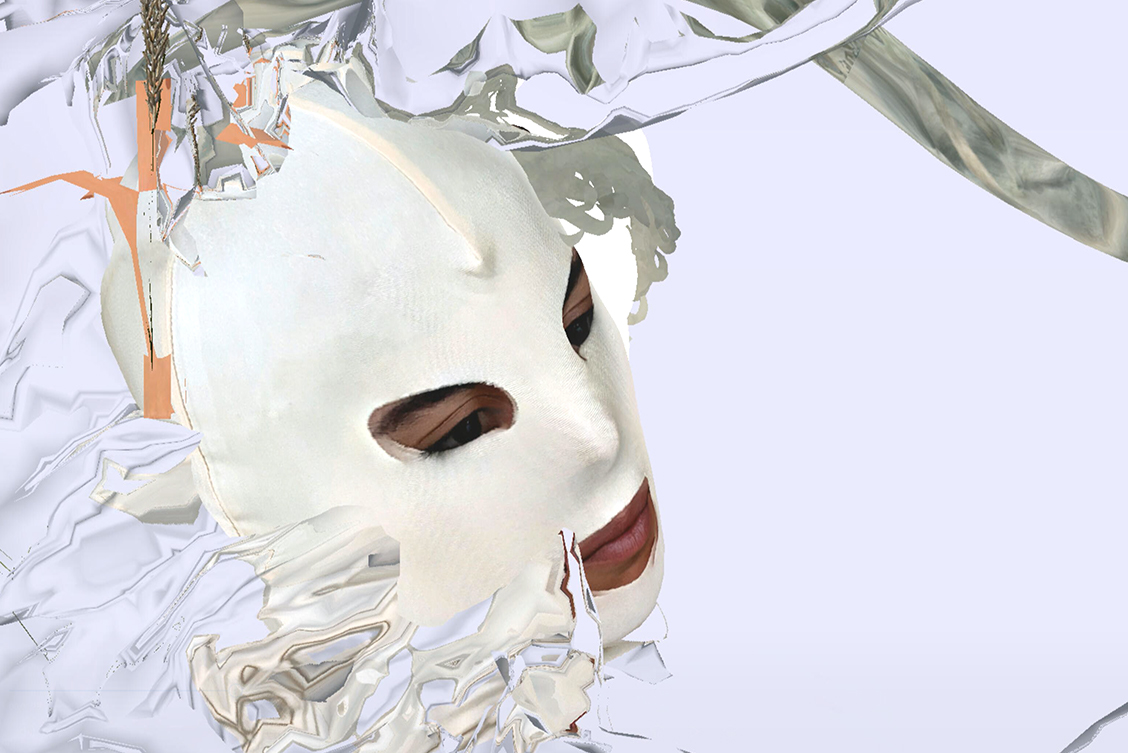 'the digital turn no longer rests on realism or hyperrealism but generates "a dynamic interplay of virtual simulation and bodily imitation…located at the juncture where hyperreal simulacra and real mimetic subjects meet, mirror one another" generating all-too-real effects on posthuman subjects'
– Nidesh Lawtoo, Reflecting on Hypermimesis (2015)
Solstice Arts Centre presents an important solo exhibition of new and recent work by Irish artist Elaine Hoey, the pre-eminent artist working with new media in Ireland. Mimesis features a new body of work which includes video, installation, CGI digital avatar performance, expanded digital paintings and print and an experimental virtual reality work-in-progress.
In this new body of work Hoey explores a contemporary interpretation of an ancient concept by Plato, Mimesis[1]. From the anthropological to the political, Hoey examines the nature of human behaviour at times of crisis. Drawing from theories such as mimetic crowd contagion, mirror neurons, mimicry, simulation and affective contagion, Hoey investigates how the body, both social and political, merges with technological systems and the role behavioural imitation plays in the posthuman turn[2]. The work also investigates new technologies such as facial capture, 3D scanning and virtual reality, developing works that examine the digital human, avatar performance nature and techne[3], reality and simulation.
Also included is a recent work 'Animated Positions' 2019 which was developed during an artist's residency programme at Centre Culturel Irlandais, Paris. This work was inspired by Eugene Delacroix's painting 'Liberty Leading the People' in the Louvre, Paris (commemorating the July Revolution of 1830) and also references a video game 'Call of Duty', 2003, in the context of the male dominated video games industry and online gaming culture – one of the largest online communities in the world in 2015/6.
Hoey works mainly creating interactive based installations, appropriating contemporary digital art practices and aesthetics to explore the politics of digital humanity and our evolving relationship with the screen. She describes her process as 'experimental' and is interested in exploring digitally native and new forms of art. Her work often addresses and critiques themes arising from identity, place and the biopolitical body. She works through a wide variety of mediums such as, virtual reality, artificial intelligent systems in gaming engines, video, installation and live remote cyber performance.
Recent exhibitions include Desire; A Revision from the 20th Century to the Digital Age at the Irish Museum of Modern Art Dublin (2019-2020); Unflattering at The National Museum of Modern and Contemporary Art, Seoul, South Korea (2020) and Citizen Nowhere Citizen Somewhere at The Crawford Gallery, Cork (2020). Other selected exhibitions include The Dictionary of Evil, Gangwon International Biennale, South Korea (2018); Design and Violence MOMA and Science Gallery (2016-17); Dublin Futures, The RHA, Dublin; Turbulence, The Model Sligo; Oracle at Scena9. Bucharest (2018); Open Codes, ZKM Karlsruhe, Germany; Surface Tension, Centre Culturel Irlandais, Paris (2018); FILE SP Fiesp Cultural Centre, São Paulo, Brazil (2019); This is not Architecture (2017) at Highlanes, Drogheda; The Ground Opened Up, The National Sculpture Factory, Cork (2017).
Hoey is a recipient of the Taylor Art Award and the R.C. Lewis-Crosby Award from the RDS Visual Arts Awards. She has just been awarded a one year long studio residency with the Irish Museum of Modern Art, Dublin and Dean Art Studios. Hoey is a part-time lecturer in Fine Art Media at the National College of Art and Design.
______________________________________
[1] Lawtoo, Nidesh. (New) Fascism: Contagion, Community, Myth. Michigan State University Press, 2019.
[2] SAGE Journals. 2021. Life as a Political Problem: The Post-Human Turn in Political Theory – Magdalena Zolkos, 2018. [online] Available at: <https://journals.sagepub.com/doi/abs/10.1177/1478929917720431> [Accessed 16 September 2021].
[3] Heidegger, Martin. The Question Concerning Technology and Other Essays. Garland Publishing, Inc., 1977.
PLEASE NOTE: Entry to the exhibition does not require booking. However, if you wish to experience the Virtual Reality work 'Rupture' – booking a minimum of 24 hours in advance of your visit is necessary by following the link below. AGES 16+. The experience will last for approximately 15mins and booking is free.
Image: Elaine Hoey: 'Soft Synapses', 2021, 3D Scan, Expanded Digital Print, Video Animation. Courtesy of the artist.
Saturday 25 September – Friday 5 November 2021
Navan, County Meath
Telephone: +353 46 9092300
Opening hours / start times:
Tuesday 11:00 - 16:00
Wednesday 11:00 - 16:00
Thursday 11:00 - 16:00
Friday 11:00 - 16:00
Saturday 11:00 - 16:00
Admission / price: Free