Elaine Byrne: Whenceness
Thursday 5 May – Saturday 28 May 2016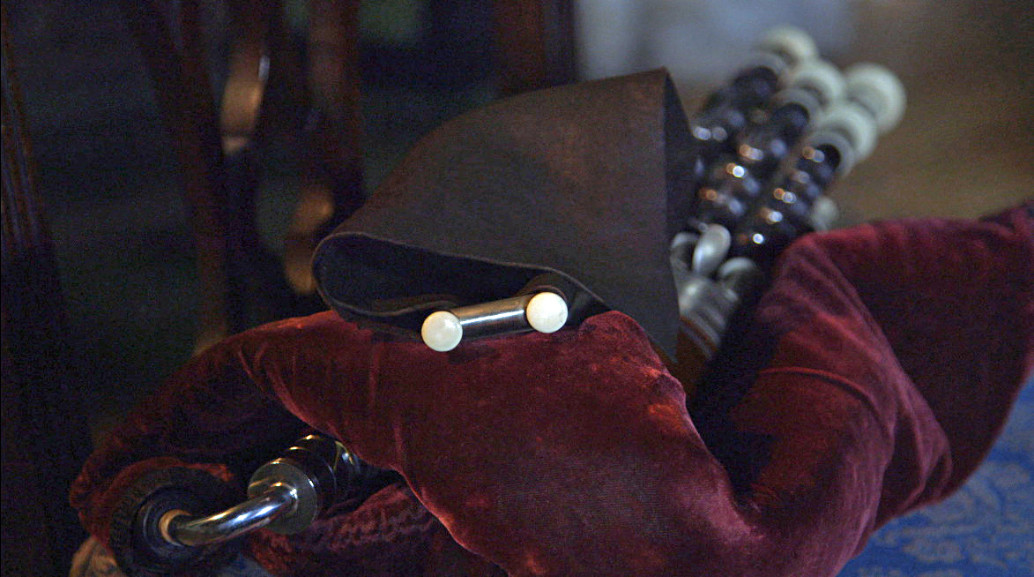 Hits: 9
Whenceness is comprised of two videos, Pure Codology and Rakoczy March, developed during Byrne's fellowship at the Whitney Independent Study programme in New York, alongside twenty-four new works on paper that Byrne developed in Dublin. Collectively the work deals with the intersection between fiction and reality derived from Episode 12; Cyclops in James Joyce's Ulysses. Byrne considers the manner in which specifics are translated – she attempts to find the line of demarcation between essence and meaning. The Cyclops episode deals with race, racism, anti-Semitism and what it means to be Irish. Within the Cyclops episode the issue of Bloom's Judaism is raised as a central point of conflict with the Irish-nationalist character, Citizen. Bloom counters the racial identification of nationality with the more modern interpretation of a group of disparate people working together for a common goal. "A nation?' Says Bloom 'A nation is the same people living in the same place".
Using original newspaper from 16th June 1904, the day Ulysses is set, Byrne highlights the news of the real day, a day which is mostly known through the fiction, considering what changes over time and what stays the same. 
In Rakoczy March, a 41-minute video piece, two uilleann pipers attempt a classical composition referenced in Ulysses as being played by Irish pipers. During the course of the video both musicians become increasingly exasperated at the phrasing of the piece and its unsuitability for the instrument. As they try to navigate through the notes of the musical composition, they demonstrate that it was probably never played on the pipes. To discern such a specific reference within the novel, the reader would require knowledge about the march and about uilleann pipes. An 'inside joke' assumes that there is a group of people with enough common reference to share the joke. Inversely, this means that there is also a group outside the joke. No word stands on its own as its uses depend on the complex and systematic properties of language itself. Byrne considers words relating to race, people and culture, where many crucial meanings have been shaped by a dominant class and by professions operating within its terms. Throughout Whenceness, Byrne investigates the point at which an expression negates direct translation and the manner in which language both absorbs and expresses the experience of various social and cultural politics.
Whenceness will be accompanied by a text by Ingrid Lyons that further contextualises the work in terms of its historical and literary references.
Elaine Byrne lives and works between Dublin and New York, she received an MA in Visual Arts Practices (MAVis) from IADT, Dun Laoghaire in 2010. Byrne has exhibited widely in Ireland and abroad- recent solo exhibitions include La Diritta Via, Montoro12 gallery, Rome, 2016, RAUMPLAN, Limerick City Gallery of Art, 2014, RAUM, Kevin Kavanagh, Dublin, 2013. Selected group shows include the Whitney Independent Study Program, Elizabeth Foundation of the Arts, New York, 2015, Maximum Entropy, CPS Project Space, New York, 2015, Transferiencias, UAM, Mexico City, 2014, Centre of Fine Art Photography, Colorado and TULCA Festival of Arts, Galway, 2011 and 2009. Byrne received the Curtin O'Donoghue Emerging Photography Prize in 2012, other recent awards include the Arte Laguna sculpture prize, Venice, 2014, the Celeste Residency prize, 2015, the Irish Arts Council Bursary, 2015 and Project award in 2014.
With thanks to Nora Alter, Alicia Ibanez Flores, Cassandra Guan, Vivien Igoe, David O'Rourke, Santiago Solórzano and Soyoung Yoon.
And special thanks to uilleann pipers Leonard Barry and Padraig Carberry McGovern and Martha Goldmann and Ferenc Takacs of the Hungarian Joycean society.
Image: Elaine Byrne: Still from Rakoczy March, video, 45 min, 2016
Thursday 5 May – Saturday 28 May 2016
Chancery Lane
Dublin 8
Telephone: +353 1 475 9514
Opening hours / start times:
Tuesday 10:30 - 17:30
Wednesday 10:30 - 17:30
Thursday 10:30 - 17:30
Friday 10:30 - 17:30
Saturday 11:00 - 17:00
Admission / price: Free