Eilis O'Toole: In a Landscape
Saturday 11 February – Saturday 6 May 2023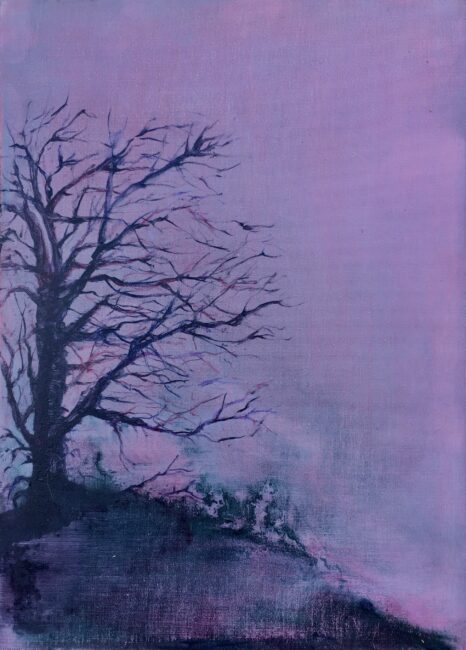 'In a Landscape' is an exhibition of paintings by artist Eilis O'Toole. These paintings are part of an evolving series of works which provide a space for reflection and contemplation.
O'Toole is concerned with paying attention to the seemingly ordinary or insignificant. Moments and thoughts that disappear as easily as they appear and before you have a chance to fully grasp them. She is exploring the essence of these moments which allow for a spontaneous drift of thought. Her process for making these works begins with walking and spending time in her local landscape. It is these landscapes and the relationship between the visual and emotional response, which concerns her. By shifting her focus of attention, she allows a state of openness to observe and experience a space. The paintings do not imitate but evoke and reveal. They portray an idea of the landscape being a liminal space which leaves room for an ongoing encounter with the work, so even though the scene is place specific you could also say it is nowhere, it exists in the mind.
Eilis O'Toole graduated from N.C.A.D. specialising in Fine Art Painting in 1999. She is a visual artist with a practice in painting. She has exhibited in many juried group exhibitions throughout Ireland. Solo exhibitions include – 'Momentary' Narrow Space, Clonmel and 'Early one Morning' The Hallward Gallery, Dublin. She has participated in an artist residency in Reykjavik Iceland.Her work is held in public collections including the OPW and AXA Insurance.
She completed the Arts in Group Facilitation Course at Crawford College of Art and Design in 2015, and has participated in a number of projects in both education, health, and community engagement settings.
Saturday 11 February – Saturday 6 May 2023
O'Connell Street
Waterford
Telephone: +353 51 855038
Opening hours / start times:
Tuesday 11:00 - 17:30
Wednesday 11:00 - 17:30
Thursday 11:00 - 17:30
Friday 11:00 - 17:30
Saturday 11:00 - 17:30
Admission / price: Free