Eileen Hutton: Mycelial Communities
Saturday 30 October – Sunday 5 December 2021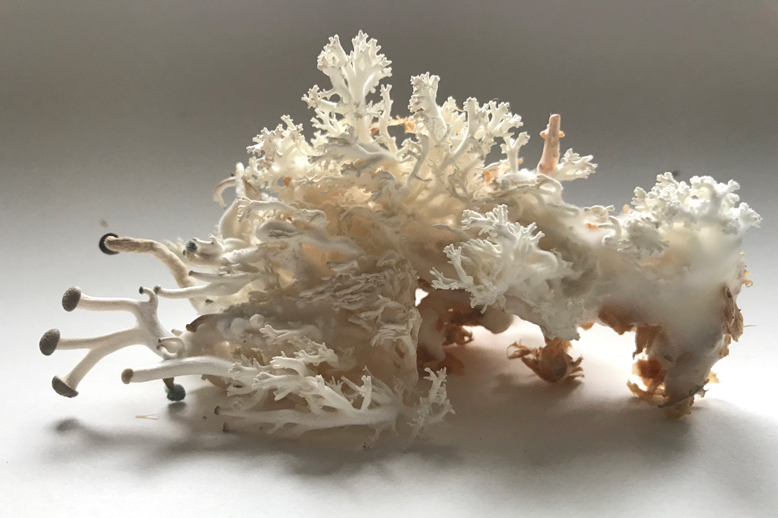 ――― In venue ―――
The Soil Project Residency Exhibition 2021
The Soil Project is an annual commission at Butler Gallery which supports invited artists to create participatory projects which connect deeply with the environment, the world around us and the soil beneath our feet.
Mycelial Communities
Eileen Hutton has undertaken a yearlong residency at Butler Gallery as part of the participatory The Soil Project commission. The works presented as part of Mycelial Communities are the outcomes of a postal art project with over 100 participants across the island of Ireland, material investigations by the artist, and an experimental soil chromatography process.
"At the beginning of my residency, the country was still in a phase of 5K travel restrictions. In order to develop a participatory project that prioritized direct engagement with soil, albeit remotely, I devised a postal art project. Packages containing a glass petri dish, detailed instructions for how to gather, sense and identify local soils as well as a copy of the General Soil Map of Ireland were sent to over 100 people from around the island. From this collective mapping process, I have created a series of experiments in soil chromatography to represent each gathered soil sample.
The chromatography series and the archive of the postal art component of this project are displayed alongside additional research phases of the residency that focused on fungi and earthworms as essential biota that contribute to the formation, maintenance and restoration of high quality, indispensable soils.
---
Soil Chromatography Workshop with Eileen Hutton
Saturday 13 November, 2 – 3.30pm
€12

Join artist-in-residence Eileen Hutton, who will lead a workshop in the experimental process of making photographic images with soil samples, called chromatography. Eileen is the commissioned artist for Butler Gallery's The Soil Project 2021. Over 100 people from across the island of Ireland have collected soil samples to participate in the Soil Map of Ireland.
These samples have been used by Eileen in the alternative photography process, which creates a 'soil portrait' on light sensitive filter paper that is both formally beautiful and a useful way to assess the soil for organic matter, biological diversity, minerals and humus. The individual chromatograms are installed as part of a large scale, material soil map at Butler Gallery's Learning Centre.
During the workshop, Eileen will discuss her residency and her research into soil and mycelial networks. You will be lead through a process of creating a new chromatograph, a unique soil portrait, which you can bring home. You may bring in your own soil sample, and soil samples from Co. Kilkenny will also be provided.
Please note that in line with Government Guidelines for indoor events, all attendees must wear a face covering.
Saturday 30 October – Sunday 5 December 2021
Evans' Home
John's Quay, Kilkenny
Telephone: +353 56 7761106
Admission / price: Free
Closed 13:00 - 14:00 until March.