Eileen Gray: Architect Designer Painter
Saturday 12 October 2013 – Sunday 26 January 2014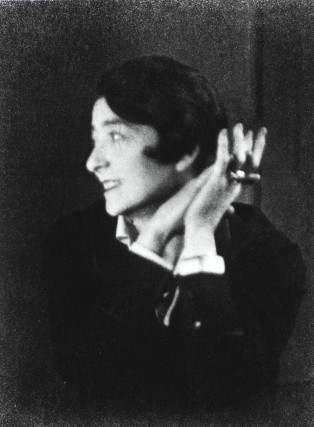 IMMA is delighted to present this major retrospective of the work of Eileen Gray, one of the most celebrated and influential designers and architects of the 20th-century. Designed and produced by the Centre Pompidou, Paris, in collaboration with IMMA, this exhibition is a tribute to Gray's career as a leading member of the modern design movement. The exhibition at IMMA celebrates Gray's Irish roots and presents a number of previously unseen works that offer new insights into Gray's extraordinary career.
Gray's work has often been split into two parts by critics, with decorative arts on the one hand and architectural modernism on the other. This exhibition approaches Gray's work as a whole, engaging, as she did, in drawing, painting, lacquering, interior decorating, architecture and photography. Renowned in France during the early decades of the 20th-century as a designer in lacquer furniture and interiors, Gray began to experiment with architecture in the late 1920s. The exhibition includes lacquer work, several of her carpet designs, samples from her Paris shop Jean Désert and key items of furniture from her work on the apartment of Madame Mathieu Levy and Gray's own home, Tempe à Pailla.
Significant focus is given to her landmark piece of modernist architecture the French villa E-1027, built in Roquebrune-Cap-Martin in 1926-1929, in close collaboration with Romanian architect Jean Badovici. The exhibition includes examples of furniture for E-1027, including the tubular steel designs with which Gray's name has become synonymous.
Eileen Gray (1878-1976) was born near Enniscorthy, Co Wexford and spent most of her childhood between Ireland and London. In 1902 Gray moved to Paris. She died in France at the age of 98. This extensive exhibition presents a unique opportunity for Irish audiences to experience a large group of work by one of Ireland's most important cultural figures.
The exhibition has been designed and produced by the Centre Pompidou, Paris, in collaboration with IMMA. The exhibition is curated by Cloé Pitiot, Curator, Centre Pompidou, Paris.
The Eileen Gray exhibtion is with the support of the French Embassy in Ireland www.ambafrance-ie.org
The exhibition is presented in association with the National Museum of Ireland where an Eileen Gray exhibition is on permanent display at the Decorative Arts & History site, Collins Barracks.
Eileen Gray Catalogue
A catalogue published by Centre Pompidou with text by exhibition curator Cloé Pitiot will be available in the IMMA Shop.
Talks and Lectures
Keynote Conversation | Jennifer Goff and Cloé Pitiot
Sunday 13 October, 2.30 – 3.30pm, The Chapel, IMMA
Jennifer Goff (Curator, National Museum of Ireland, Dublin) and Cloé Pitiot (Curator, musée national d'art moderne/Centre Pompidou, Paris) investigate how Gray's artistic propensities led her onto designing the most innovative and celebrated designs of modern furniture and architecture from the 1920s onwards. A Vintage Tea Dance Party follows this talk from 4.00- 6.00pm, in the Great Hall.
SYMPOSIUM | UCD School of Architecture + IMMA
Wednesday 23 October, 9.00am – 5.00pm, the Great Hall, IMMA
Thursday 24 October, 9.00am – 2.00pm, the Great Hall, IMMA
A two day symposium City as Archive – A House for Eileen Gray explores the relationship between the archive and the city as a repository of memory, narrative and artefact. The symposium is a precursor to an architectural project to house and exhibit the collection of artefacts at the National Museum which document the life and career of the modernist architect and designer.
Invited speakers include Shelley McNamara & Yvonne Farrell (Grafton Architects) Sean Hillen (Photographer), Barbara Dawson (Director, Hugh Lane), Jennifer Goff (Curator, National Museum), Caroline Constant (author and architecture historian), Laura Gannon (artist) Kathy Prendergast (artist) Caitriona Crowe (Curator, National Archives) Paul Clarke (architect), John Gerrard (artist), Catherine Marshall (Royal Irish Academy) and others.
IAF @ IMMA | Keynote Discussion – Constructing the View – Thomas Struth and Michael Wolf
Saturday 2 November, 4.00 – 5.30pm, the Chapel, IMMA
This public discussion between acclaimed art photographers Thomas Struth and Michael Wolf with Hugh Campbell (Professor and Dean of Architecture, UCD) culminates after a day of conversations between photographers, architects and theorists who explore the ways in which photography may be used not just in recording built space, but also in its conception, design, evaluation and investigation.
This discussion is in collaboration with, IAF, UCD, AAI, QUB, and IMMA. For further information on the days symposium of conversations please visit Constructing the View website.
Talk for Second Level Teachers | Sean Kissane
Thursday 7 November, 5.30 – 6.30pm, Lecture Room, IMMA
Sean Kissane (Curator, Exhibitions, IMMA) will talk about the installation of exhibitions Eileen Gray Architect Designer Painter and Leonara Carrington the Celtic Surrealist for IMMA's galleries. This talk will address curatorial aspects of both exhibitions including issues of installation, design, layout, display, and lighting. This talk is open to the general public.
Lunchtime Talk | Portraits of Eileen Gray by Sabine Kriebel
Friday 22 November, 1.15 – 2.00pm, Lecture Room, IMMA
In this talk Dr. Sabine Kriebel (Lecturer, UCC) introduces the photographic histories behind some of best-known portrait images of Eileen Gray, as a framework to explore how portrait photography acts as cultural, social and political document of a defining movement in culture, fashion, sexual liberation and female emancipation.
Artist Response and Film | Mary-Ruth Walsh
Saturday 7 December, 1.00pm, Galleries, IMMA
In response to the Eileen Gray exhibition, Mary-Ruth Walsh (artist) leads a gallery talk on her architectural ideas concerning the interiors of Gray's E1027 house. Walsh will discuss issues concerning the public and privacy of space and how this mirrors the ocular centered camera used to photograph E1027, in contrast to the modernist single perspective envisioned by Le Corbusier.
This talk coincides with a screening of Walsh's film Strangely Familiar Shades of Gray in the lecture room from 10am-5.15pm the same day.
Booking is essential for all talks. For free tickets and a full programme of events please visit www.imma.ie/talksandlectures
Image: Berenice Abbott: Portrait of Eileen Gray, Paris, 1926, © Berenice Abbott/Getty Images
Saturday 12 October 2013 – Sunday 26 January 2014
Royal Hospital, Kilmainham
Dublin 8
Telephone: +353 1 612 9900
Opening hours / start times:
Tuesday 11:30 - 17:30
Wednesday 11:30 - 17:30
Thursday 11:30 - 17:30
Friday 11:30 - 17:30
Saturday 10:00 - 17:30
Sunday 12:00 - 17:30
Admission / price: Admission: €5.00 full price, €3.00 concession (senior citizens, unwaged), under 18's and those in full time education free. Admission free for IMMA Members plus one guest, click
here
to become a IMMA Member
Bank Holidays open 12:00 – 17:30.