EFS presents two Performances
Tuesday 30 June 2015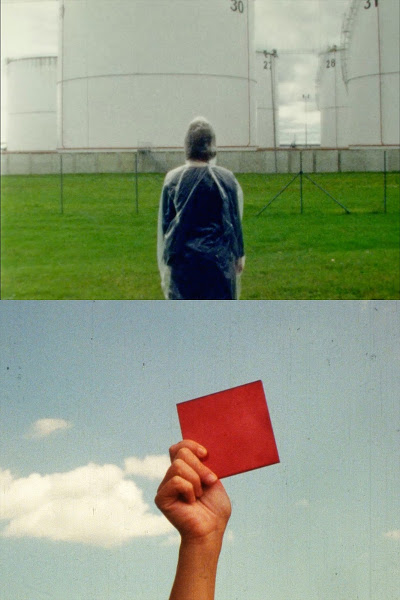 Please click here to book your free ticket to this event.
The next Experimental Film Society (EFS) event, taking place at Temple Bar Gallery + Studios under the Studio 6 Open programme, foregrounds an important aspect of several EFS members' work: the intersection of performance and cinema. This event will consist of two live performances, one by Esperanza Collado and one by Atoosa Pour Hosseini with Irene Murphy and Mick O'Shea.
Esperanza Collado is an artist, curator and internationally recognized authority on paracinema. She will be presenting her acclaimed performance We Only Guarantee The Dinosaurs in Ireland for the first time. Filmmaker Jodie Mack wrote: 'We Only Guarantee The Dinosaurs enchanted the audience with carefully constructed choreography guiding a series of objects through an earnest investigation of the essence of CINEMA (PAST, PRESENT, POST) and its possibilities. On/off screen space dissolved. Time and space unfolded in simple gestures… The future of a thriving film art relies upon efforts like [this].'
For more information on Esperanza Collado, please visit: esperanzacollado.org
Atoosa Pour Hosseini is a Dublin-based artist whose work explores questions around illusion, reality and perception. She attempts to convey and examine several recurring themes that relate to location, reflection, nostalgia and her relationship with her surroundings. Her works creates other worlds – mysterious, opaque and remindful of places we perceive we might recall or vaguely recollect from dreams or memory. Moving image performance is an important part of this process.
For more information on Atoosa Pour Hosseini, please visit: atoosapourhosseini.com
She will be joined in this performance by Cork-based artists Mick O'Shea and Irene Murphy. Mick O'Shea's works spring from his essential experience in drawing. His mediums include sculpture, drawing, sound and cooking. He has been instrumental in establishing a vibrant sound art scene in Cork. Irene Murphy's work questions the role of the artist, creative space, and engages with a broader concept of creativity. A common link in her art is ideas about performativeness, site specificity and communality with Murphy's art acts being private interventions into public space. The performance is entitled Clandestine. 
EFS is a not-for-profit entity that promotes, archives and sometimes produces work by a dozen filmmakers operating in several different countries. Although each member has a distinctive vision, they are united by an uncompromising devotion to personal, experimental cinema. They have in common an exploratory approach to filmmaking where films emerge from the interplay of sound, image and atmosphere rather than traditional storytelling techniques. EFS was founded by Dublin-based filmmaker Rouzbeh Rashidi, who continues to curate and run the organization.
More info:
Tuesday 30 June 2015
5 - 9 Temple Bar
Dublin 2
Telephone: 353 1 671 0073
Opening hours / start times:
Tuesday 11:00 - 18:00
Wednesday 11:00 - 18:00
Thursday 11:00 - 18:00
Friday 11:00 - 18:00
Saturday 11:00 - 18:00
Admission / price: Free