Edgar Martins: This is not a House
Thursday 14 February – Sunday 17 March 2013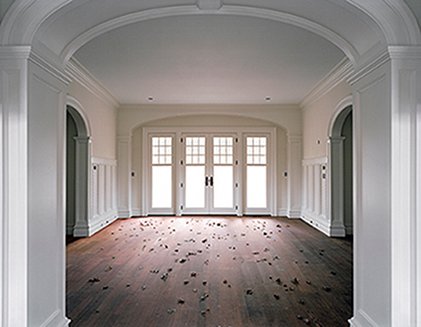 Opening Reception Wednesday 13 February
Edgar Martins' controversial work This Is Not A House explores the subprime mortgage crisis and the collapse of the US housing market. Martins' large-scale colour photographs depict abandoned dream homes, golf courses, hotels and other building projects from across the US. These powerful images have particular resonance in the context of the Irish economic crisis.
This Is Not A House formed part of an assignment for The New York Times Magazine. When the work was finally published in the summer of 2009, it became the focus of a heated debate as a result of the artist's decision to digitally re-shape some of the images. The presentation of the work in the Gallery of Photography provides an opportunity to reappraise this debate.
"Some truths cannot be told except as fiction", says Bernardo Soares, (one of Fernando Pessoa's many pseudonyms), and this paradoxical truth informs Martins' practice. His work brings together the epic and the intimate; the factual and the fictional. The sites he depicts do not refer just to the particular. Each is an image of a spatial assemblage, and each works as a kind of stage on which a number of quite different, and perhaps incompatible narratives might be enacted. These images, these houses, these ruins, reflect back at us the constructs that we project and impose on them.
Public Talk: Edgar Martins will give a public talk about his work on Thursday February 14 at 1.15pm in the Gallery. Admission is free, all welcome.
The Exhibition is kindly supported by the Instituto Camões Portugal, The Calouste Gulbenkian Foundation (UK Branch) and The Portuguese Embassy in London.
About Edgar Martins
Portuguese by birth, Edgar Martins grew up in Macau (China), where he published his first novel entitled 'Mãe, deixa-me fazer o pino'. In 1996 he moved to the UK, where he later completed an MA in Photography and Fine Art at the Royal College of Art. He has exhibited extensively throughout Asia, America and Europe and has received numerous awards, including the inaugural New York Photography Award 2008, the prestigious BES Photo Prize (Portugal) 2008, a SONY World Photography Award, and 1st Prize at the International Photography Awards. His first book 'Black Holes & Other Inconsistencies' was awarded the Thames & Hudson and RCA Society Book Art Prize. A selection of images from this book was also awarded The Jerwood Photography Award in 2003. 'The Diminishing Present', 'Approaches' & 'Topologies', Martins' following monographs, were received with critical acclaim. 'This is Not A House' is published by Dewi Lewis. Martins' work is represented internationally in several high profile museum, public, corporate and private collections, such as those of the V&A (London), the National Media Museum (Bradford, UK), Dallas Museum of Art (Dallas, USA); the Calouste Gulbenkian Foundation (Lisbon), the Fondation Carminac (Paris), the Nantes Arte Museum (Nantes).
Thursday 14 February – Sunday 17 March 2013
Meeting House Square
Temple Bar, Dublin 2
Telephone: +353 1 6714654
Opening hours / start times:
Tuesday - Saturday 11am - 5pm. Mondays by appointment for education, artists archiving and training. Closed Sundays
Admission / price: Free