Echo Chamber
Friday 16 June – Saturday 5 August 2017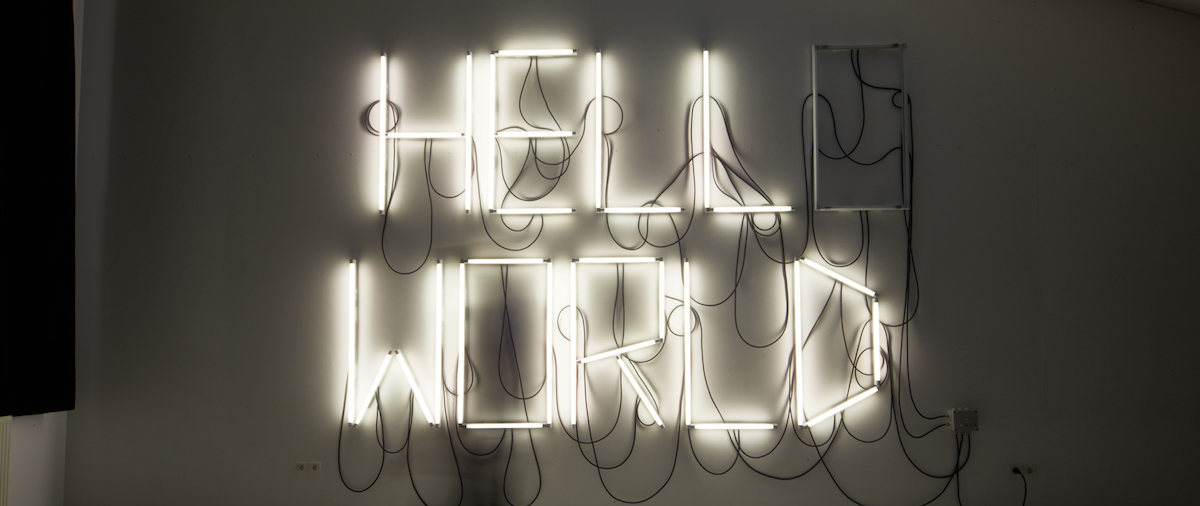 Curated by Matthew Nevin of MART • RUA RED + Lūznava Manor Rēzeknes, Latvia: 9th June – 31st August + Gantner Multimedia Space, France: 24th June – 22nd July
Featuring Adam Gibney, Helen McMahon, Jeanne Briand, Fabian Leaustic, Rasa Smite and Paula Vitola
Three exhibitions will take place simultaneously across the three sites in Ireland, Latvia and France. Six contemporary visual artists have been selected, two from each of the host countries, whose practice is rooted in various aspects of digital technology.
The EUCIDA Curator in Residence for 2017, Matthew Nevin is exploring the idea of an 'Echo Chamber', a metaphor for a situation where information, ideas or beliefs are reinforced inside an 'enclosed' system, and where different or opposing beliefs are censored or underrepresented. In this way the digital arts may sometimes seem like an echo chamber for the viewing public, something which is only for a specific tech savvy audience. Our aim is to create an accessible dialogue between the digital arts and its interpretation of politics, culture and society through technology to a European-wide public.
'Echo Chamber' aims to create an accessible dialogue between the digital arts and its interpretation of politics, culture and society.
Adam Gibney has a practice routed in digital technology, his artwork is generally realised through sculpture, installation, sound and video. Gibney is a Dublin based artist who graduated from IADT in 2010. He was the recipient of the IMOCA Graduate Award, the Aileen MacKeogh Award and the Siamsa Tíre Emerging Artist Award. His solo exhibitions include Limbo-Excavated (2011), RE:definition (2012) , Exercises of an Audionaut (2014) and Euclid, I miss you…(2016). Other notable exhibitions include Futures (Royal Hibernian Academy, 2014), The Reverberatory (Queen Street Studios, 2013) and Around a Volta (Chateau de Servieres, 2011). His work has been exhibited across Europe and Americ.
I engage with sound, sculpture and electronics in my practice as a means to dissect and manipulate language. The work grapples with parts of knowledge generated by Modern Physics that are hard to imagine or convey in words as certain theories or principles are non-intuitive. I am interested in how our symbolic descriptions of reality, even the axiomatic, have proven to be only temporary and tentative. The solid formal structures that held truth now exist precariously within the newfound multitudes of reality. The rigorous quest for certainty seems to only expand the terrain of uncertainty. Man has created an abstract language in Mathematics to convey underlying governing principles of our reality, and in so doing a platonic world is created. This world can often become difficult or impossible to convey in everyday language; it is in these places that our imagination and perception are tested. To delve into the ambiguous nature of the language we use to describe these inherently uncertain fields, I create generative code and installation. Through the programming of interactive code, which embodies scientific principles and quandaries, I aim to overcome the difficulties of uncovering fundamental truths about the world through the abstract manipulations of words and concepts. Using a minimalist approach to installation design, I try to manoeuvre the use of technology for aesthetic and physical application.
Helen McMahon is an Irish artist currently based in Dublin and exhibited in Ireland, Europe, the US and Asia. Her work takes the form of installations, sculpture and photography that explore light and perception. "My practice is concerned primarily with the phenomena of light, movement, perception and space. The work strives to observe and reveal the ecosystem that exists between the viewer and these intangible elements that exist in a perpetual state of transformation. Changes occurring in each facet has a perceptible impact on others, revealing previously overlooked properties and characteristics. My investigation of these elements is experimental in nature, and this exploratory process is as important as the finished piece, the unpredictability of the techniques often being key to discovery. I use commonplace materials, such as light, glass, and lenses that have the potential to act in surprising ways, distorting and obscuring the very things it is their function to reveal. Each component acts as a catalyst, bringing to light unseen potential in the simplest of materials. Maintaining the integrity of the materials is also important, so the viewer is allowed to experience the everyday objects in new and often unexpected ways."
Rasa Smite an artist and media art researcher, who worked together with Raitis Smits since 1990's, exploring intersection of art, science and emerging technologies. She is co founder of RIXC Center for New Media Culture in Riga, curators of RIXC annual festival, and chief editors of Acoustic Space – peer-reviewed journal & book series. Rasa Smite holds her PhD in sociology of culture and media, and works as associate professors in New Media Art programme at Liepaja University.
Their pioneering internet art project – Xchange Net.Radio Network was awarded with PRIX Ars Electronica (1998), while their recent artworks – Talk to Me and Biotricity, have been exhibited in KUMU museum in Tallinn, Ars Electronica Center in Linz, kim? and National Arts Museum Arsenals in Riga, Stockholm Science and Technology Museum in Stockholm, etc. In 2002 Rasa Smite and Raitis Smits were nominated at the World Technology Awards in The Arts category.
Fabien Leaustic creates sculptural work which while physical has an ephemeral aesthetic. The two main elements of his work are water and light which he uses to create an exchange with digital technology. Born in Besançon in 1985, Fabien Léaustic is a graduate of both Engineering school and the National School of Decorative Arts in Paris. In his conversion to artistic creation, he retains the spring of creation peculiar to the sciences, a way of illuminating a part of reality and of revealing its magic. His machines fascinate, he finds the ingenuity of a machine capable of transporting us elsewhere, in landscapes never seen, the trick or expedient invented, the ploy to seize, trap the forces of nature, divert them for the Work, produce unsuspected effects.
Jeanne Briand forges links with new technology and craftsmanship to create beautiful sculptural pieces that reference fantasy and transgender aesthetics. Born at the dawn of the decade that saw the long-term implementation of modern computational technologies into our daily lives, raised in the decade that was synonymous with the shrinking and dematerialization of their physical media, the work of Jeanne Briand—born in 1990—reveals all the complexity and ambiguity of our relationship with technology, less as a mere instrument than as a way of being in the world. Primarily influenced by speculative fiction and science-fiction films, from Aldous Huxley to David Cronenberg, her imagination follows the futuristic sensibilities of her predecessors. Her imagination, or rather the texture of her esthetics.
Child of the 1990s, Jeanne forges links between new technologies and craft techniques in her dreams of anticipation. This young French artist draws her inspiration from the cinema of Cronenberg, the mangas of Masamune Shirow and the prophecies of authors like Huxley to establish the advent of a post-human body. In her first artistic project, Jeanne breathed uteruses into glass, which became the matrix of her artistic practice and her "pro-creations".
Paula Vitola
works through media art & archeology, researching relationships between human and technology. Her work encompasses experimenting with technology and nature, programming and gadget-hacking.
About EUCIDA
European Connections in Digital Arts / EUCIDA is a 3 year project funded by Creative Europe led by RUA RED in partnership Gantner Multimedia Space France and Lūznava Manor Rēzeknes Latvia. The project aspires to work collaboratively and demonstrate innovation and high standards contributing to making the digital arts sector highly visible internationally.
EUCIDA is a growing, interactive and innovative community of digital, media and technology artists, curators, researchers and cultural workers, connecting to imagine new ways of artistic mobility. Sharing experience, creative practice and opportunities transnationally both for artists and new audiences.
Venues
Rua Red, Dublin, Ireland
Rua Red South Dublin Arts Centre is an award winning, well-known and influential centre of contemporary arts practice located in Tallaght, Ireland. It incorporates artist studios, incubation spaces, two galleries, a performance space, a rehearsal studio, a workshop activity room, music rooms, a MAC computer lab and a café.
Rua Red offers exhibitions for International and Irish artists, independent films, artist in residencies and a learning & outreach programme. Rua Red is unique in Ireland in terms of our resources and delivery. It has been particularly successful as a new organisation in the pioneering and responding to changes in contemporary culture, audience expectations and operating environments within the arts.
Espace multimédia gantner, Bourogne, France
Created in 1998 by the commune of Bourogne, the Espace multimédia gantner (EMG) has been a service of the Departement du Territoire de Belfort (local council) since 2001 and, as such, is the art and new technologies branch of the departmental media library.
It has the support of the Ministère de la Culture et de la Communication, La Région Franche-Comté cultural and the commune of Bourogne . Espace multimédia gantner has joined the network of digital arts, RAN, in 2001. Its missions have made it a hub of cultural activity within the village as well as offering artistic programmes of the highest quality. Espace multimedia gantner is thus able to propose a wide range of digital cultural activities.
www.espacemultimediagantner.cg90.net
Rezeknes novada pasvaldiba, Luznava Manor, Latvia
Lūznavas muiža (Latvia) was built between 1905 and 1911 in the style of Art Nouveau by the first engineer in Russia to formulate the architonic solution principles of bridges. Recently the manor has been established as a residency and exhibition venue for artists and there is accommodation and studio space within the landscaped park. The project is managed by the local authority, Rezekene Municipality within their economic development and tourism department.
Friday 16 June – Saturday 5 August 2017
South Dublin Arts Centre
Tallaght, Dublin 24
Telephone: +353 1 451 5860
Opening hours / start times:
Monday 10:00 - 18:00
Tuesday 10:00 - 18:00
Wednesday 10:00 - 18:00
Thursday 10:00 - 18:00
Friday 10:00 - 18:00
Saturday 10:00 - 18:00
Admission / price: Free