Eamonn Farrell: Charles Haughey: power, politics & public image
Friday 30 October – Sunday 22 November 2015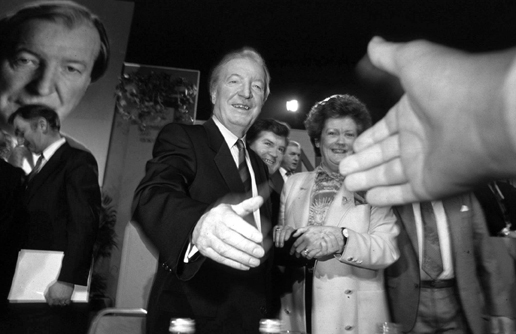 This new exhibition of photographs by Eamonn Farrell examines the public image of Charles Haughey – the most controversial politician since the foundation of the state. With his Napoleonic manner, driving ambition and extravagant private life, Haughey remains a compelling and divisive figure in the Irish political landscape. As a Taoiseach, he was before his time in understanding the power of the image: he knew how to use photographers to his advantage, and made himself easily available to them. Eamonn Farrell has used this access to capture images that offer real insights into Haughey's elevated perception of himself.
The exhibition shows 'Haughey the statesman' in the grandiose splendor of his mansion. In gesture and body language, we can observe the fawning deference paid him by his political cronies, and the sheer adoration in which he was held by the party faithful. Included also are images depicting the passionate anger he aroused in many outside the party fold.
The exhibition is a chance to observe Haughey and a cast of supporting characters including Brian Lenihan, Padraig Flynn, Mary O'Rourke, Bertie Ahern and PJ Mara at work in their native political habitats ­– Ard Fheiseanna, press conferences, and fundraising dinners. The frame also widens to include the role of journalists, broadcasters and photographers such as Geraldine Kennedy, Gerard O'Reagan, Brian Farrell, Derek Speirs, while the eagle-eyed will also spot a young Richard Boyd Barrett among the protesters. The exhibition sheds light on the often chaotic interplay between the party political machine and the media. This vexed relationship is explored in-depth in a sustained sequence of photographs from 'The Heave' of 7th Feb 1983 – when Haughey surprised everyone by surviving yet another challenge to his leadership.
Neither hatchet-job nor hagiography, the exhibition aims to provide the context for a contemporary re-assessment of Haughey, and his political and artistic legacy. It is fitting that this exhibition takes place in Temple Bar. Along with tax exemption for artists, Temple Bar Cultural Quarter is one of Haughey's major contributions to the arts in Ireland.
About the photographer:
Eamonn Farrell is an Irish award winning photojournalist and art photographer, whose journalistic work has featured in all national media and in leading international titles including the NY Times, London Times, the Guardian and Observer, Time, Newsweek, The Economist, Stern and Der Spiegel. Eamonn Farrell took particular interest in the career of Charles Haughey, with whom he had a testy relationship. (The FF leader would refer to Farrell as "that little f**king communist" and on several occasions took him aside to extol the virtues of capitalism over socialism).
Following his tenure as Picture Editor of the Sunday Tribune, Farrell set up his own agency 'Photocall Ireland' to cover both editorial and PR assignments in 1991. In 2015 he set up 'RollingNews.ie' to operate as an editorial-only agency while his son, the photographer Leon Farrell, will continue to run Photocall Ireland purely as a public relations photographic agency. Farrell won the Camera Circle 'Freelance Photographer of the Year' title in 1992 and Press Photographers' Association of Ireland (PPAI) awards in 1997, 2003, 2005, 2009 and 2012. In 2009 he began an ongoing arts project "Elements of Nature", which has been exhibited nationally and internationally. His art work is represented in Ireland by the Copper House Gallery, Dublin.
Friday 30 October – Sunday 22 November 2015
Meeting House Square
Temple Bar, Dublin 2
Telephone: +353 1 6714654
Opening hours / start times:
Tuesday - Saturday 11am - 5pm. Mondays by appointment for education, artists archiving and training. Closed Sundays
Admission / price: Free