Eamon Colman: Before the dark gets stronger than the light
Monday 8 November – Saturday 4 December 2010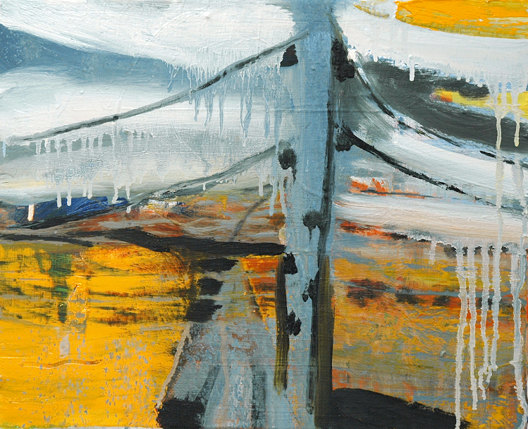 Alternative Entertainments presents:
Dublin-born Eamon Colman currently lives and works in Kilkenny. He is one of Ireland's most popular and critically acclaimed contemporary abstract painters. He has exhibited widely, both nationally and internationally, in Dublin, Cork, Wales, Denmark, France and the USA, among others. A member of Aosdána, he has held thirty solo exhibitions since 1980, including a mid-term retrospective at the RHA in 1997.
The vibrant colours and organic shapes within Eamon's work have an immediacy which appeal instantly to the viewer. He states "the overriding element of a painting for me is colour. Strong colour with slight pigment changes are used to create the mood of a place. The colour is also a way of looking at that magic realism element in a painting, its otherness".
Ongoing research carried out by the artist has involved painted responses to the writings of German philosopher Immanuel Kant (1724 – 1804), a dominant and influential figure of the Enlightenment. He has turned Kant's philosophies to the subject of landscape and questions how the mood of the artist affects how the landscape is addressed. For Eamon, the introduction of colour as an indicator of mood allows the viewer to interpret this for themselves. The artist is not the end controller but part of the visual debate.
Preview is on Saturday 6 November, 3pm – 5pm.
Contact: 01 4520611 / b.altents@gmail.com / www.altents.ie
Image: Eamon Colman: The Route or Road that Water will not Divide, oil on linen, W 42 cm x H 33 cm, 2010
Monday 8 November – Saturday 4 December 2010
South Dublin Arts Centre
Tallaght, Dublin 24
Telephone: +353 1 451 5860
Opening hours / start times:
Monday 10:00 - 18:00
Tuesday 10:00 - 18:00
Wednesday 10:00 - 18:00
Thursday 10:00 - 18:00
Friday 10:00 - 18:00
Saturday 10:00 - 18:00
Admission / price: Free