Duncan Campbell
Saturday 8 November 2014 – Sunday 29 March 2015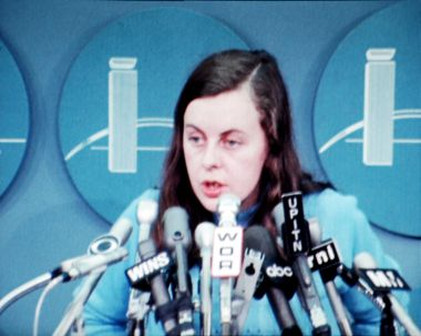 Opening Reception Friday 7 November, 6 – 8:30pm
IMMA presents the first major exhibition in Dublin by Turner Prize Nominee Duncan Campbell. Irish-born artist Duncan Campbell 's (b. 1972) artistic production spans several media and concerns itself with the power of stories and the boundaries between the actual and the imagined, historical narrative and media representation, record and interpretation.
Campbell's work blends the inherent promise of storytelling with the breakdown of narrative and meaning. His preoccupation with truth and refusal to adhere to prescribed or narrative conventions resonate in recent works such as Arbeit (2011) about the German economist Hans Tietmeyer who played a key role in the centralization of the European financial system and Make It New John (2009), which takes as its subject the American automobile engineer and magnate John DeLorean and his iconic DMC-12 car, as well as the West Belfast plant where it was produced. Similar notions are addressed in Bernadette (2008), his documentary about controversial Irish republican MP and civil rights activist Bernadette Devlin.
Duncan Campbell completed the MFA at Glasgow School of Art in 1998 and a BA in Fine Art at the University of Ulster in 1996. He lives and works in Glasgow. Campbell set up the artist-run radio station 'Radio Tuesday' and has knitted versions of nightclub posters. In 2013 Campbell represented Scotland at the Venice Biennale. In 2012 Campbell took part in Manifesta 9, Belgium, and in 2010 he took part inTracing the Invisible, Gwangju Biennale. Recent solo exhibitions include Duncan Campbell, Carnegie Museum of Art, Pittsburgh, Pennsylanvia (2012); Arbeit, HOTEL, London; Make it New John, Artists Space New York (2011) and Chisenhale Gallery, London, touring to Tramway, Glasgow (2009 – 11); The Model, Sligo; Belfast Exposed, Belfast; Bernadette, Scottish National Gallery of Modern Art; HOTEL, London and Baltic, Gateshead (all 2008–9). Recent group exhibitions include Year of Cooperation, Broadway 1602, New York and Critique & Clinic, Berlin Film Festival, Berlin (2012); British Art Show 7, Nottingham Contemporary, Nottingham and Hayward Gallery, London (2010).
The exhibition will be accompanied by a guide.
Image: Duncan Campbell: Bernadette, 2008, film still, 16mm film transferred to digital video, 38' 10'', Courtesy of the artist and Rodeo Gallery, Istanbul
Saturday 8 November 2014 – Sunday 29 March 2015
Royal Hospital, Kilmainham
Dublin 8
Telephone: +353 1 612 9900
Opening hours / start times:
Tuesday 11:30 - 17:30
Wednesday 11:30 - 17:30
Thursday 11:30 - 17:30
Friday 11:30 - 17:30
Saturday 10:00 - 17:30
Sunday 12:00 - 17:30
Admission / price: Free
Bank Holidays open 12:00 – 17:30.