Dubh: Dialogues in Black
Thursday 2 February – Thursday 15 March 2012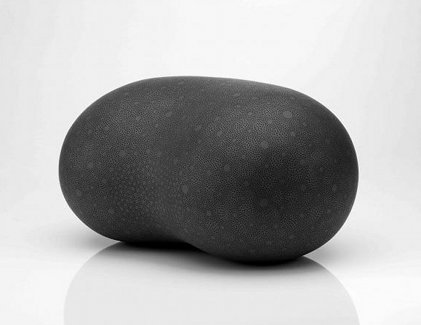 Opening Reception Thursday 2 February, 6pm
Oliver Sears Gallery is pleased to announce Dubh: Dialogues in Black, an exhibition of contemporary objects featuring work by Irish designers and artists, in dialogue with their American peers. This is the second in a series of three exhibitions taking place under the direction of designer Joseph Walsh in an exciting new initiative called STUDIO practice established to facilitate dialogue, build relationships and encourage interdisciplinary engagements between Irish Artists, Designers and Studio Makers and their international contemporaries and key influencers.
In Dubh: Dialogues in Black international curator Brian Kennedy looks at black as both a physical and an emotional starting point for the most interesting creative voices from Ireland in dialogue with their American peers. In the show he will again work with a core group of the artists/designers who featured in the first exhibition. Some like Sara Flynn, Liam Flynn and Eily O Connell are well known for their authoritative use of black while others like Joseph Walsh, Frances Lambe and Karl Harron are developing new techniques and approaches especially for the exhibition. This project also places great importance on how design/craft is viewed and discussed; as a result the catalogue for Dubh: Dialogues in Black will include essays by Irish and American writers, who will discuss and debate the issues surrounding the exhibition.
Dubh: Dialogues in Black provides the opportunity to build on the successes of MATERIALpoetry and establish a continuing presence for Irish art & design in New York city which will, in the longer term, help to establish a profile and awareness of a new generation of Irish artists and studio makers internationally. Following the show in New York, the exhibition returns to Ireland where it will appear at Oliver Sears Gallery, 29 Molesworth Street, Dublin 2 from 2nd February – 16th March 2012.
Further information can be found on the STUDIO practice website: www.studiopractice.ie
Dubh: Dialogues in Black in New York is supported by Culture Ireland through their Imagine Ireland programme; a year-long season of Irish arts in America in 2011, an initiative of Culture Ireland, with funding from the Department of Tourism, Culture and Sport. In Ireland the exhibition is supported by the Embassy of the United States of America, Dublin.
Dubh: Dialogues in black is supported by the Crafts Council of Ireland. In addition the Crafts Council of Ireland and Craft Northern Ireland have designated 2011 as Year of Craft and this exhibition has been included in the Year of Craft 2011 programme of events.
Dubh: Dialogues in Black will receive support from the Arts Council of Northern Ireland while the exhibition's academic partner is CIT Crawford College of Art & Design, Cork. This project is part of a series of exhibitions presented by STUDIO practice, which is directed by Joseph Walsh and receives the continued support of Joseph Walsh Studio.
Image: Frances Lambe: Sea Bean, ceramic stoneware, 38 x 23 x 19cm
Thursday 2 February – Thursday 15 March 2012
29 Molesworth Street
Dublin 2
Telephone: +353 1 644 9459
Admission / price: Free
Open Saturday by appointment.