Dreams of Freedom? Conversations on Aesthetics, Ethics & European Democracies
Friday 8 March – Saturday 9 March 2013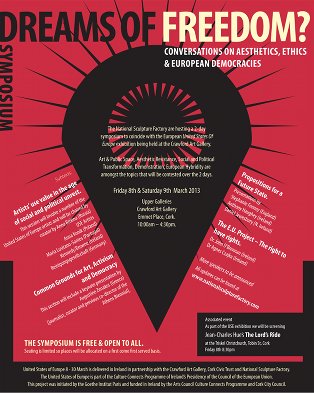 National Sculpture Factory presents a 2-day symposium to coincide with the United States Of Europe exhibition being held at the Crawford Art Gallery.
On Art & Public Space, Aesthetic Resistance, Social and Political Transformation, Demonstration, Democracy and European Hybridity
VENUE:
Upper Galleries
Crawford Art Gallery
Emmet Place
Cork City.
10:00am – 4:30pm
Friday 8th
Artists' Use Value in the Age of Social and Political Unrest.
This session will involve a number of the United States of Europe artists and will be chaired by curator Anna Bitkina (Russia)
USE Artists :
Anna Konik (Poland)
Maria Lusitano-Santos (Portugal)
Kennedy/Browne (Ireland)
Reinigungsgesellschaft (Germany)
Common Grounds for Art, Activism and Democracy
This section will include a keynote presentation by
Augustine Zenakos (Greece)
Journalist, curator and previous co-director of the Athens Biennial.
Open Panel Discussion
Chaired by Daniel Jewesbury (N.Ireland)
Augustine Zenakos (Greece)
Liz Burns (Dublin) – Firestation.
Rosie Lynch (Kilkenny) – Commonage
Saturday 9th
Art, Politics & Public Space
Dave Beech (London)
Artist, Lecturer, Writer, Art Critic
Propositions for a Future State
Presentations by
Stephanie Feeney (England)
Anthony Haughey (Ireland)
Daniel Jewesbury (N. Ireland)
The E.U. Project – The Right to Have Rights
Dr. John O'Brennan (Ireland) – NUIM
Dr. Agnes Czajka (Ireland) – UC
'Notes on the Arab Spring: Enacting Citizenship and Staging Democracy'
Followed by
Open Panel Discussion
All updates can be found at www.nationalsculpturefactory.com
The symposium is free & open to All. Seating is limited so places will be allocated on a first come first served basis.
Friday 8 March – Saturday 9 March 2013
Emmet Place, Cork
Telephone: +353 21 4805042
Opening hours / start times:
Monday 10:00 - 17:00
Tuesday 10:00 - 17:00
Wednesday 10:00 - 17:00
Thursday 10:00 - 20:00
Friday 10:00 - 17:00
Saturday 10:00 - 17:00
Admission / price: Free
A National Sculpture Factory event