Drawings II
Thursday 21 May – Friday 10 July 2015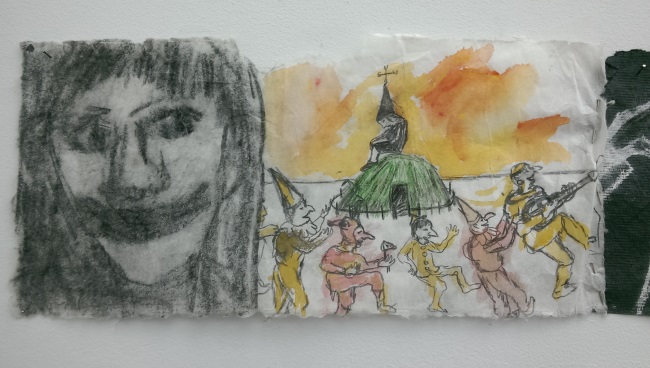 Limerick City Gallery of Art is delighted to present Drawings II,  an exhibition of drawings selected from the National Collection of Contemporary Drawing from the Permanent Collection of LCGA.
Drawing is one of the oldest forms of human expression, with evidence for its existence preceding that of written communication. Drawing is used to express one's creativity and therefore has been prominent in the world of art. Throughout much of history drawing was regarded as the foundation for artistic practice.
The drawing collection was offered by Limerick Contemporary Art (LCA) and accepted by the Limerick City Gallery of Art. It comprised 23 works by 22 artists and 1 poet. LCA requested that the Arts Council agree to give on loan its drawing collection to Limerick City Gallery of Art to complement LCA's drawing collection.
In 1996 the publication National Collection of Contemporary Drawing volume 1 was produced to document and illustrate the collection to date (1996) and the publication included 72 artworks by 46 artists.
Since 1996 the Limerick City Gallery of Art has purchased and received donations toward the NCCD collection. To date 113 artists are represented with 194 artworks contained in the collection.
Exhibiting works by artists: Maria Doyle, Gareth Jenkins, Áine Nic Giolla Coda, Jennifer Flarley, Chris Boland, Carl Doran, Christine Mackey, David Godbold, Sean Hillen, Rosalind Kennedy, Erika Cagney, Anthony Mackey, Kazou Usaka, James Savage, Robert Janz, Jim Hughes, Sean Mulcahy, Laura McMorrow.
Image: Maria Doyle
Thursday 21 May – Friday 10 July 2015
Pery Square, Limerick
Telephone: +353 61 310633
Opening hours / start times:
Monday- Saturday 10am – 5pm
Sunday 12 – 5pm
Last admission 15 minutes before Closing time.
Admission / price: Free
The gallery is closed on Bank and Public Holidays.