Dorothy Smith: Land Marks
Thursday 15 March – Sunday 22 April 2018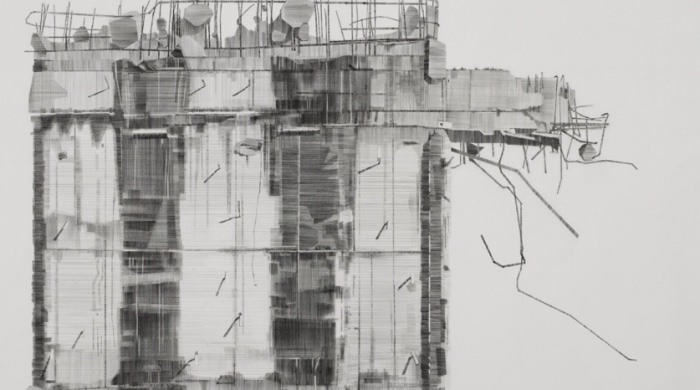 In the exhibition entitled Land Marks, Smith considers the infrastructure and material fabric of public space; the spaces and structures we habitually traverse and use; how this impacts on the quality and reach of our lives and on the effectiveness of our cities and neighbourhoods. She is concerned with the evolution of 'space' into 'place', place being a space with social signicance and how as individuals and a society we construct, materially and conceptually, space and place.
Smith's black and white works draw on urban structures and infrastructures incorporating many urban topographies including landscapes that are temporary, permanent, ctional, abandoned, renovated, iconic and demolished. The language of drawing is also the subject of her work, drawing is a slow process in a fast-moving world.
The artist explores the possibilities of how an analogue activity such as drawing interacts with contemporary issues and places. What does drawing bring to the table? For Smith, it connects – in order to draw you have to explore, stop and look.
ASHFORD IN CONVERSATION SERIES: Dorothy Smith with architect, Emmett Scanlon
5.30pm, Wednesday 28 March – RHA Friends Room
This informal discussion will take place in the Ashford Gallery, surrounded by Dorothy Smith's Land Marks exhibition. Architect Emmett Scanlon, who in his practice is interested in the social purpose of architecture, will facilitate a conversation with Smith around the working methods, processes and concerns in her work.
The RHA Ashford Gallery Programme is Sponsored by Hennessy.
Dorothy Smith holds an MA in Visual Arts Practices from the Institute of Art Design and Technology Dun Laoghaire, a Degree Fine Art Painting from the National College of Art and Design, Dublin and a Post Graduate Diploma in Arts Administration from University College Dublin.
Recent exhibitions and projects include; Made and Considered, solo exhibition in darc space, Dublin, 2016, Source, co-curation of exhibition of contemporary drawing practices, Phizzfest 2016, The Housing Incident Room, IMMA/IAF, A Fair Land, IMMA, 2016. She is currently in receipt of an Arts Council Engaging with Architecture Award and is curating an exhibition for Droichead Arts Centre, Drogheda. She is a member of the Blackchurch Print Studio, Dublin, VAI, is a board member of Phizzfest and founding member of Reimagining Phibsborough. She has exhibited widely in solo and group and is a recipient of the Taylor Bequest Award, RHA AXA Drawing Prize.
Smith has worked with community based organisations, national cultural institutions and others as a manager, facilitator and teacher. Her work is in the collections of Office of Public Works, Irish Contemporary Arts Society, NIVAL (National Irish Visual Artists Library), New York Public Library Print Collection, AXA and private collections.
Image: Dorothy Smith, Demolition, 2017, pencil on paper, 76 x 56 cm, image courtesy of the artist.
Thursday 15 March – Sunday 22 April 2018
15 Ely Place, Dublin 2
Telephone: +353 1 661 2558
Opening hours / start times:
Monday 11:00 - 17:00
Tuesday 11:00 - 17:00
Wednesday 11:00 - 19:00
Thursday 11:00 - 19:00
Friday 11:00 - 19:00
Saturday 11:00 - 19:00
Sunday 14:00 - 17:00
Admission / price: Free