Dorothy Cross: Jellyfish Lake
Friday 22 April – Sunday 15 May 2022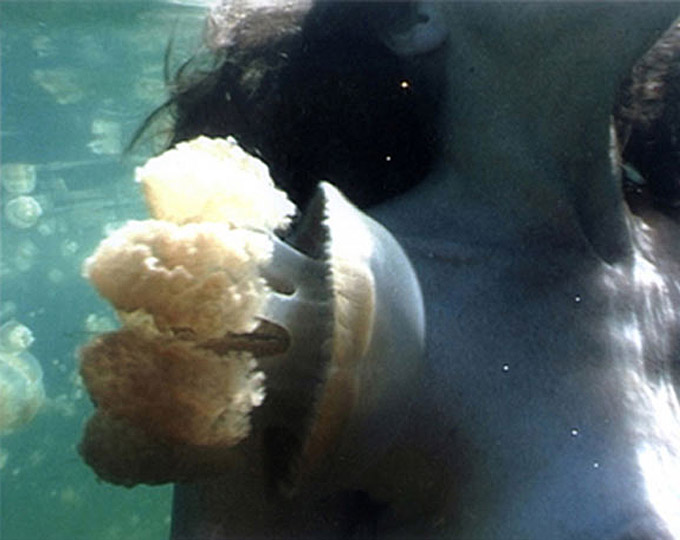 Showing for a limited time, our series of screenings from the collection continues with Dorothy Cross' short film Jellyfish Lake.
Jellyfish Lake (2002) by Dorothy Cross resulted from the artist's investigations into the biomechanics of Chironex fleckeri (box jellyfish). Filmed in an isolated lake in Palau, Micronesia, millions of golden jellyfish migrate across the lake daily.
Cross plunges the viewer under water to view a naked woman floating beneath the sunlit surface. Unlike the solid form of the body, the contrasting golden jellyfish are amorphous and transparent yet there is mutual awareness: the human form is laid bare to nature's defences but collide temporarily
Dorothy Cross (b.1956) works in sculpture, photography, and film to examine the relationship between living beings and the natural world. Living in rural Connemara on Ireland's west coast, the artist sees nature, the ocean and the body as sites of constant change and flux. Having studied in this building during the 1970s, Cross went on to represent Ireland at the 45th Venice Biennale in 1993 and continues to exhibit internationally.
Image: Dorothy Cross: Jellyfish Lake, Image Still from DVD © the Artist
Friday 22 April – Sunday 15 May 2022
Emmet Place, Cork
Telephone: +353 21 4805042
Opening hours / start times:
Monday 10:00 - 17:00
Tuesday 10:00 - 17:00
Wednesday 10:00 - 17:00
Thursday 10:00 - 20:00
Friday 10:00 - 17:00
Saturday 10:00 - 17:00
Admission / price: Free