Dorothy Cross: Connemara
Friday 14 March – Sunday 27 April 2014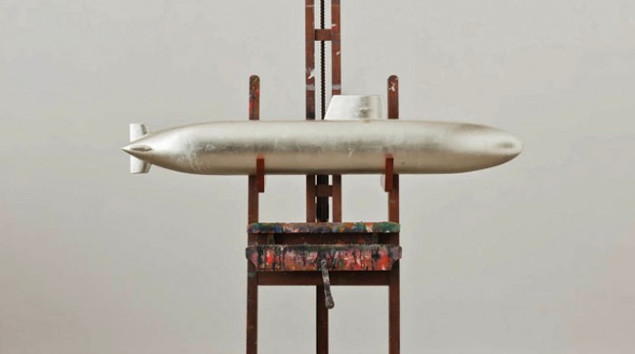 Opening Reception Thursday 13 March, 6 – 8pm
Following its debut at Turner Contemporary, Margate, UK, the RHA is delighted to present Connemara an exhibition of new and existing work by Dorothy Cross. Connemara has long been a destination for painters attempting to document the sea, sky, land and light. Connemara is also home to Dorothy Cross, and the source of inspiration for this new exhibition of her work. Cross's sculpture, film and photography examine the relationship between living beings and the natural world around them, seeing both as sites of constant change, leaving residues of passing time, and strange and unexpected encounters.
Through major new commissions as well as existing works, the exhibition explores central themes in Cross' practice, particularly the relationship between nature and the body, creation and destruction. Many of the artist's works incorporate items found on the shore, including boats and animal skins, while others reflect on the environment. New videos will explore a cave near Cross' home accessible only a few days a year, as well as Margate's mysterious Shell Grotto.
Born 1956 in Cork, Cross works in a variety of media including sculpture, photography, video and installation. She has been exhibiting regularly since the mid-80s and her witty and inventive investigations of contemporary sexual mores and politics tend to be produced in series. Her first major solo shows were Ebb, at the Douglas Hyde Gallery, Dublin, in 1988, and Powerhouse at the ICA, Philadelphia, the Hyde Gallery and Camden Arts Centre, London, in 1991. During the 90's she produced two extended series of sculptural works, using cured cowhide and stuffed snakes respectively, which drew on these animals' rich store of symbolic associations across cultures to investigate the construction of sexuality and subjectivity. Over the past few years Cross has devoted increasing amounts of time to the development of large-scale public events and projects, most memorably the award-winning Ghost Ship, an ethereally illuminated light-ship, which haunted Dublin Bay for a few weeks in 1999.
Cross has participated in numerous group shows internationally including, the Venice Biennale, 1993, the Istanbul Biennial, 1997 and the Liverpool Biennial, 1998 and 2002. She also took part in the ground-breaking 1994 exhibition Bad Girls in the ICA London and CCA, Glasgow; Mirror Images: Women, Surrealism and Self Representation, MIT List Art Center, Boston, Museum of Contemporary Art, Miami and the San Francisco MOMA, 1998; Skin at the Cranbrook Museum, Michigan, USA, 1999-2000 and A Duck for Mr. Darwin, Baltic Arts center, UK, 2009. A major retrospective of Dorothy Cross's work took place at the Irish Museum of Modern Art, Dublin in 2005.
More recently, Cross has had solo exhibitions at Bloomberg Space, London, 2009, Wolverhamton City Gallery, 2008, McMullen Museum Boston College USA, 2005, Frith Street Gallery, London, 2011 and Kerlin Gallery, 2007. Her work is included in the collections of the Irish Museum of Modern Art, the Norton Collection, Santa Monica, Art Pace Foundation, Texas, Ulster Museum, Belfast, the Goldman Sachs Collection, London The Arnolfini Trust, Bristol, Hugh Lane Gallery, Dublin, London and the Tate Modern, London, among others.
Dorothy Cross is represented by the Kerlin Gallery, Dublin.
Image: Dorothy Cross: Shark-Heart Submarine, 2011, 19th century oak painters easel, model submarine, laminated wood, oil-gilded in white gold, shark's heart in glass jar with alcohol, Dimensions variable, Courtesy of Dorothy Cross and Kerlin Gallery, Dublin.
Friday 14 March – Sunday 27 April 2014
15 Ely Place, Dublin 2
Telephone: +353 1 661 2558
Opening hours / start times:
Monday 11:00 - 17:00
Tuesday 11:00 - 17:00
Wednesday 11:00 - 19:00
Thursday 11:00 - 19:00
Friday 11:00 - 19:00
Saturday 11:00 - 19:00
Sunday 14:00 - 17:00
Admission / price: Free