DIRECT APPROACH
Saturday 6 December 2014 – Saturday 17 January 2015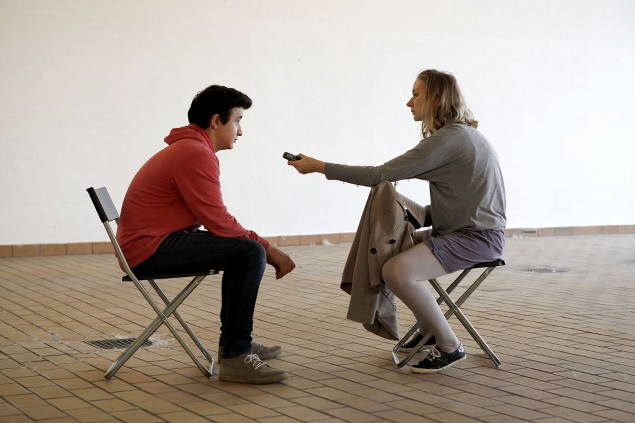 DIRECT APPROACH is an innovative art project by Danish artist Stine Marie Jacobsenbased on conversations about violence in film and reality. The project explores how we as a society respond to the categories of victim, perpetrator and bystander and how we distinguish between real and fictional experiences of violence. The exhibition takes the form of short films, statements on violence and movie posters.
Using film as a conversational tool, DIRECT APPROACH aims to engage people in dialogues about violence, taboos and ethics. The participants reflect on the violence they have seen in films and how this violence mirrors society today. By investigating these themes in depth, the participants position themselves within a landscape of ethics, morality, injustice, occupation and desire.
Jacobsen, whose previous projects include 'Do You Have Time To Kill Me Today?' (2009), balances her enquiry into violence in society with dark humour and the blurring of reality and representation in contemporary living.
The artist has worked with diverse individuals on this project, initiating conversation in with strangers in public places, and has also worked with a group of young people in Berlin earlier this year. Participants in the project were asked to describe from memory a violent film scene of their own choosing.
Jacobsen has just published a guidebook sharing the social design of DIRECT APPROACH. It is made for schools and other groups who wish to have discussions about and work on the topic of violence in film, violence in society and their own personal relationships to violence. Copies of the guidebook will be on sale in Galway Arts Centre during the exhibition.
"Cinema is poor man's common therapy tool – I almost don't have to ask any questions, associations happen by themselves in the moment of remembering a film scene."
– Stine Marie Jacobsen 2014
Stine Marie Jacobsen has a Master of Fine Arts from the Royal Danish Art Academy in Denmark and a Bachelor of Fine Arts from CalArts, California Institute of the Arts, Los Angeles. She has had solo shows at District Berlin, 2014, Künstlerhaus Bethanien, 2012, Berlin, Germany, Koh-i-noor, 2010, Copenhagen, Denmark and NLH-space Copenhagen, Denmark. She has exhibited in group exhibitions in US, Finland, Norway, Denmark, Germany and China. She is currently based in Copenhagen and Berlin.
The exhibition opening is in Galway Arts Centre on Friday December 5th and the artist will be discussing her work in Galway Arts Centre at 2pm on Saturday December 6th.
Saturday 6 December 2014 – Saturday 17 January 2015
47 Dominick Street
Galway
Telephone: + 353 91 565 886
Opening hours / start times:
Monday 10:00 - 17:30
Tuesday 10:00 - 17:30
Wednesday 10:00 - 17:30
Thursday 10:00 - 17:30
Friday 10:00 - 17:00
Saturday 10:00 - 14:00
Admission / price: Free