Difference & Repetition
Friday 19 January – Friday 23 March 2018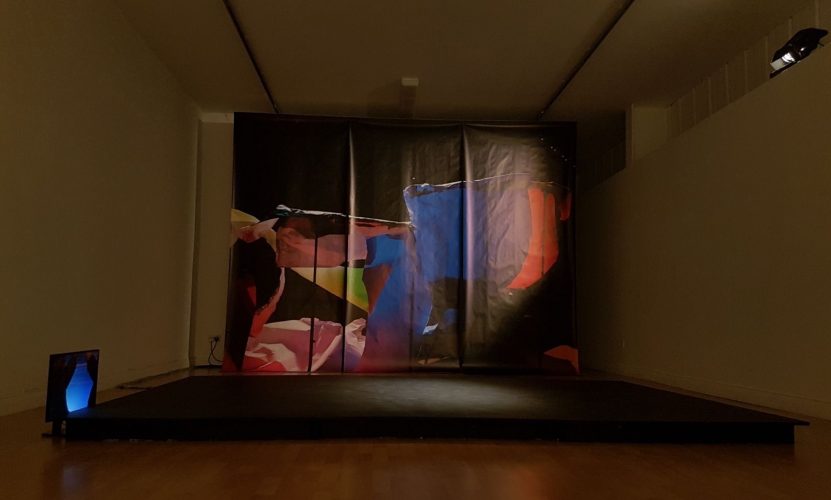 Brothers of Charity, Roscommon • Led by visual artists Karl Burke & Padraig Cunningham
This exhibition, "Difference and Repetition", is the second instalment in a series of workshops designed and implemented by artists Karl Burke and Padraig Cunningham with Roscommon based Brothers of Charity groups.
The workshops were primarily concerned with material and making, focusing on hands on approach. This covered a range of artistic practices including sound/music, drawing and painting, collage, clay modelling, performance and video. With the guidance of the lead artists this allowed the participants to improvise within the terms of the material catering for invention of new meanings and stories. A number of these workshops took place in the theatre space at the Roscommon arts centre allowing for both individual interventions and making as well as a group voice in a collaborative vein. The theatre stage allowed the participants to move between being a performer at one point to taking a seat as an audience member another, maker and viewer.
The traditional stage frames and conjurers up the quality of practice, practice makes perfect. The act of repetition in relation to the refinement of any act or mode of doing became an unsaid mantra in relation to the work produced in the workshops. The final exhibition only represents a fraction of this output and serves as a kind of celebration and finality to the process with the lead artists role becoming that of the editor.
The fourth wall is a strategy in the performing arts, particularly on the stage, which involves an imaginary wall between the performers and an expectant audience. The large photograph suspended from the ceiling of the gallery depicts one of the collaborate installations from behind. A kind of back stage pass to the art work, re – positioning the viewer and blurring the terms of engagement.
A large, slightly raised platform or stage has been positioned in the gallery referring to the contact between performer and audience, viewer and artist. This stage is an initiation to collaborate. A number of microphones are positioned directly onto the surface so that the stage is now live, waiting to be alive with sound.
About the Arts & Disability Project
Supported by Roscommon County Council Arts Office in partnership with Roscommon Arts Centre, this project is aimed at developing partnerships between artists and wider Roscommon communities while also encouraging learning's in new media for the participants.
Huge thanks to the lead artists Karl Burke & Padraig Cunningham and to all the participants from each of the Brothers of Charity Houses who contributed so generously and enthusiastically to this project: Clarke House, Ciaran's Park & Cherry Drive. Thanks also to all the staff and carers who enriched the experience for all involved.
Friday 19 January – Friday 23 March 2018
Circular Road
Roscommon Town
Telephone: +353 90 6625824
Opening hours / start times:
Tuesday – Friday 10am – 5pm; Saturday 2pm - 5pm, on performance days only
Admission / price: As per event